James Clyburn, Key to Biden Victory, Slams Lack of Black Appointees in New Admin
Representative James Clyburn, who helped secure President-elect Joe Biden's path to the White House, expressed disappointment over the incoming administration's lack of Black appointees.
While the most senior Black lawmaker in Congress welcomed the selection of Linda Thomas-Greenfield, a Black diplomat who served in the Obama administration, to serve as ambassador to the United Nations, Clyburn also said that Biden is falling short when it comes to naming Black people to cabinet seats and other top slots.
"From all I hear, Black people have been given fair consideration," Clyburn told The Hill on Wednesday. "But there is only one Black woman so far."
"I want to see where the process leads to, what it produces," he said. "But so far it's not good."
The criticism from the 14-term South Carolinian and veteran of the civil rights movement is especially significant because Clyburn's endorsement of Biden was key to the president-elect's primary victory in South Carolina—a crucial win largely driven by support among the state's Black voters.
After Clyburn backed Biden in the Democratic primaries, the former vice president's poll numbers ticked up dramatically. Clyburn went on to stump for Biden and other Democrats, including former Senate candidate Jamie Harrison, ahead of this year's election.
An official with the Biden-Harris transition defended the team's picks to The Hill, noting that 46 percent of all staff are people of color and that women make up more than half of the team.
Biden has selected Representative Cedric Richmond, former head of the Congressional Black Caucus (CBC) and a close friend of Clyburn, as the director of the White House Office of Public Engagement. Alejandro Mayorkas was also tapped to head the Department of Homeland Security and will be the first Hispanic to fill the position.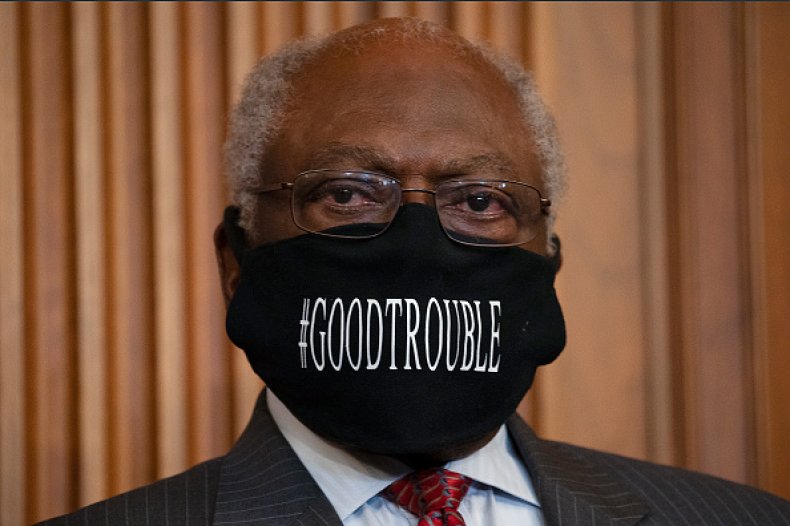 Additionally, the new administration is set to be the first in U.S. history in which women serve as vice president, defense secretary, treasury secretary and national intelligence director—roles all previously filled exclusively by men.
In August, Vice President-elect Kamala Harris became the first Black woman on a major party's presidential ticket after Biden chose the California senator to serve as his running mate.
Before Biden's decision to name Harris, Clyburn had called on him to pick a Black woman as his vice president.
Clyburn has named a list of Democrats he wants to see appointed into the new administration. Among those are Jacksonville Mayor Alvin Brown and Representative Marcia Fudge, both Black, as are California Attorney General Xavier Becerra, Senator Doug Jones and former Deputy Attorney General Sally Yates.
In an interview with CNN's New Day on Wednesday, Clyburn also supported the appointment of Senator Bernie Sanders to a cabinet position, saying, "I wish he would come into the administration."
"Bernie has a way of getting people to understand certain things," Clyburn said.
Newsweek reached out to the the Biden-Harris transition team for comment but did not hear back before publication.
Clyburn is also advocating for Harrison, who rose to national prominence after shattering fundraising records in his race against Senator Lindsey Graham, to lead the Democratic National Convention.
"We can't leave our young talent behind on the battlefield," Clyburn told The Hill.