James Comey on William Barr's 'Spying' Testimony: 'I Have No Idea What the Heck He's Talking About'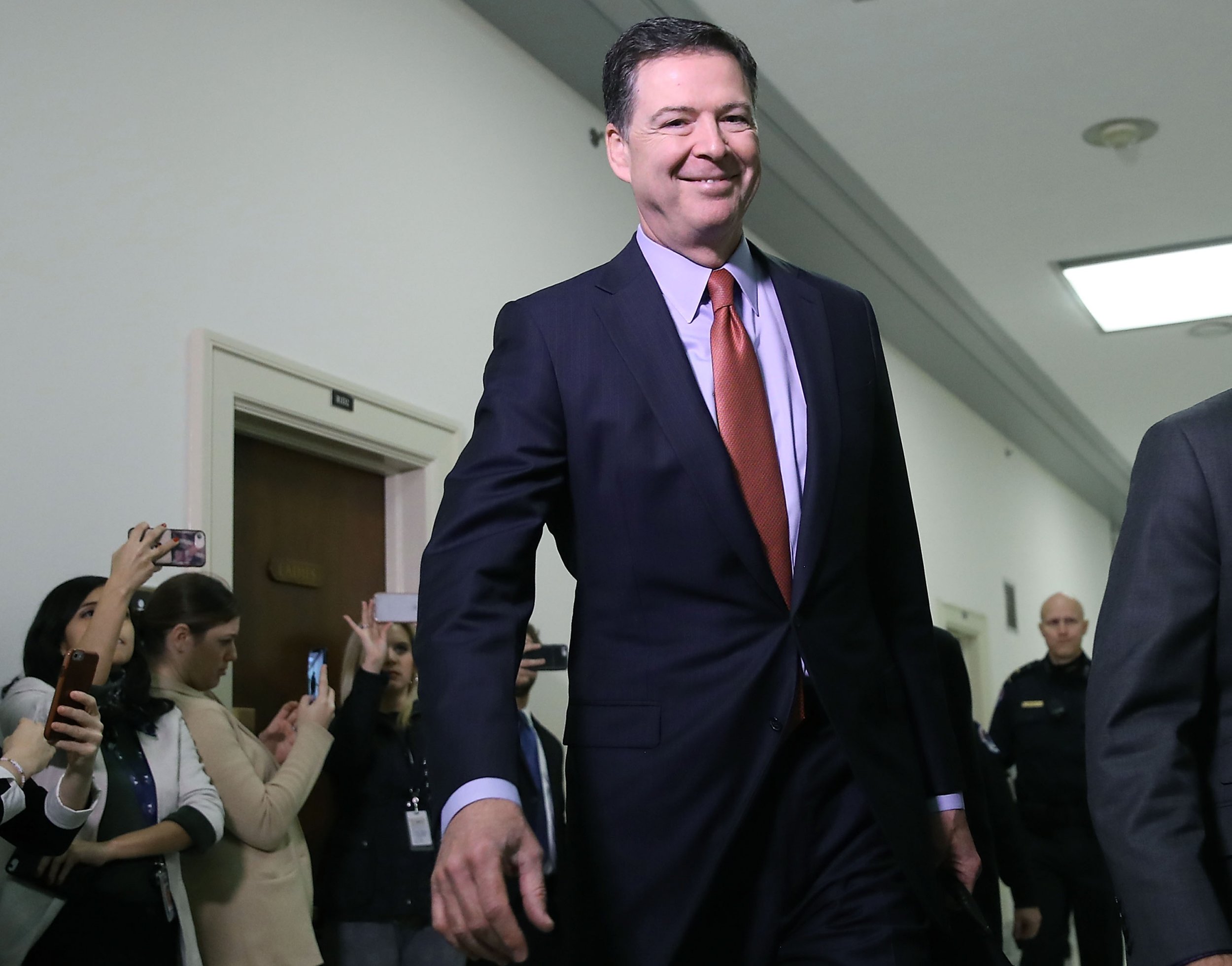 Former-FBI Director James Comey on Thursday responded to Attorney General William Barr's claims that the government spied on President Donald Trump's 2016 presidential campaign, saying he had "no idea what he's talking about."
"I think spying did occur," Barr told members of a Senate Appropriations subcommittee on Wednesday during his second consecutive day of testimony on Capitol Hill. "But the question is whether it was adequately predicated. And I'm not suggesting it wasn't adequately predicated. But I need to explore that."
When asked to comment on Barr's comments during a Hewlett Foundation conference, Comey said: "I have no idea what he's talking about, so it's hard for me to comment."
"Maybe the only thing I can say generally is—I think that his career has earned him the presumption that he will be one of the rare Cabinet members who will stand up for things like truth and facts, and institutional values," the ex-FBI director added. "So I still think he's entitled to that presumption. Language like this makes it harder, but I still think he's entitled to that presumption. And because I don't know what the heck he's talking about, that's all I can say."
Barr defended his decision to probe the origins of Robert Mueller's Russia investigation on Wednesday by claiming that he believes the U.S. government spied on Trump's campaign team in 2016. "For the same reason, we're worried about foreign influence in elections... I think spying on a political campaign—it's a big deal, it's a big deal," the attorney general said.
Although Barr noted that he had "no specific evidence" to back his conclusion, he asserted that he "has some questions about it" and "concerns about various aspects of it."
Trump supported Barr's claims of spying on Thursday. "I think what he said was absolutely true, there was absolutely spying into my campaign," the president said when asked by reporters at the White House. "I'll go a step further. In my opinion, it was illegal spying, unprecedented spying and something that should never be allowed to happen in our country again."
The president has addressed the matter several times since he took office in January 2017. Last year, Trump tweeted about "Spygate," a term he apparently coined to refer to allegations that the FBI had spied on his 20116 campaign team.
Democrats have widely condemned Barr for feeding an allegation they said was "irresponsible" and a mere "conspiracy theory." "[Barr] knows there was ample evidence of Russian attempts to infiltrate the Trump campaign, and that the FBI took lawful action to stop it," Senator Mark Warner, a Democart and ranking member of the Senate Intelligence Committee, tweeted on Wednesday. "Giving a wink and a nod to this long-debunked 'spying' conspiracy theory is irresponsible."
In the meantime, Republicans have encouraged the news, with some suggesting it could shed light on suspicions of bias against Trump within the FBI. "I think that there is enough smoke there that it's worth looking into," Senator Susan Collins, a Republican member of the Intelligence Committee, told Newsweek. "But let me make it very clear, I think we needed the Mueller investigation, regardless."