James Corden Reveals Angry BTS Fans Wished Him Dead
James Corden has incurred the wrath of fans of BTS, one of the most popular boy bands on the planet, with the late-night host forced to apologize after revealing he received death threats from the K-pop group's dedicated fanbase.
The Late Late Show host found himself on the wrong side of the ARMY—the collective name for BTS' fans—over a gag he made back in September where he reduced the entire fanbase to 15-year-old girls and assumed they have no interest in politics.
Commenting on the K-pop band's performance at the U.N. General Assembly, Corden quipped: "It actually marks the first time that 15-year-old girls everywhere found themselves wishing that they were Secretary-General António Guterres."
The group was back on Corden's show last week and they confronted the host about the joke.
Singer Namjoon said: "It's so good to be back, we're very well. But how about you James—you've been in some hot water with the ARMY. Are you alright?"
The Cats star replied to say that the backlash was intense with some BTS fans wishing death on him over the joke.
"We did two jokes, which I didn't think were in any way offensive to anybody," he laughed.
"We said it was unusual that you were kicking off the U.N. Summit with a performance. And we said—and this is where I think it was wrong—we said your fans were 15-year-old girls. Which of course isn't true, because I'm 43-years-old and I consider myself to be one of the biggest BTS fans on planet Earth. But I've never been on that side of the ARMY before and woah!"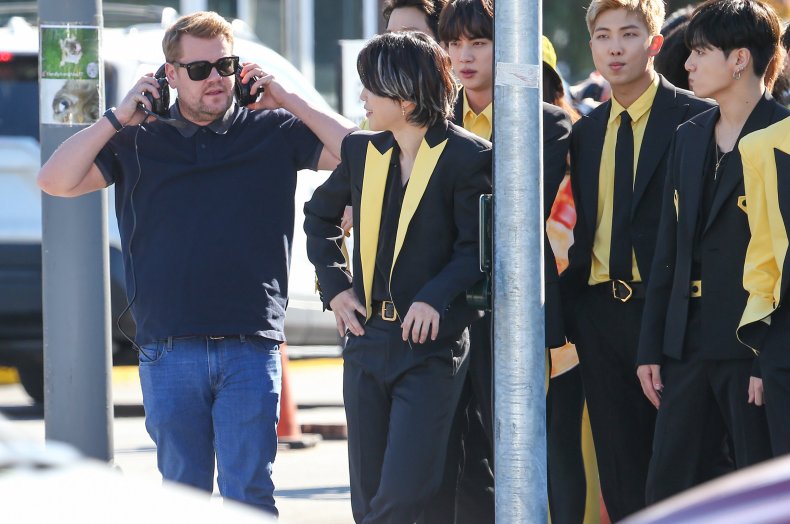 Corden explained: "Someone told me that they hope I die today, which did feel extreme in response to what I thought were harmless jokes, which we never wanted to be at anyone's expense.
"I hope you know this—we absolutely love you and we love the entire ARMY. I've seen the BTS ARMY when they are at their absolute best, when they are true force for good. They've supported charities that I support and they're amazing.
"The prospect of doing anything that might have upset them, I didn't enjoy that feeling and I hope they know that."
Namjoon thanked Corden for his apology and said that the band was keen to clear the air.
"James it's alright—we appreciate your apology. We just wanted to clear the air," he said.
Corden's apology comes as a petition to ban the comedian from the upcoming Wicked film adaptation amassed thousands of signatures.