James Harden Makes NBA History, Ties Wilt Chamberlain's Record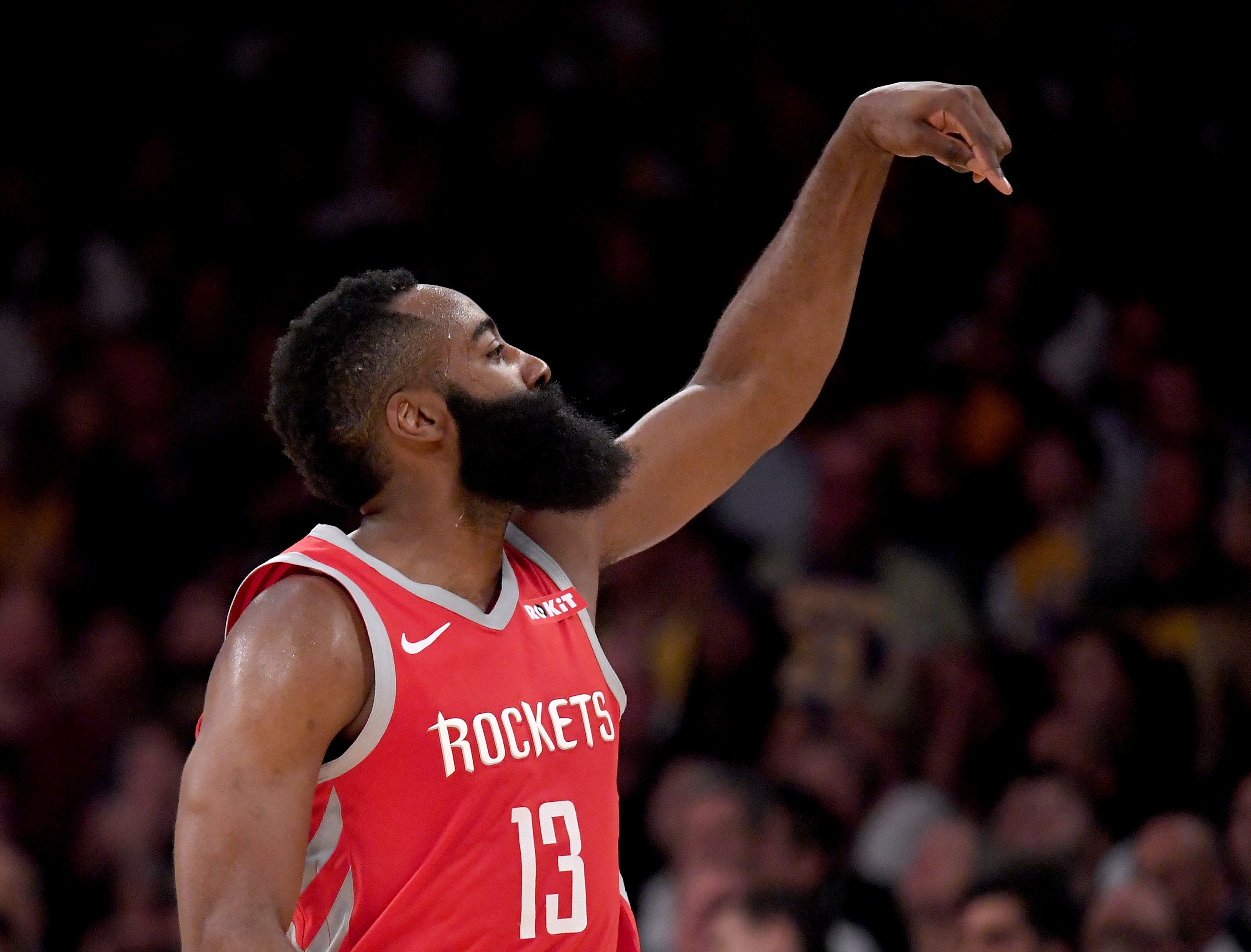 James Harden became the only player in the history of NBA alongside Wilt Chamberlain to score at least 30 points in 20 consecutive games.
The Houston Rockets star tied Chamberlain's record on Monday night when he scored 37 points in a 121-93 defeat on the road against the Philadelphia 76ers.
Read more: Warriors guard Klay Thompson ties NBA record with 10 three-pointers
The last time the reigning MVP failed to score 30 points was on December 11, when he finished with 29 against the Portland Trail Blazers.
"Wilt was doing some obviously unbelievable things and numbers that nobody will ever catch," Harden was quoted as saying by ESPN.
"Just to be in the same conversation as those guys is just credit to the work I put in. That's what you play this game for, to be listed with those guys, those top players.
"Obviously, I got a long way to go, but this is a pretty cool beginning."
Over the last four games, Harden has scored exactly 200 points, the second time in his career he has achieved the feat. Along with Kobe Bryant, who did it four times during his career, Harden is the only other player to have scored 200 points over four games in the last 50 seasons.
Harden averages 42.3 points over the last 20 games and Houston has ridden his offensive explosion, going 14-6 over the period and forcing itself back into the playoff berths after a difficult start to the campaign.
In league history, only three players have averaged at least 40 points over as many games. Bryant and Elgin Baylor did so over 23 and 33 games, respectively, while Chamberlain averaged 40 or more points over a mind-boggling 515 games.
This season, Harden has scored at least 40 points 16 times—12 of which came during his remarkable 20-game streak. By comparison, Anthony Davis, the second player on that particular list, has reached the 40-point threshold seven times and Stephen Curry has done so six times.
Harden averages 35.7 points per game this season and is second only to Michael Jordan in terms of points per game over the last 40 years. The six-time NBA champion scored an average of 37.1 points per game in the 1986-87 season.
Harden's 37 points on Monday came despite the fact he sat out the whole fourth quarter, after Mike D'Antoni hoped to rest him as the Rockets entered the final period, trailing by 31 points.
"This is not a great way to rest him, but we rested him today," the Rockets coach told the Associated Press.
"We were due for a game like this."
The loss on Monday night saw the Rockets drop to 26-20 and they are now tied with the San Antonio Spurs for the fifth seed in the Western Conference. Houston ends its two-game road trip in New York on Wednesday, before a three-game home stand against the Raptors, Magic and Pelicans.