James Holzhauer Reacts to Matt Amodio Beating His 'Jeopardy!' Record
Jeopardy! star James Holzhauer has spoken out on Matt Amodio beating his record for the second-longest win streak on the syndicated quiz show.
Amodio was seen edging past Holzhauer by a single game during Friday night's episode, when he increased his streak to 33 consecutive victories.
And Holzhauer, who had held onto his position with 32 games since 2019, took to Twitter later that night to address the new record set by the Yale Ph.D. candidate.
"I've been betting sports since 2005 and this is the first time I've seen anyone hit a 33 game parlay," wrote Holzhauer, who added: "Congrats @AmodioMatt!"
However, he was quick to remind Amodio that he remains ahead in cash earnings, after earning $2,462,216, compared to the new champ's current prize of $1,267,801.
The Chase star Holzhauer wrote: "Still haven't seen anyone hit one for more than $2.46MM though. Stay hungry!"
Amodio responded to Holzhauer's congratulatory message: "I am so proud that a cursory glance of the #Jeopardy record books can now yield a wrong conclusion about which one of us is the better player."
While Amodio has much to celebrate with his latest win, he is a considerable number of victories behind the all-time Jeopardy! champ Ken Jennings, who had a 74-game streak during his run in 2004.
In an interview with Newsweek shortly after he equaled Holzhauer's record on Thursday night's episode, Amodio said that he felt "so fortunate" to have hit the milestone.
"It feels unbelievable. Literally, unbelievable," the Ohio native said over email. "I watched every second of James tearing through the competition, and I knew he was better than I could ever be.
"I still know he's better than me, but to know I've tied him in the most important stat of the show (number of games won), I feel so fortunate."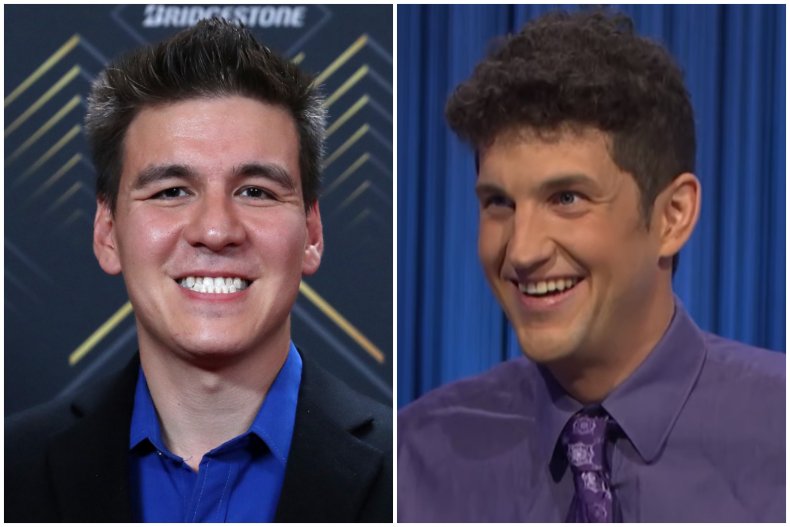 He also admitted that he felt no more close to Jennings' sky-high numbers, adding: "Ken feels as far away now as it did from Game 1. I feel like I've been put through the gauntlet over and over and over again... and I'm not even half-way there! Ken is the GOAT for a reason!"
Amodio's winning streak started toward the end of Season 37 this past summer, during which he played under a number of guest hosts, including Robin Roberts, LeVar Burton, David Faber, and Joe Buck.
In September, he returned for Season 38, winning while the show was briefly hosted by scandal-hit Mike Richards, who has now been replaced by Mayim Bialik.
Bialik and Jennings, who now serves as a consulting producer on the the show, will split Jeopardy! hosting duties for the remainder of the calendar year—which Amodio is looking forward to with much excitement.
"Meeting Ken under any circumstances would be a dream, but [having] it be under these circumstances would be Rudy-levels of perfection," Amodio told Newsweek. "And as a fan, I loved him as a host. Seeing him on a Jeopardy! stage is like seeing a polar bear in the snow: it just looks right."
Amodio will be seen returning to Jeopardy! to face off against a new batch of contestants from Monday.