James O'Keefe to Expand His War on CNN With Lawsuits, More Video
Controversial undercover journalist and scourge of the left James O'Keefe appears to be waging a full-scale war on CNN that includes not only the undercover videos he is known for, but also a series of planned lawsuits against the news network and its anchors over issues that may not even involve him or his nonprofit organization, Project Veritas.
O'Keefe told Newsweek he will soon sue CNN and two of its journalists, Brian Stelter and Ana Cabrera, for defamation in a report about Twitter permanently banning Project Veritas.
The February segment featured Cabrera accusing Project Veritas of "promoting misinformation" and calling the group a "conservative action-ist, activist," none of which O'Keefe says is true. Twitter reportedly banned Project Veritas over an anti-doxxing policy after the group confronted a Facebook executive outside of his home. In the same February segment, Stelter claimed Project Veritas violated "multiple rules."
Meanwhile, O'Keefe posted video of CNN allegedly confronting a woman outside of her home and accusing her of "being a Russian troll," as O'Keefe puts it, to show that CNN may have allegedly violated the same Twitter policy. The video includes a phone conversation between a legal representative of Project Veritas and CNN technology reporter Brian Fung, who accurately reported why the group was banned by Twitter, with O'Keefe intoning that either Fung is correct, or Cabrera is, though they are on the same network.
"We are suing CNN, Brian Stelter and Ana Cabrera and we are going to represent others in defamation suits against CNN. We're going to launch a division for lawsuits," O'Keefe told Newsweek.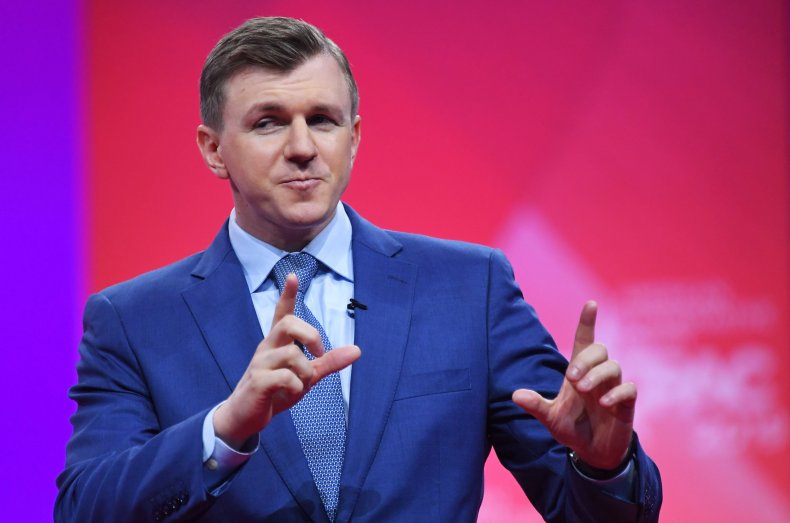 But the most visible indication of O'Keefe's battle with CNN are video recordings involving reported CNN technical director Charlie Chester saying things he thought were private that could be detrimental to the news network's reputation.
While two videos have already been released, O'Keefe is sitting on a third one that Newsweek has exclusively obtained. In this latest one, Chester discusses the Black Lives Matter movement and hate crimes against Asian-Americans.
The new video was filmed with a hidden camera while Chester believed he was actually on a date. In it, the alleged CNN employee appears to admit that the media prefers to cover crimes against Asians when they are perpetrated by white criminals.
"I haven't seen anything about focusing on the color of people's skin that aren't white," Chester tells his date, who is actually an operative of Project Veritas.
"I was trying to do some research on the Asian hate, like the people (who) are getting attacked and whatnot," Chester is heard saying. "A bunch of Black men have been attacking Asians. It's like, 'What are you doing? Like, we're trying to help with the BLM.'"
Chester adds in the clip that "the optics of that are not good." He says these things while being baited by a female companion on what he apparently believed was a date that he had set up through the Tinder app. His "date," who has not yet been identified, posed as a nurse while the two were chatting at a coffee shop where a hidden camera had been set up.
CNN did not respond to Newsweek's numerous requests for comment, or even to verify Chester is employed there. O'Keefe, though, said, "We stand by our reporting."
O'Keefe's usual method of operation is to release a single video, wait for attacks on his credibility, then release subsequent videos on the same topic to hammer his point.
In videos released earlier this week, Chester can be heard saying, "Look, what we did, we got Trump out. I am 100​ percent going to say it, and I 100​ percent believe that if it wasn't for CNN, I don't know that Trump would have got voted out."
Chester adds that he ​​"wanted to be a part of that ... Our focus was to get Trump out of office, right? Without saying it, that's what it was."
The alleged CNN employee also said they brought in health experts to convey the "propaganda" that he was medically unfit for office.
"[Trump's] hand was shaking or whatever, I think. We brought in so many medical people to all tell a story that was all speculation—that he was neurologically damaged, and he was losing it. He's unfit to—you know, whatever. We were creating a story there that we didn't know anything about. I think that's propaganda," Chester says in one of the videos filmed with a hidden camera.
O'Keefe has also released video of Chester saying that CNN's focus once COVID-19 subsides will be climate change. "[Coronavirus] will taper off to a point that it's not a problem anymore. Climate change can take years, so they'll probably be able to milk that quite a bit ...Climate change is going to be the next COVID thing for CNN ... Fear sells," Chester is heard saying in the video.
O'Keefe's obsession with CNN has actually been years in the making. In 2019, under the guise of an #ExposeCNN campaign, his Project Veritas released undercover video of CNN employees accusing then supervising producer of CNN Politics, Steve Brusk, of inappropriate conduct. A month later, Brusk resigned.
And more than a decade ago, O'Keefe tried to fool a CNN employee, though it didn't go too well. At the time, CNN's Abbie Boudreau was working on a piece about O'Keefe's rising star in conservative circles and he arranged to meet her on a boat for an interview, though he planted hidden cameras and planned a Borat-like, ridiculous attempt to seduce her and somehow embarrass her by releasing secretly recorded video of her reaction. The then-CNN correspondent, though, sniffed out the setup and nothing came of the effort.
O'Keefe's detractors usually use that episode to discredit him, as they do his arrest after a plotted 2010 "sting" against then-Senator Mary Landrieu went awry. In that incident, O'Keefe sent three associates dressed as phone repairmen into Landrieu's office to try to prove she was ignoring calls from constituents who were upset about President Barack Obama's healthcare reforms. Later, O'Keefe, now 36, pleaded guilty to entering a federal building under false pretenses and he served three years probation and 100 hours of community service.
His detractors also claim that he doctors video in such a way as to fool his audience and make his targets look bad. O'Keefe counters, though, that his editing is no different than that of major TV news networks, including CNN, and that he sometimes goes the extra mile by posting hours of raw video online so that interested parties may judge for themselves how accurate or inaccurate his shorter videos are.
While he apparently isn't planning to do that for the Chester videos, he told Newsweek, "When I sue CNN for defamation, they will be forced to publish their raw materials, notebooks, emails, recordings, and so will I. I have nothing to hide."
In 2019, O'Keefe's Project Veritas was sued over undercover video of Democrat operatives allegedly admitting to placing agitators at pro-Trump rallies to make attendees look bad. Federal Judge Martin Reidinger ruled in favor of O'Keefe, though, saying that "if citizens and the media are handcuffed by a fear of liability, that's detrimental to political discourse."
More recently, Project Veritas sued the New York Times for five "purportedly false and defamatory articles" in 2020, about the nonprofit group's videos of alleged illegal voting practices. Last month, the Supreme Court of the State of New York County of Westchester ruled in favor of Project Veritas, which argued that the Times articles describing its videos as "deceptive," "false" and "without evidence" were "mere opinion incapable of being judged true or false."
"We've won every lawsuit we've litigated, including at jury verdict and on summary judgment," O'Keefe said to Newsweek. "Federal judges have defended our editing." He also speculated that CNN "does not want transparency into their operations. I don't mind that. I've been through it many times."
As much as O'Keefe is hated on the left, he is admired on the right. In 2019, at the White House Social Media Summit, President Donald Trump motioned to O'Keefe and said, "Somebody said he's controversial. He's not controversial; he's truthful."