Jamie Lee Curtis Slammed Over SAG Awards 'Nepo Baby' Comment—'Stop Whining'
Jamie Lee Curtis has come under fire for her comments about "nepo babies" during the SAG Awards, but not everybody agreed, with some even finding her jokes hilarious.
A "nepo baby" is a recently coined term that gained traction on social media in 2022. It refers to a person who has had help in the industry they work in because of their family connections or proximity to an already successful person in that field.
Curtis, 64, joined other celebrities to deliver an "I am an actor" speech at the beginning of the awards ceremony which allowed them to speak about themselves and their acting career.
She reflected on her first role which allowed her to get her Screen Actors Guild (SAG) card and joked it was thanks to a movie her famous dad, Tony Curtis, had acted in.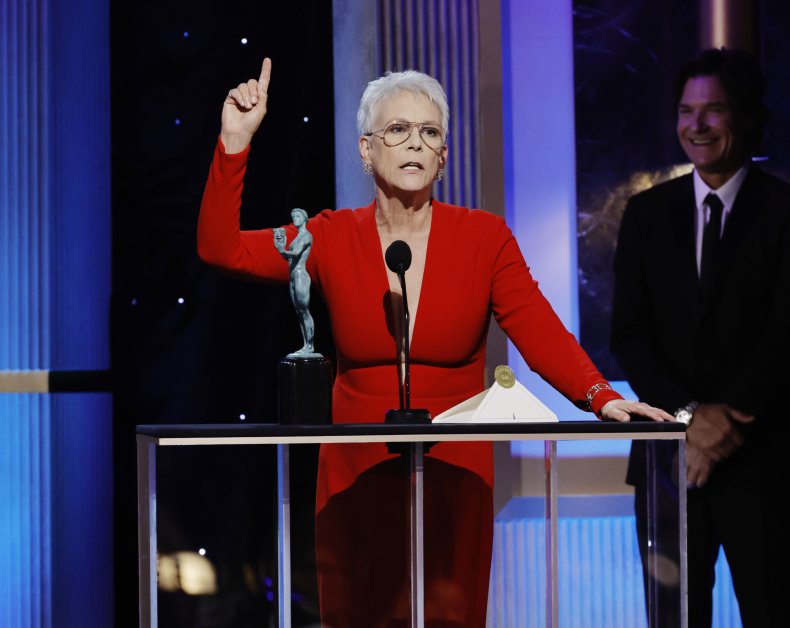 "I signed a seven-year contract to Universal Studios and starred in an ABC TV series called Operation Petticoat," she said. "Which was based on a movie that my father, Tony Curtis (nepo baby) starred in.
"I was fired from that TV show, a year later, and I thought my life was over."
But thanks to getting fired, Curtis admitted it allowed her to land her career making role in the Halloween horror films.
"If I hadn't been fired from Operation Petticoat, I would have never had the opportunity to audition for a little tiny, no-budget horror movie called Halloween."
She later raised the topic of nepo babies again when winning the award for female actor in a supporting role, motion picture, for her role in Everything Everywhere All at Once.
Curtis told the crowd how she was wearing her mother's—actress Janet Leigh—wedding ring, given to her by her father, and despite her Hollywood pedigree, was still excited to be winning a major award.
"I know you look at me and think nepo baby, and I totally get it! But the truth of the matter is I'm 64 years old and this is just amazing," she said excitedly.
But some fans at home were not impressed with Curtis' nepo baby comments and took to Twitter to complain about it.
"Listen man I like Jamie Lee Curtis fine but she should really, really shut up and stop whining about how anyone dare refer to her as a nepo baby. I have reached my ultimate limit with that bull****. It's insulting at this point," wrote one person on Twitter.
Another added: "Jamie Lee Curtis go 5 min without saying nepo baby challenge."
While another commented: "The nepo baby thing really got to Jamie Lee Curtis huh."
And a fourth tweeted: "Jamie Lee Curtis, go 30 seconds without bringing up nepo-babies challenge."
However, Buzzfeed's Spencer Althouse loved Curtis' comments: "Jamie Lee Curtis proudly referring to herself as a nepo baby during her 'I am an actor' speech was perfection."
While entertainment reporter Jason Fraley wrote: "Love how Jamie Lee Curtis just quoted the trendy phrase 'nepo baby' while paying respect to her parents (Janet Leigh and Tony Curtis, two absolute legends of Hollywood's Golden Age)."
This is not the first time Curtis has addressed the nepo baby conversation and described herself as the "OG nepo baby."
"I have been a professional actress since I was 19 years old so that makes me an OG Nepo Baby," she wrote on her Instagram in December. "I've never understood, nor will I, what qualities got me hired that day ... but there's not a day in my professional life that goes by without my being reminded that I am the daughter of movie stars.
"The current conversation about nepo babies is just designed to try to diminish and denigrate and hurt. For the record I have navigated 44 years with the advantages my associated and reflected fame brought me, I don't pretend there aren't any, that try to tell me that I have no value on my own."
She added: "It's curious how we immediately make assumptions and snide remarks that someone related to someone else who is famous in their field for their art, would somehow have no talent whatsoever. I have come to learn that is simply not true.
"I am not alone. There are many of us. Dedicated to our craft. Proud of our lineage. Strong in our belief in our right to exist."
The discussion around 'nepo babies' came to a head in December when Vulture and New York Magazine published a chart of entertainers with influential parents or family members, suggesting it was these connections that helped them get work in the industry.
Some of the names on the list were Lily-Rose Depp, Zoë Kravitz, Tracee Ellis Ross, Jack Quaid and Kate Hudson.
Update 2/27/23, 3:48 a.m. ET: This story was updated to include more information.