Jamie Lynn and Britney Spears: A Brief Timeline of Their Relationship
Britney Spears and her sister Jamie Lynn have been engaging in a social media war of words following the latter's appearance on Good Morning America to promote her new autobiography.
After Jamie Lynn referred to her sister's behaviour as "erratic," "paranoid" and "spiraling," Britney took to Twitter to ask, "why are we even talking about that unless she wants to sell a book at my expense."
After Britney said of her sibling, "she never had to work for anything. Everything was always given to her," Jamie Lynn released her own response on Instagram. The Zoey 101 star said: "I've worked hard since before I was even a teenager, and I've built my career in spite of just being someone's little sister."
Before this very public falling out, the actor and the "Toxic" singer have had what seemed to the public to be a fairly strong relationship, though one that has turned sour following Britney fans turning on Jamie Lynn following some of her statements over her sister's conservatorship battle.
A Timeline of Britney and Jamie Lynn's Relationship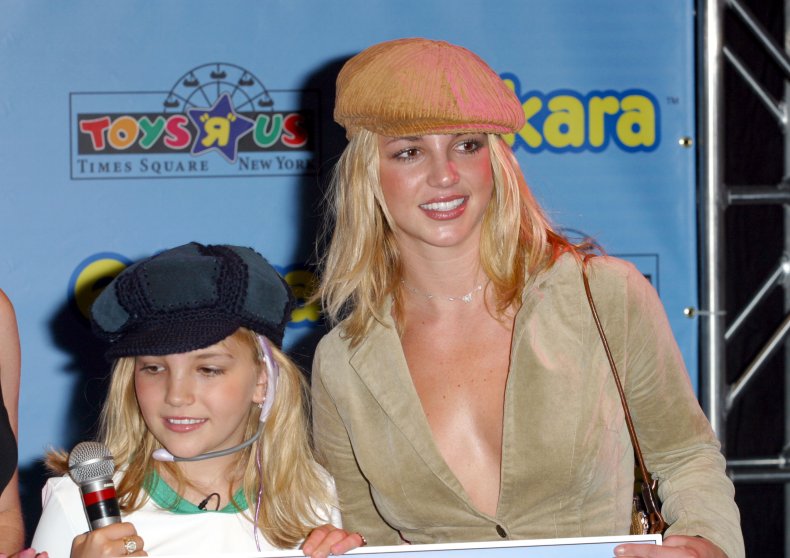 April 1991
Jamie Lynn Spears is born. Her sister is nine years old, and is already on the path to stardom after auditioning for The Mickey Mouse Club. The following year, she will appear on the show.
February 2002
Aged 10, Jamie Lynn makes her acting debut as the younger version of her sister's character in the film Crossroads. In a Real Access interview, Britney says of her sister: "It's so funny—actually, she would be a lot better in this business than I am. Like her personality, she is Miss Diva. She is so full of herself, it's so cute."
September 2002
Jamie Lynn finds her own fame among kids as a member of the Nickelodeon TV show All That—though Britney guest stars in a November 2002 episode alongside her sister.
January 2005
Jamie Lynn gets her first lead role in Nickelodeon's Zoey 101, which runs for four seasons. Its theme song "Follow Me" is co-written by Britney. In a letter to her fan club at the time, Britney says: "Jamie Lynn is turning into such a beautiful little lady. Her new show is coming out soon and I am sooo proud of her."
December 2007
Celebrity new outlets report that Jamie Lynn has become pregnant at the age of 16, a few months after Zoey 101 had wrapped its final season. Britney's two sons were born in September 2005 and September 2006 respectively.
Per Jamie Lynn's autobiography, the family banned her from telling her sister the news. This is a troubling time for Britney—earlier that year in February, Britney had her famous head-shaving incident. In February 2008, the conservatorship begins. Two months prior to Jamie Lynn's announcement, Britney lost custody of her children.
July 2013
Jamie Lynn's daughter Maddie appears alongside Britney's sons Sean and Jayden for her "Ooh La La" video.
December 2013
Jamie Lynn tries to launch her own pop career with single "How Could I Want More" and album The Journey. Neither makes the Billboard Hot 100. In comparison, two months prior, Britney's "Work B****" has made number 12, while her album Britney Jean makes number four in December. Jamie Lynn appears on a song on that album, "Chillin' With You."
March 2014
Britney is maid of honor at her sister's wedding.
March 2016
The Spears sisters appear together at the Grand Ole Opry, where Britney introduces her sister's set. Jamie Lynn tweets: "Best surprise ever at the most special place ever. So blessed. Thanks to my family, @britneyspears & thanks @opry."
June 2016—March 2017
Jamie Lynn is a semi-regular feature on Britney's Instagram, where the older sister promotes her younger sibling's work and says of her, "she makes my stomach hurt so bad from laughing!"
April 2017
A Radio Disney Music Awards tribute to Britney includes Jamie Lynn singing "Till the World Ends." In July 2021, Britney will say of this on Instagram, "I don't like that my sister showed up at an awards show and performed MY SONGS to remixes !!!!!"
April 2019
After Jamie Lynn is asked by fans to be more vocal in her support of the sister, she captions a post: "10 years ago, who was there? I have been here long before anyone else and I'll be here long after. I love my sister with everything I have. So anyone or anything that speaks to the contrary can GTFOH with all the comments about what you don't understand."
June 2021
On the 24th, Britney appears at her conservatorship hearing. Among her testimony, she said, "I would honestly like to sue my family." Four days later, Jamie Lynn says on Instagram: "I felt like until my sister was able to speak for herself and say what she felt she needed to say publicly, that it wasn't my place and it wasn't the right thing to do. But now that she's very clearly spoken and said what she needed to say, I can follow her lead."
July 2021
In another Instagram post, Jamie Lynn denies she benefits financially from the conservatorship. A week later, Britney writes: "how dare the people you love the most say anything at all ... did they even put a hand out to even lift me up at the TIME !!!???"
September 2021
Jamie Spears is removed from the conservatorship. Two months later, the conservatorship is terminated.
October 2021
Jamie Lynn announces she is releasing an autobiography, titled I Must Confess (a reference to the song "Baby One More Time"). After internet uproar, the name is changed to Things I Should Have Said.
January 2022
Jamie Lynn appears on Good Morning America to promote her book, due out on January 18. She discusses a confrontation with her sister during the pandemic in which she "came at me screaming and getting up in my face." Her accusations on the show spark a social media feud between the pair.