Jan. 6 Hearing: Ginni Thomas Subpoena Calls Revived Over Refusal to Testify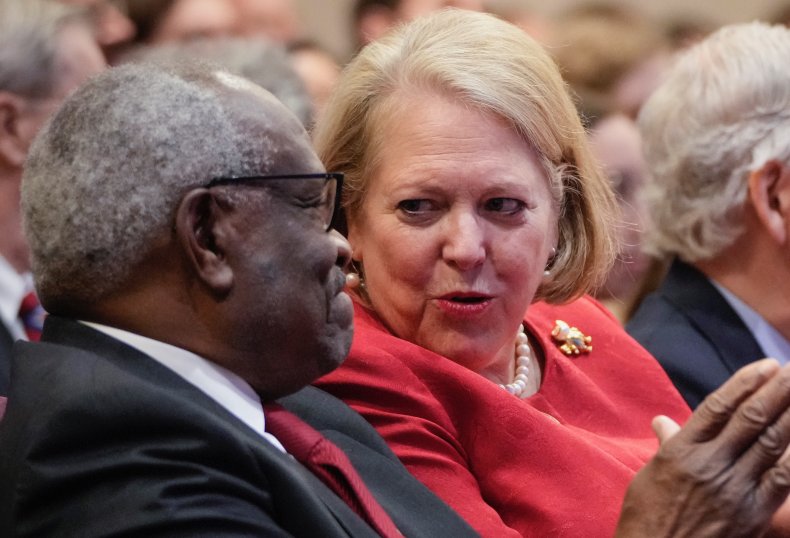 Calls for the House January 6 committee to subpoena Virginia "Ginni" Thomas have been ramping up following a report that her lawyer told the panel she would not testify.
The committee has asked Thomas, wife of Supreme Court Justice Clarence Thomas and a supporter of unfounded claims that the 2020 presidential election was "stolen" from former President Donald Trump, to voluntarily testify about her alleged role in efforts to overturn the election result. Her lawyer Mark Paoletta recently responded to the committee by insisting that there was not a "sufficient basis" for her to testify, according to a letter obtained by The New York Times.
News of the purported letter from Paoletta renewed calls for Thomas' subpoena on Tuesday. The committee was previously urged to compel her testimony earlier this month over text messages exchanged between Thomas and former Trump lawyer John Eastman—the alleged architect of a plan to reverse President Joe Biden's victory by convincing former Vice President Mike Pence to reject his Electoral College votes on January 6.
The panel also hopes to question Thomas on text messages she exchanged with former White House Chief of Staff Mark Meadows that allegedly promoted strategies to overturn the election. Thomas seemingly suggested that she would voluntarily testify earlier this month in comments to conservative news outlet The Daily Caller, saying that she "can't wait to clear up misconceptions."
Paoletta's letter reportedly argues that the panel does not need to question her because the communications between Thomas and Eastman do not show "any coordination" between them, although she is still interested in "clearing her name."
"It is in this context that Mrs. Thomas has expressed a willingness to try to come before the committee as a means of clearing her name," Paoletta reportedly wrote. "But, based on my understanding of the facts the committee has in its possession, I do not believe there is currently a sufficient basis to speak with Mrs. Thomas."
Several commentators—including MSNBC host Katie Phang, political science professor Miranda Yaver and former Democratic Arizona congressional candidate Judy Stahl—quickly issued abrupt calls on Twitter for the committee to subpoena Thomas immediately. Others weighed in with lengthier opinions on the matter, with many suggesting that the letter from the conservative activist's lawyer had left the committee with no choice.
"Ginni Thomas isn't just a key player in the January 6 timeline, she's one of *the* most significant players," tweeted author Seth Abramson. "She's desperate to stall Congress for seven months—after which she anticipates the House January 6 Committee will be disbanded by Rep. McCarthy. Subpoena her *today*."
"Only by issuing a subpoena to Ginni Thomas *now* does Congress have a chance of being able to work through her inevitable legal challenges and refer her to DOJ for a Criminal Contempt indictment *before* a possible handover of Congress to the insurrectionists in early 2023," he added.
"There is absolutely no reason why the House should not immediately subpoena Ginni Thomas and compel her testimony," Democratic pollster and strategist Matt McDermott tweeted. "No one is above the law."
Author Don Winslow asked Democratic Representative Bennie Thompson of Mississippi and Republican Representative Liz Cheney of Wyoming—the committee's chair and vice chair, respectively—if they were "prepared" to "issue a subpoena now" or instead "delay, hide behind the holiday, and just let it fade away."
"Now is the part of the story where you say Ginni Thomas' refusal to meet with the @January6thCmte is unacceptable and you will issue a subpoena," Winslow added in a later tweet. "Make no mistake your refusal to do so in light of the evidence will undermine the committee."
Newsweek has reached out to Thomas, Paoletta and a spokesperson for the House January 6 committee for comment.