Jan. 6 Rioter Who Was Out on Bail During Capitol Siege Arrested: Report
The FBI arrested a man Tuesday who participated in the Capitol riot while he was out on bail for attempted first-degree murder.
Matthew Beddingfield, of North Carolina, traveled to Washington, D.C. with his father to join the January 6, 2021, rally hosted by then-President Donald Trump that ended in the storming of the Capitol, NBC News reported. He was on bail for allegedly shooting a 17-year-old in the head in a Walmart parking lot in 2019 when Beddingfield was 19 years old.
Now, court records say he is also facing a slew of felony charges related to the riot, including assaulting officers, impeding officers during a civil disorder, and carrying a deadly or dangerous weapon on restricted Capitol grounds. He has also been charged with several misdemeanors.
Online investigators first identified Beddingfield in March 2021 by using PimEyes, a facial recognition website, to match video from the riot to his mugshot, HuffPost reported. The video showed a man in a gray hatwho appeared to be Beddingfield holding an American flag and fighting with police. After he appeared to do a Nazi salute in the video, the online investigators dubbed him "#NaziGrayHat" until the facial recognition technology identified him.
Facebook posts from Beddingfield's father, Jason Beddingfield, also helped identify him. The father and son had attended another pro-Trump rally in Washington, D.C., in November 2020, and photos the elder Beddingfield posted from the event showed his son wearing the same sneakers and carrying the same flag pole as he did during the January 6 assault, according to NBC News.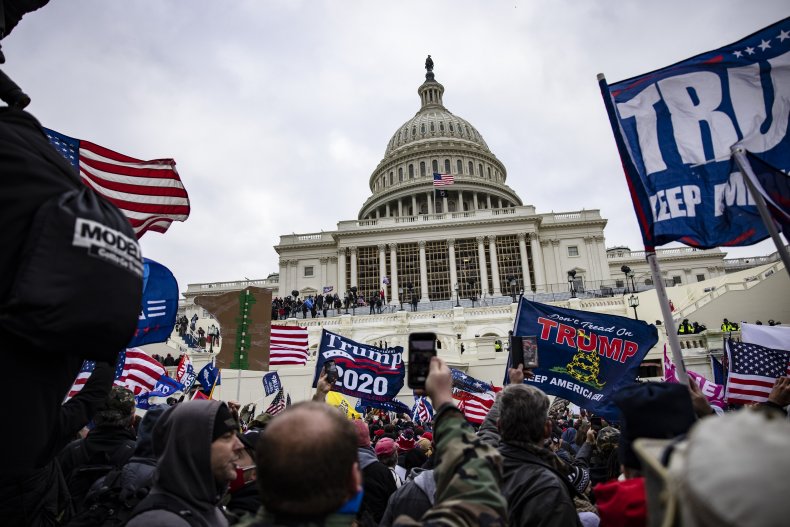 Shortly after the 2019 shooting, Jason Beddingfield told Raleigh and Durham news station WNCN-TV his son was being robbed on the night in question and shot the 17-year-old in self-defense.
"[We're] trying to do the best we can and I'm sorry that somebody got shot, but also this would not have happened if he had been robbed," he said.
Matthew Beddingfield turned himself in to the police the next day. After his bond was lowered from $1 million to $100,000, he was released. Since then, he has pleaded guilty to a lesser charge. He was on probation when he was arrested on Tuesday.
In an interview with HuffPost, Jason Beddingfield insisted his son was not present at the riot.
"I mean, there's a lot of doppelgangers in the world, isn't it?" he said. "All technology is not foolproof, is it?"
Beddingfield is set to appear in federal court in the Eastern District of North Carolina at an undisclosed date.
A Newsweek analysis of sentencing for Capitol rioters found that judges have generally been lenient toward those who pleaded guilty to their charges, with only about one-third of them receiving prison sentences.
Of those who pleaded guilty to obstructing an official proceeding or assaulting, resisting or impeding officers with a dangerous weapon—felonies with maximum sentences of 20 years—the person with the longest sentence received five years and three months in prison.
Update 02/08/22, 2:10 p.m. ET: This story has been updated to provide additional information and background.