The Jan. 6th Committee is More Dangerous to Democracy Than Jan. 6th | Opinion
"People are going to be surprised," Rep. Adam Schiff promised us, preceding the first primetime televised hearing of the January 6 committee. "The American people know a great deal already," he said, but there is a "great deal they haven't seen yet."
If the tantalizing promise of juicy evidence sounds familiar, it's because Adam Schiff is a one-trick pony. How many times did Schiff promise "proof" of Trump-Russia collusion only to produce... nothing?
Any inquiry that boasts Rep. Adam Schiff as a member should be outright rejected.
"Our goal is to present a narrative of what happened in this country," Schiff continued. "How close we came to losing our democracy. What led to the violence."
Which is it, Mr. Schiff? Will your committee serve up evidence to bolster your outrageous allegations? Or are you weaving a political "narrative" to serve your party's agenda?
The Jan. 6 committee under the helm of Chair Bennie Thompson, flanked by Schiff and pseudo-Republicans Liz Cheney and Adam Kinzinger, among others, is more dangerous than Jan. 6th itself. We're less than two weeks into their televised kangaroo court—during which they've already admitted they do not plan to make any criminal referrals to the Department of Justice—and they've given us at least five reasons to suspect they pose a greater threat to our country than the events of Jan. 6th ever did.
The first reason is the abuse of power wielded by the committee in its targeting of Trump adviser Peter Navarro. When the committee subpoenaed Navarro, he refused it, citing executive privilege on behalf of President Trump. Navarro has a legal right to make this claim. The Jan. 6th committee can contest it, but the appropriate venue to do so is in the courts. Schiff, Thompson, Cheney, Kinzinger, and the rest have no legal authority to simply dismiss Navarro's claim because they don't like it. Yet the DOJ indicted Navarro and the FBI arrested him at the airport without the due process necessary to adjudicate his claim.
So much for the Jan. 6th committee's claim to care about democracy.
Second, many of the Jan. 6th defendants who have been rotting in jail for the past year are being charged under 40 U.S. Code § 5104, which says no one may "parade, demonstrate, or picket in any of the Capitol Buildings" and 18 U.S. Code § 1512, which bans protest that "obstructs, influences, or impedes any official proceeding, or attempts to do so."
Yet consider the protesters circling the home of Supreme Court Justice Brett Kavanaugh. Their demonstrations continue even in the wake of the attempted assassination of the Justice, and despite the fact that a federal law with nearly identical language prohibits this activity. That law, 18 U.S.C. § 1507, bans "picket[ing] or parad[ing] in or near a building housing a court of the United States, or in or near a building or residence occupied or used by such judge, juror, witness, or court officer" when the protests have the intent "of interfering with, obstructing, or impeding the administration of justice."
Does the Jan. 6th committee care about selective application of the law, based on the political beliefs of those charged? No, it doesn't.
How can a congressional committee focused on Jan. 6th not care about what actually happened that day? This is the third reason. The real questions about Jan. 6th, 2021 remain:
Did cops open doors at the Capitol to allow protesters to enter?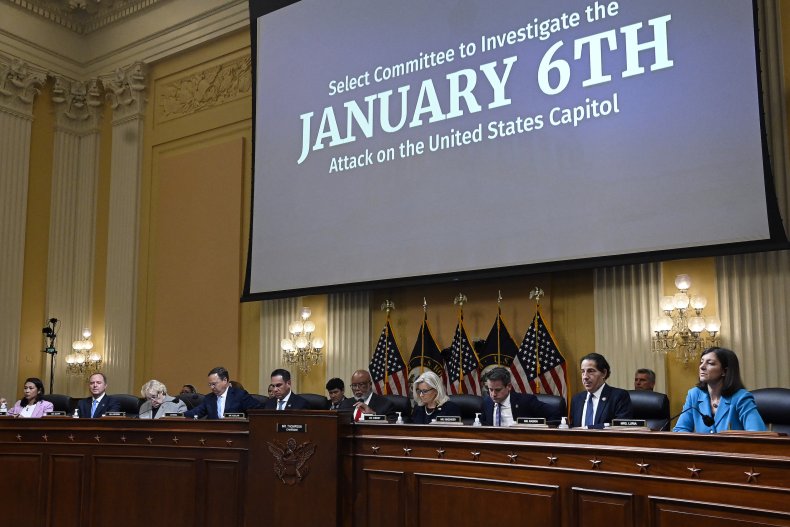 Did somebody move barriers for people to enter the restricted zone around the Capitol? If so, who?
Did police beat anyone in the tunnel?
Did FBI informants encourage and/or organize violence or lawbreaking?
How extensively were federal agencies geotracking people in connection to Jan. 6th?
Why does the committee refuse to subpoena and release 14,000 hours of video footage from Jan. 6th?
Why won't the committee subpoena the communication between Nancy Pelosi, the FBI, the DCCP, and D.C. Mayor Muriel Bowser?
Why was the Capitol left unprotected?
How long will the Jan. 6th defendants be subject to solitary confinement and deprivation of due process rights?
(Will Schiff's narrative include this information? If not, why not?)
Most dangerous of all, and our fourth reason, the Jan. 6th committee is trying to criminalize free speech. Dubbing concerns about election integrity "the big lie," and accusing those who voice them of inciting an insurrection, is part of a blatant attempt to label any speech that contradicts radical leftist ideology as "actual" violence. This is the criminalization of free speech at the hands of partisan, dishonest politicians. Free speech is a bedrock value of our constitutional republic, without which our nation will certainly fall.
This is and always has been the goal of the Jan. 6th committee. Criminalize free speech, convict President Donald Trump of a crime so he can't run in 2024, and use the whole spectacle as a vehicle to push their own anti-American agenda through "voting" legislation like the For The People Act.
The federalization of elections is a sinister, calculated move, and our fifth reason. The Jan. 6th committee fully understands that federalizing our election system, mandating early voting, online voter registration, no-fault absentee ballots, and removing protections against ballot harvesting—all while prohibiting voter ID laws, witness signature verification, and the cleanup of state voter rolls—will empower Democrats to win elections in perpetuity and effectively snuff out the chances of a Republican ever winning elections again.
The Jan. 6th committee is far more dangerous to our democracy than what happened on Jan. 6th. If you're not yet convinced, keep watching.
Liz Wheeler is host of The Liz Wheeler Show.
The views expressed in this article are the writer's own.