Jane Fonda Praised for Joining Protests Against Minnesota Pipeline
Jane Fonda is being praised on social media for her participation in a protest in Northern Minnesota this week.
The veteran actress and activist, 83, is protesting against the controversial Enbridge Line 3 replacement in the state.
That pipeline runs across Minnesota, starting in Alberta, Canada and ending in Superior, Wisconsin.
Those against the move say it could pollute native lands and water. While its supporters say it helps the economy and creates jobs.
Sharing a video to Instagram Monday, the politically outspoken Grace and Frankie star revealed that she is vaccinated and protesting alongside the Ojibwe Water Protectors.
The group say their mission is to create awareness and support for Native environmental issues.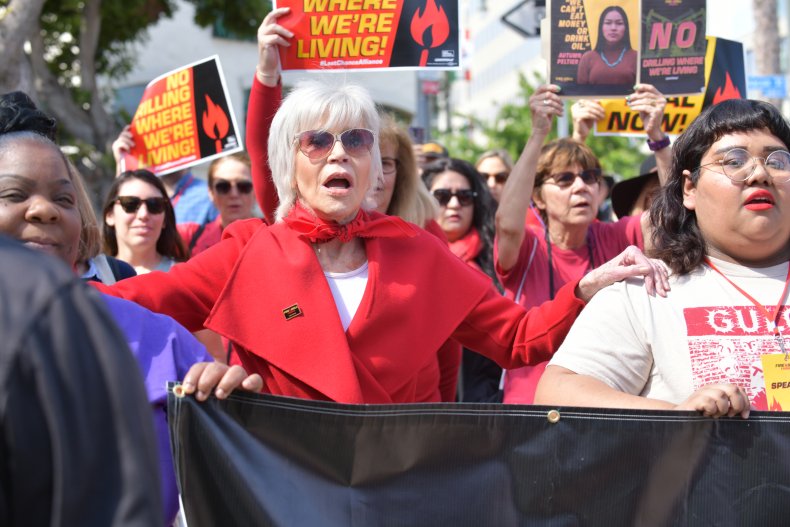 "Freshly vaccinated, I have arrived in Northern Minnesota with friends the Ojibwe Water Protectors, who have invited me to join them in the fight to stop Line 3," Fonda captioned the clip which shows her explaining where she is: "We're here to try to stop it," she says of the pipeline replacement.
"We were driving down the highway and pulled over to see the impacts of the nearly 1 million barrels of tar sands per day being brought from Alberta, Canada to Superior, Wisconsin by Enbridge, a Canadian pipeline company responsible for the largest inland oil spill in the U.S.," the caption continues.
"Enbridge seeks to build a new pipeline corridor through untouched wetlands and the treaty territory of Anishinaabe peoples, through the Mississippi River headwaters to the shore of Lake Superior."
Fonda added: "We will be at the rivers that are being threatened by Line 3 over the next few days gathering to pray and send a message to Enbridge that water is life."
The Barefoot in the Park actress is no stranger to a protest and has taken part in many demonstrations over the years and many of her fans are taking to Twitter to praise her support of the Ojibwe Water Protectors.
"Please do everything you can to protect Jane Fonda," one tweet reads. "She isn't doing any of this for her anymore she's doing this for us!"
While another Twitter user added: "Jane Fonda is 83 years old. She is fully vaccinated so she left her Covid bubble....to protest alongside Native Americans."
"Jane Fonda is Fierce!" said another. "Much respect."
Another person tweeted: "Jane Fonda is out there worried about our river and an oil pipeline. Nothing but respect. She is amazing."
The actress' name began trending on social media on Tuesday where some criticized her for her stance against the Vietnam War.