Trump's Replacement for Janet Yellen As Fed Chair Should Follow Her Lead, Economists Say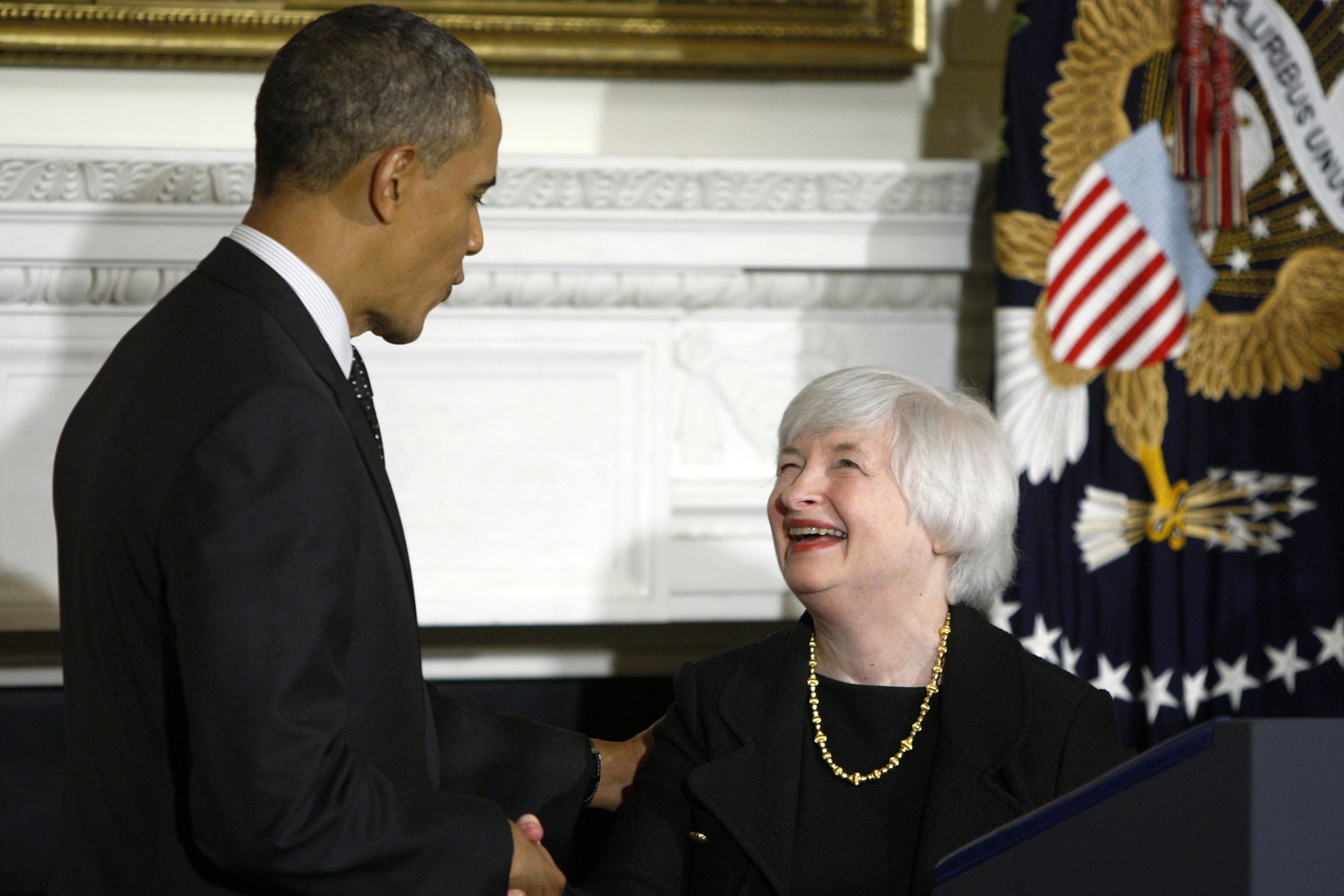 President Donald Trump's pick to lead the Federal Reserve is slated to take over after his markedly more qualified predecessor—who was instrumental in resuscitating the economy after the 2008 financial crisis—finishes her one and only term on Saturday.
As Trump did, incoming Fed Chairman Jerome Powell will inherit a rising stock market and stable economy from Chairwoman Janet Yellen. He will also inherit partial responsibility for her legacy, several economists told Newsweek.
While some experts still argue whether her policies will leave a lasting financial stability, Yellen is known for stimulating job and wage growth by keeping interest rates low for longer than markets anticipated.
That gambit paid off. In her four-year tenure, unemployment dropped from 6.7 percent to 4.1 percent—a 17-year low, according to the Bureau of Labor and Statistics.
"She did a phenomenal job," said Kenneth Rogoff, a professor of economics and public policy at Harvard University, where Yellen was an assistant professor in the 1970s. "Look at the economy that Trump inherited. A fair share of that owes to [President Barack] Obama but a fair share owes to Janet Yellen and the Fed."
Lawrence Summers, former Treasury Secretary under President Bill Clinton and Director of the National Economic Council under Obama, also praised the chairwoman.
"Janet Yellen left an economy with much lower unemployment, much more confidence in the financial system, closer to target inflation of 2 percent," Summers told Newsweek.
Scott Sumner, the director of the Program on Monetary Policy at the conservative Mercatus Center, told Newsweek Yellen may have been the best chair the office has ever had.
"If we are judging people by performance, in a sense she was the most successful Fed chair in history," Sumner said.
Yellen, first chair in nearly 40 years not to be re-appointed for a second term, ran her final policy meeting on Wednesday, just days after the Department of Commerce reported 2.3-percent annual growth for 2017.
Rogoff said he would have preferred if Yellen continued to run the Fed. "I think most of the people in the financial market would have liked to see her re-appointed," Rogoff said. "She did a terrific job."
He continued, "She didn't face the same kind of crisis that [Ben] Bernanke faced, but she faced more subtle kind of crisis: the fiercest existential crisis about the growth model that the U.S. used."
Rogoff suspects the president shares this opinion but is set on ousting Obama's appointees (Obama did, however, appoint Powell to the Fed board in 2012).
"I think Trump wanted to re-appoint her but he just couldn't swallow keeping an Obama appointee," Rogoff said.
Sumner also called Powell was a partisan pick. "President Trump wanted a Republican in there," Sumner said. "If we're looking at it from a technocratic perspective, it really doesn't make a lot of sense.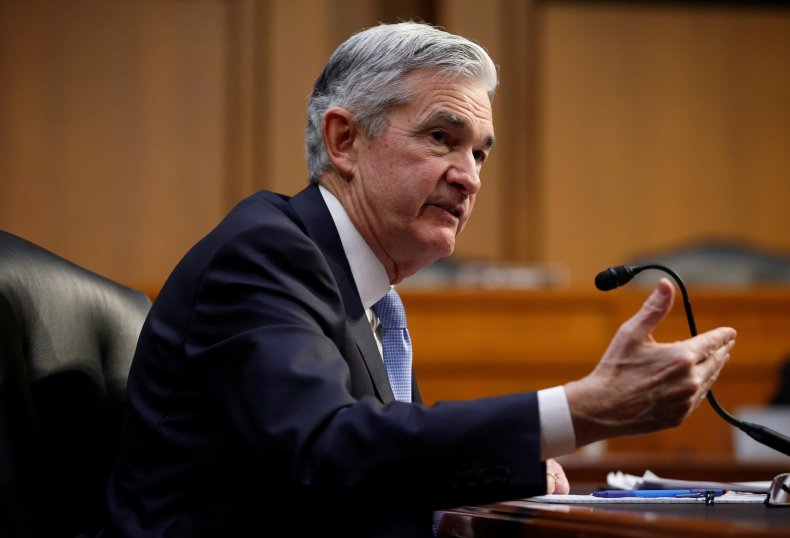 "If you're going to pick someone for Fed chair, which is arguably the most important policy position in the world, you want to go out of your way to pick the absolute best person out there," he said. "There's really no question Yellen is more qualified."
Obama nominated Yellen to head the Fed in October 2013. Then-White House spokesman Jay Carney touted her as "one of, if not the most, qualified nominee for this position ever."
Yellen graduated summa cum laude with a degree in economics from Brown University in 1967, according to the Fed. She earned her PhD. in economics from Yale University in 1971 and went on to teach at Harvard University from 1971-1976, the London School of Economics from 1978-1980 and University of California at Berkeley from 1980-1994.
She served as the president and chief executive officer of the Federal Reserve Bank of San Francisco from 2004-2010, at which point she became the vice chair of the Federal Reserve Board of Governors. In 2014, she succeeded Bernanke, becoming the first woman to hold the position.
Despite her bona fides, her Senate confirmation was contentious. Republicans like Senator Mitch McConnell questioned Yellen's ability to do the job ahead of her confirmation. The Senate confirmed her on a 56-26 vote, the closest Fed chair confirmation ever. For perspective, her male successor—a lawyer who doesn't have a Ph.D. in economics—passed confirmation 84-13.
Justin Wolfers, a professor of economics at the University of Michigan, tweeted about the discrepancy using a Powell's nickname after his confirmation in January.
"Janet Yellen: Leading economics scholar; former CEA chair; former SF Fed President & Fed Vice Chair: 56-26. Jay Powell: Not an economist; investment banking & private equity experience: 84-13. Explain the difference."
In November, Trump announced he had tapped Powell—the current Federal Reserve governor—to replace Yellen. He is well liked in the financial industry, economists say, though he is decidedly less qualified than his predecessors, who unlike him, all had Ph.Ds in economics.
Powell previously worked in the Treasury Department under President George H.W. Bush. When he takes over, Powell will be charged with implementing Yellen's strategy of gradually hiking interest rates, though not so slowly that low-cost borrowing results in an asset bubble (like the one Yellen helped the nation to recover from). Yellen's legacy will partially be judged by how successful he is at accomplishing those goals.
Summers said he was satisfied with Powell's qualifications. "Jay got a lot of experience in the financial market [and] had a substantial run as governor," he said.
Not everyone was so optimistic in Powell. Sam Bell—a research adviser at Fed Up, a campaign to encourage the central bank to keep interest rates low, as Yellen did—also criticized the Powell pick.
"Jerome Powell is a nice guy," he tweeted, "but he knows about 1/1000th of what Yellen knows on monetary policy. He's a blank slate. The principal thing he has going for him—he says he will continue Yellen's policy!"
Powell is blessed with a stable economy, falling unemployment and a strong stock market. If he follows Yellen's lead and keeps the Fed in auto-pilot, he should be fine, the economists said. If he doesn't, it could damage Yellen's legacy.
"But of course," Rogoff warned, "if there's a financial crisis in the next few months, the blame will fall on her, rightly or wrongly. That's just how it is."