Janet Yellen 'Very Concerned' at Delta, Other Variants Threat to COVID Recovery
Treasury Secretary Janet Yellen has said she is "very concerned" about the risk that new coronavirus variants could pose to the global economic recovery from the pandemic.
"We are very concerned about the Delta variant and other variants that could emerge and threaten recovery," she told reporters following a G20 meeting in Venice, Italy, on Sunday, according to Agence France-Presse.
"We are a connected global economy, what happens in any part of the world affects all other countries."
In remarks at a press conference following the meeting, Yellen said representatives from the Group of 20 countries had discussed how to work together to address a range of global challenges, including putting an end to the pandemic.
"Right now, the best way to fight this pandemic is more equitable vaccine distribution worldwide and more fiscal policy support where feasible," Yellen said.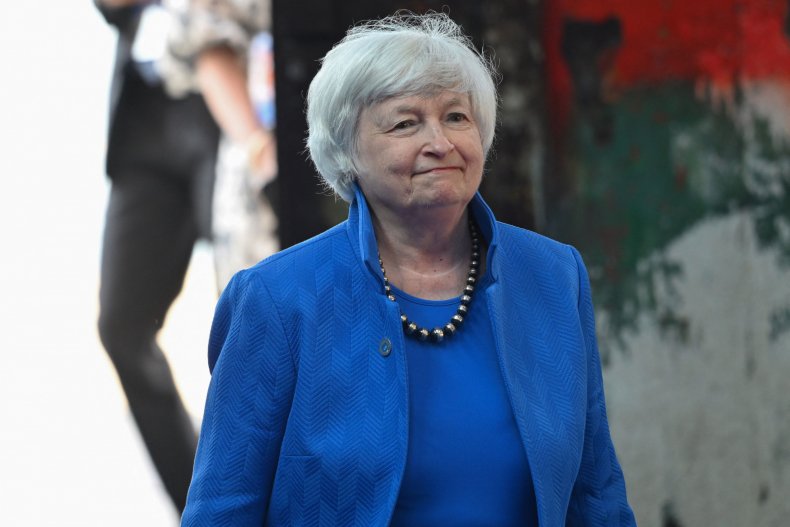 She said that while the United States has made "significant" progress rolling out COVID vaccines, "we know that the pandemic is far from under control" in many parts of the world, including low-income nations.
"And as long as the virus continues to spread, we're all still at risk," she said. "To that end, the United States has pledged to share 580 million vaccine doses, and I've strongly urged my G20 counterparts to step up their support."
She continued: "We also spoke about the pandemic's adjacent economic crisis, and its impact on low-income countries. By some measures, the slowdown of the global economy will erase decades of progress in the fight against extreme poverty in these places. This weekend, the G20 stressed that we will provide support."
The Delta variant of the coronavirus, which experts say spreads more easily, has been found in more than 80 countries since it was first detected in India.
The U.S. Centers for Disease Control and Prevention estimates that the strain accounts for over half of all new COVID-19 cases.
"Although we expected the Delta variant to become the dominant strain in the United States, this rapid rise is troubling," Dr. Rochelle Walensky, the CDC's director, said during a press briefing on Thursday.
"We know that the Delta variant has increased transmissibility and it is currently surging in pockets of the country with low vaccination rates," she added. "We also know that our authorized vaccines prevent severe disease, hospitalization and death from the Delta variant and results."
This week, pharmaceutical companies Pfizer and BioNTech announced that they plan to start clinical trials in August for a booster shot aimed at providing increased immunity against the Delta variant.
Update 7/11/21, 6:30 a.m. ET: This article was updated to include additional information and background.