Jan. 6 Committee Schedule: Time, How to Watch Thursday's Hearing
The January 6 hearings are returning to prime time on Thursday, and this could be the last public hearing until the House committee investigating the Capitol riot finishes its report.
The ninth hearing, which is scheduled for 8 p.m. ET, will focus on what former President Donald Trump was doing in the 187 minutes between the time his supporters descended on the Capitol and when he issued his public response.
The committee will live-stream the hearing on its website here, for those wanting to watch it in real time. Most major broadcast cable networks like C-Span, CNN, CBS, ABC and NBC will also stream the hearing.
Thursday's hearing will be led by Democratic Representative Elaine Luria of Virginia and Republican Representative Adam Kinzinger of Illinois, who are expected to make the argument that Trump did nothing to stop the riot on January 6.
Committee chairman Bennie Thompson will not be in attendance at the hearing after testing positive for COVID-19 earlier this week.
Two former Trump White House officials, who both resigned in the wake of the Capitol attack, are expected to testify during the hearing: former deputy national security adviser Matthew Pottinger and former deputy White House press secretary Sarah Matthews.
On Sunday, Kinzinger told CBS' Face the Nation that the hearing would "open people's eyes in a big way" about Trump's behavior.
"I'll give you this preview: Tpresident didn't do very much but gleefully watch television during this time frame," the Republican said, adding that he hoped Americans would watch the hearing with an "open mind" and ask, "Is this the kind of strong leader you really think you deserve?"
Thursday's hearing will be the first in the prime-time slot since the June 9 debut that drew an audience of an estimated 20 million viewers.
This week, the U.S. Secret Service was widely criticized after the agency was unable to recover deleted text messages to turnover to the House panel.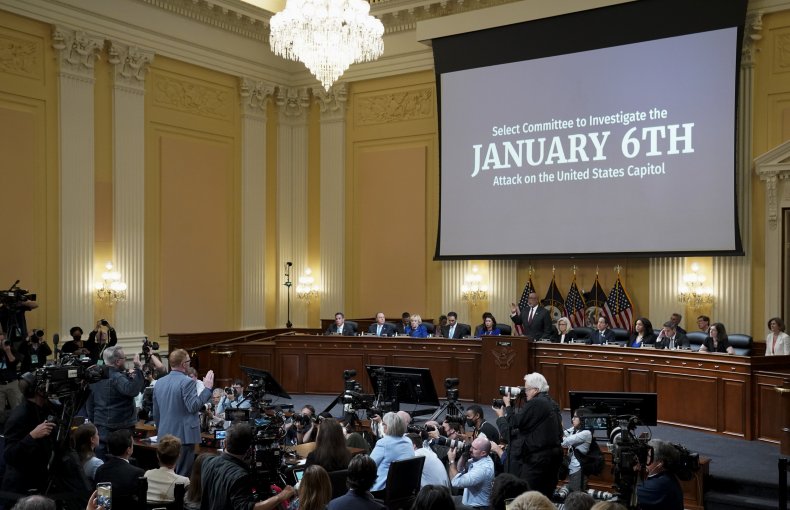 The January 6 commission requested messages be turned over after the Department of Homeland Security watchdog told lawmakers that Secret Service personnel had deleted texts from January 5 and 6, 2021.
The Secret Service was only able to provide one text exchange to DHS Inspector General Joseph Cuffari, who had requested a month's worth of records, according to a Wednesday report from CNN.
Committee member Representative Zoe Lofgren told CNN that the panel would be "pursuing more information as a committee soon" and putting in "more requests" for those messages.
"This obviously, this doesn't look good," Lofgren said. "Coincidences can happen but we really need to get to the bottom of this and get a lot more information than we have currently."