Full List of Those Subpoenaed by January 6 Committee Over U.S. Capitol Riot
The congressional committee investigating the U.S. Capitol riots issued a new round of five subpoenas, taking the number of people it wants to question about what happened on January 6 to more than three dozen.
Representative Bennie Thompson (D-MS), the committee chair, said on Monday it had subpoenaed Republican political consultant Roger Stone, right-wing commentator Alex Jones and Trump's latest spokesperson Taylor Budowich.
The committee is also demanding records and testimony from Dustin Stockton and his partner Jennifer Lawrence, who had ties to the "Stop the Steal" movement following the election.
Thompson said his committee wanted information from the group about the rallies and march to the Capitol "that escalated into a violent mob attacking the Capitol and threatening our democracy."
He said the committee believes the latest witnesses subpoenaed "have relevant information and we expect them to cooperate fully with our effort to get answers for the American people about the violence of January 6th."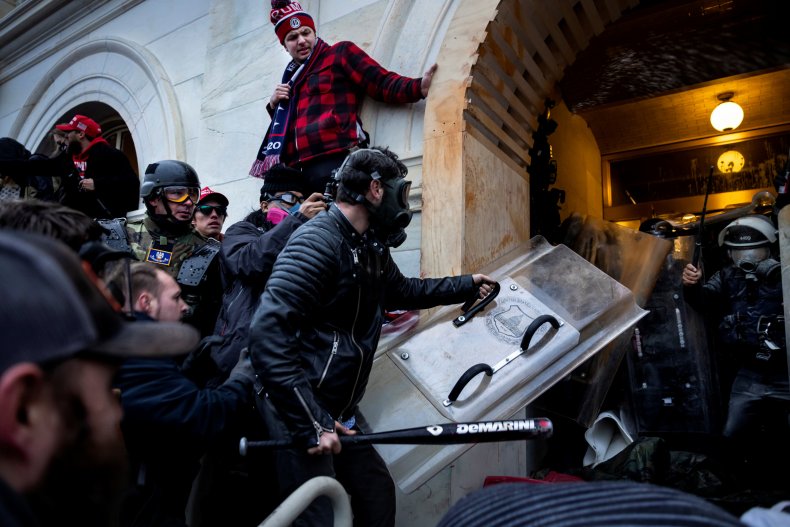 The growing group ranges from those who worked closely with Trump in the White House and during his election campaign, to organizers of the rally and events that led up to the attack.
There were 10 subpoenas issued on November 9 which took the total number of individuals or groups called to 35, according to CNN.
Monday's fresh batch of five was the first new subpoenas since then according to the select committee's website and takes the total number of people to 40.
The list consists of household names as well as those not in the public eye.
Ex-Trump adviser Steve Bannon has thumbed his nose at his subpoena and has been charged with contempt of Congress for refusing to appear for a deposition and for refusing to provide documents in response to a subpoena.
Former White House chief of staff Mark Meadows in also refusing to testify but has not been cited for contempt. Ex-deputy chief of staff for communications Daniel Scavino has also been subpoenaed.
The list also includes former White House press secretary Kayleigh McEnany, ex-senior adviser Stephen Miller, and Michael Flynn, the former Trump national security adviser.
The list of those subpoenaed is as follows:
Allies of Ex-President Donald Trump
Mark Meadows, White House ex-chief of staff
Daniel Scavino, White House ex-deputy chief of staff for communications
Kashyap Patel, former Defense Department official
Stephen Bannon, former Trump adviser
Rally and Event Organizers Ahead of January 6
Amy Kremer, founder and chair of Women For America First (WFAF)
Kylie Kremer, founder and executive director of Women For America First (WFAF)
Cynthia Chafian, founder of the Eighty Percent Coalition
Caroline Wren, listed on permit paperwork for the January 6 rally as "VIP Advisor"
Maggie Mulvaney, listed on permit paperwork for the January 6 rally as "VIP Lead"
Justin Caporale, of Event Strategies, Inc.
Tim Unes, of Event Strategies, Inc.
Megan Powers, of MPowers Consulting LLC
Lyndon Brentnall, of RMS Protective Services, listed on permit paperwork for the January 6 rally as "On-Site Supervisor"
Hannah Salem, of Salem Strategies LLC
Katrina Pierson, former Trump campaign official
Ali Alexander, linked to permit applications for the "Stop the Steal" rally
Nathan Martin, as above
Stop the Steal, LLC, organization affiliated with "Stop the Steal" rally
Trump White House Officials
Nicholas Luna, Trump's personal assistant
Molly Michael, Trump's special assistant to the president
Benjamin Williamson, Trump's deputy assistant to the president
Christopher Liddell, ex-White House deputy chief of staff
John McEntee, Trump's White House personnel director
Keith Kellogg, ex-national security adviser to then-Vice President Mike Pence
Kayleigh McEnany, former White House press secretary
Stephen Miller, Trump senior adviser
Cassidy Hutchinson, special assistant to the president for legislative affairs
Kenneth Klukowski, former senior counsel to Assistant Attorney General Jeffrey Clark
Latest Five to be Subpoenaed on November 22
Dustin Stockton, who reportedly helped organize rallies
Jennifer Lawrence, Stockton's fiancée
Taylor Budowich, Trump spokesperson
Roger Stone, former Trump ally
Alex Jones, right-wing commentator