Southern Japan Hit by Second Earthquake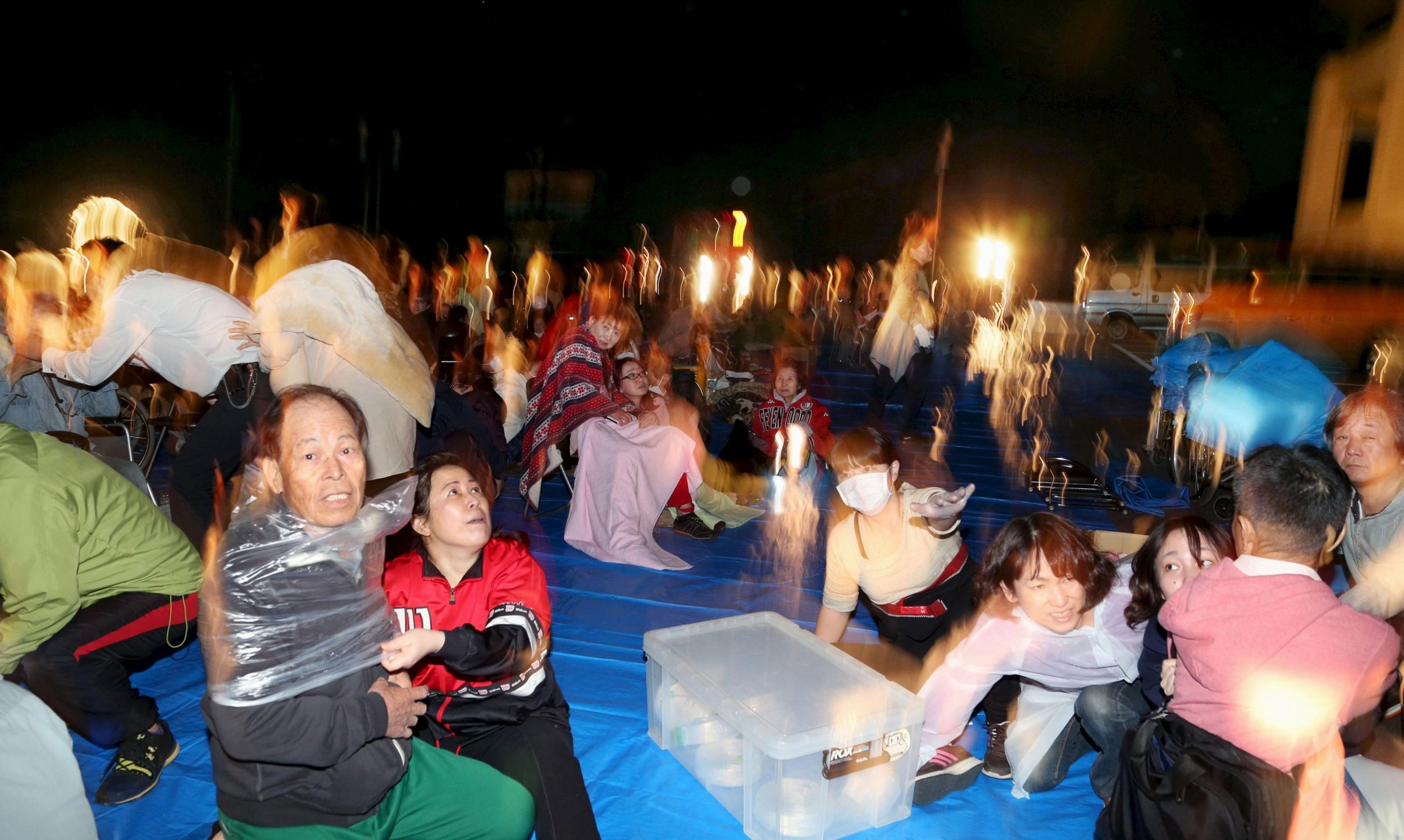 Updated | Southwestern Japan was struck by a second earthquake on Thursday, hours after a magnitude-6 quake resulted in the collapse of several buildings.
The second earthquake had a magnitude of 6.2 and struck 6.6 miles southwest of Kumamoto on the island of Kyushu, according to the U.S. Geological Survey (USGS). The epicenter of the first earthquake was also Kumamoto prefecture, about 41 miles east of Nagasaki. The first earthquake struck at a depth of 14 miles and while its magnitude was originally registered at 6.2, it was soon revised downward, according to Reuters.
Japan's Meteorological Agency said the first earthquake posed no risk of sparking a tsunami, and there are currently no tsunami warnings in effect . Aftershocks were felt about 40 minutes after the earthquake struck at around 9:30 p.m. local time.
"We intend to do the utmost to grasp the situation," Prime Minister Shinzo Abe told reporters on Thursday. "I'm now planning to hear what we have gathered on the situation."
Dozens of people were reported injured, including some seriously, after the initial quake and a number of high-speed trains were canceled as a precaution. Video footage from what appears to be inside the newsroom of Japan's NHK broadcaster shows people ducking under their desks as books and papers fall off the shelves. A fire also broke out in Mashiki, a town near the epicenter of the quake.
Margaret Adams, 29, was in her apartment near Kumamoto Castle when the earthquake hit. The apartment shook "pretty badly," she says, and she now has broken dishes and furniture. It lasted for nearly a minute.
"The quake was violent. I was in Tokyo when the one that caused the Fukushima incident hit, and this one felt stronger," Adams tells Newsweek through Twitter direct messaging. "That's probably just because I was closer to the epicenter this time."
While talking to Newsweek, Adams, who is originally from Pennsylvania, was trying to reach a friend who was in a car accident caused by the earthquake. She says her friend is safe and not hurt, but scared.
"The people here are scared but calm," says Adams.
According to the USGS "Did You Feel It?" map, which allows the public to register the strength of an earthquake, shaking near Kumamoto during the first earthquake was "severe," which has the potential to cause moderate to heavy amounts of damage.
Thursday's temblor comes more than five years after a magnitude-9 earthquake and tsunami hit Japan, killing more than 15,000 people, displacing hundreds of thousands and resulting in the subsequent nuclear reactor meltdown at the Fukushima Nuclear Power Plant. On Wednesday, a magnitude-6.9 earthquake hit Myanmar and was felt in parts of India and Bangladesh.
Kyushu Electric Co. said it's checking on the Genkai and Sendai nuclear plants, which are situated on the affected island.
This story has been updated to include information about the second earthquake.