Japan's Shinzo Abe Fires Direct Warning to China's Xi Jinping Over Taiwan
A Chinese decision to invade Taiwan would be "economic suicide" for Beijing, former Japanese Prime Minister Shinzo Abe said on Wednesday, uttering remarks that included his most direct warning to China's President Xi Jinping.
Abe stepped down in 2020 due to health issues, but he remains influential within Japan's ruling Liberal Democratic Party. His faction helped elect former leader Yoshihide Suga and current incumbent Fumio Kishida. Taiwan considers Abe a close personal ally.
Speaking virtually at an event hosted by the Taipei-based Institute for National Policy Research think tank, Abe noted the proximity to Taiwan of several Japanese islands including the disputed Senkakus as well as Yonaguni. "An assault on Taiwan," he said, "poses great danger to Japanese territory. Japan would not allow such a scenario."
As prime minister, Abe said he conveyed to Xi his determination to safeguard the disputed Senkaku Islands, which are administered by Japan but also claimed by China and less vigorously Taiwan. The United States recognizes effective Japanese control—although not sovereignty—over the uninhabited island chain, which is covered under the U.S.-Japan defense treaty.
"A Taiwan emergency is a Japanese emergency, and therefore an emergency for the Japan-U.S. alliance," Abe said in his address. "The leadership in Beijing, President Xi Jinping in particular, must not misjudge this understanding."
Tokyo and Taipei need to work closely together to ensure China exercises restraint, he said. "Japan, Taiwan and all who believe in democracy must repeatedly urge President Xi Jinping and the Chinese Communist Party leadership not to go astray."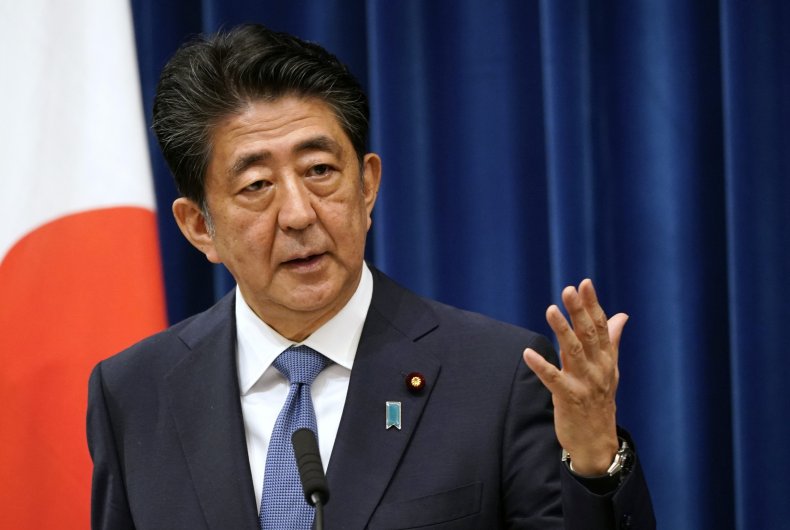 "China is indeed huge, and has a close relationship with the world economy. A military adventure is a path that leads to economic suicide," said Abe. "If China also prioritizes its own interests, then the only solution to cross-strait relations is a peaceful one."
The former prime minister said China's military spending has grown by 42 times in the last 30 years, while Japan's increased by a factor of four over the same period. Abe predicted further growth in Beijing's defense budget in the next three decades as China heads towards its 100th anniversary in 2049.
"We must take the initiative and guard against China's various military provocations in the air, sea as well as underwater," said Abe, who described Taiwan's existence as a cornerstone for Japan.
Japan hosts more than 50,000 American military personnel, including around 30,000 active-duty troops in Okinawa and nearly as many U.S. family members. It is the largest contingent of service members outside of the continental U.S.
The U.S. is Taiwan's strongest international backer. The Taiwan Relations Act obliges Washington to sell defensive arms to Taipei in order to maintain the island's self-defense capability, but it is not bound by law to defend Taiwan from an armed attack.