South Korea and Japan Clash over 'Comfort Women' Forced into Sexual Slavery During World War II
South Korean President Moon Jae-in has called the Japanese army enslavement of so-called "comfort women" during World War II a "crime against humanity," the strongest remarks yet in a long-standing disagreement between the two countries and key U.S. allies.
Moon gave his speech on Thursday, a national holiday in South Korea that commemorates 99 years of the March 1 Movement, one of the first public displays of resistance to the Japanese occupation of the Korean peninsula that lasted between 1910 and 1945. The day was marked with a re-enactment of the crackdown of the independence movement, while a group of protesters staged a demonstration outside the Japanese embassy in Seoul.
"To resolve the comfort women issue, the Japanese Government, the perpetrator, should not say the matter is closed," Moon said, quoted in Reuters. "The issue of a crime against humanity committed in time of war cannot be closed with just a word. A genuine resolution of unfortunate history is to remember it and learn a lesson from it."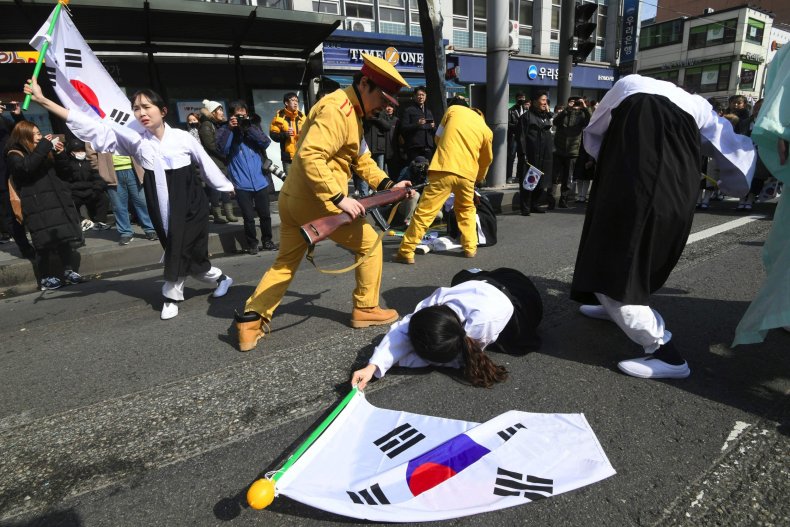 The issue of "comfort women," a term deriving from a Japanese euphemism to refer to the thousands of young women and girls that were taken from territories under Japanese control and forced into sexual slavery by the Japanese army during World War II, is not the only matter of dispute between the countries. Moon also made a reference to the group of islands known as Dokdo in South Korea and Takeshima in Japan, which both countries claim as their own.
"Dokdo is the first place in our country that was invaded by the Japanese, it is our territory. Japan's denial of this fact is no different from not reflecting on the imperialistic invasion," Moon said. His comments sparked immediate backlash from Tokyo.
"What President Moon said is against the Japan-South Korea agreement; it is totally not acceptable and extremely regrettable," Chief Cabinet Secretary Yoshihide Suga said at a regular press briefing quoted by Reuters, referring to a controversial deal signed between Japan and the previous South Korean government in 2015.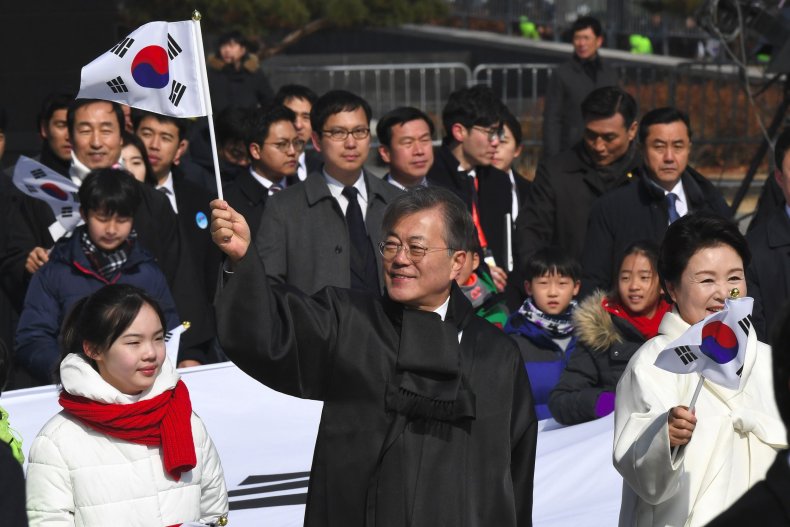 Under the terms of the agreement, Japan would pay 1 billion yen ($9.4 million) towards a fund to support survivors, in exchange for South Korea considering the issue "finally and irreversibly" resolved. "We immediately lodged a complaint with South Korean government through diplomatic routes," Suga added.
According to Moon's administration, the deal failed to take into account the desires of the survivors and their families. "I do not seek special treatment from Japan," Moon said on Thusday, quoted in the Nikkei Asian Review. "I ask only that (Japan) walk alongside us into the future on the basis of heartfelt remorse and reconciliation, befitting our closest neighbor."