Jared Kushner and Donald Trump's Middle East Peace Plan Is a 'Waste of Time,' Israeli Minister Says
As international observers wait for the Trump administration to unveil its long-touted Middle East peace plan, at least one Israeli Minister dismissed the whole endeavor as a "waste of time."
Speaking at a conference in Jerusalem on Wednesday, Israeli Justice Minister Ayelet Shaked said she doesn't believe the U.S. or anyone can find a solution to the longstanding dispute between the Israelis and Palestinians. "I want peace like everyone else," Shaked told the conference audience. "But I don't believe an agreement can be reached. I would tell Trump: 'Don't waste your time.'"
President Donald Trump put his son-in-law and adviser Jared Kushner in charge of brokering a Middle East peace plan, but few details have emerged about what the proposal entails. Meanwhile, many observers said the U.S. has lost credibility as a negotiator due to its controversial decision to move the U.S. Embassy to Jerusalem early this year. Half of the city has long been viewed as the future capital of a Palestinian state if a peace plan were ever reached, and the embassy relocation was seen as a de facto acceptance of Israel's full control of the city.
In June, Kushner visited the Middle East to promote his peace plan, but analysts at the time noted that the U.S. had lost its ability to act as an honest broker. Palestinian officials have repeatedly refused to meet with Kushner. In response, the president's son-in-law pushed the administration to cut aid to Palestinian refugees and is reportedly working behind the scenes to strip displaced Palestinians of their refugee status.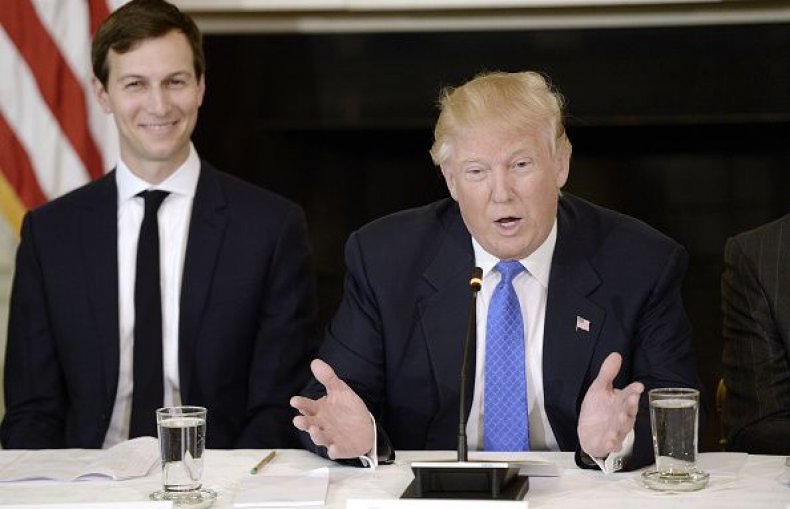 Many critics said this approach shows the U.S. isn't serious about brokering an agreement.
"Genuinely working for a just peace is never a waste of time, but it is crystal clear that that is not what the Trump administration is doing nor is it what this Israeli government is seeking. Together they are on the same page in looking to maintain the apartheid status quo for as long as possible," Yousef Munayyer, executive director of the U.S. Campaign for Palestinian Rights, told Newsweek.
The Trump administration has largely refrained from criticizing the construction of Israeli settlements in areas of the West Bank where Palestinians live, and has not threatened to withdraw support from Israel over ongoing violence between Israeli soldiers and Palestinians in the Gaza Strip. Trump himself has said he would back a two-state solution to the conflict, but the Trump administration's top adviser on the issue, Jason Greenblatt, has publicly said that a two-state solution means different things to different people.
"The thing about peace plans is that they're supposed to be about peace. Kushner's plan has yet to be revealed in full, but so far it appears to be more about inflaming tensions than reducing them," Chris Meserole, a Middle East expert at the Brookings Institution, told Newsweek.
"The plan will need buy-in from Israel's neighbors to succeed. But if it hinges on depriving Palestinians outside of Israel of their refugee status, as has been rumored, it's hard to see how it ever gets support outside of Jerusalem," Meserole continued.