Jared Kushner Lost Access to Top Secret Intelligence. Here's Why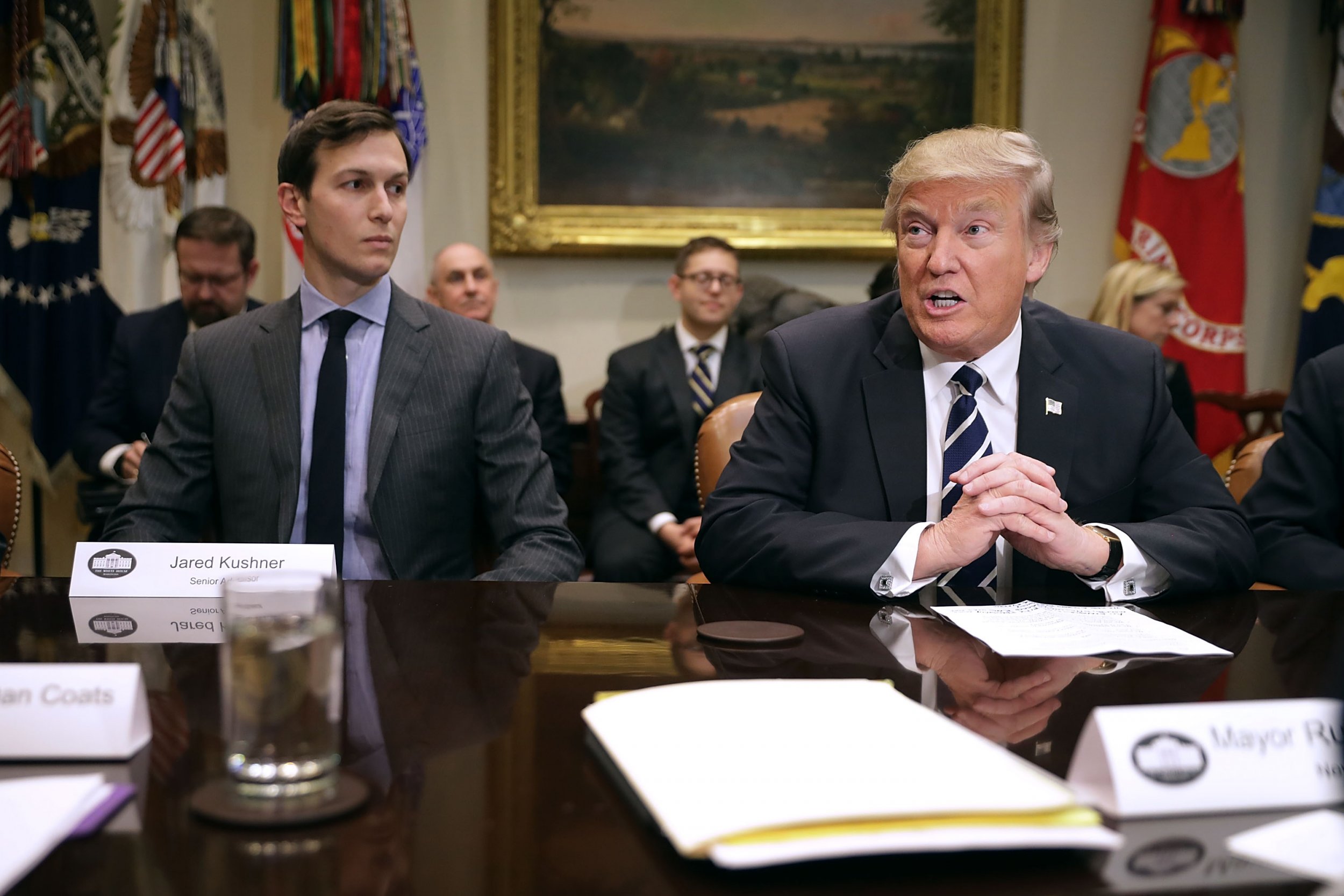 Jared Kushner was informed on Friday that his temporary security clearance was downgraded, cutting him off from the sensitive documents he's had access to throughout President Donald Trump's tenure as the FBI protracted background check dragged on.
Kushner, Trump's senior adviser and son-in-law, as well as the rest of the White House aides working under highest interim clearances, have all been downgraded from Top Secret/SCI-level to Secret level, three sources with knowledge of the decision told Politico. "SCI-level" is an acronym for secret compartmentalized information. The administration staff was informed of the decision in a memo on Friday.
White House Chief of Staff John Kelly's name was not on the memo, but it was issued the same day Trump told reporters the retired Marine general would handle security clearance concerns.
"I will let General Kelly make that decision," Trump said, though it's within his authority to grant permanent clearance. "I have no doubt he'll make the right decision."
Prior to Friday's decision, Kushner had access to Trump's daily brief, the highest classified document the president receives, Politico reported.
The downgrade comes as Kelly and the White House have faced weeks of backlash after the Daily Mail and the Intercept revealed former White House Staff secretary Rob Porter was permitted access to sensitive information despite never having received permanent clearance. Kelly was told weeks earlier that Porter would not qualify for permanent clearance after Porter's two ex-wives told the FBI he physically and verbally abused them.
RELATED: Jared Kushner and Dozens of White House Staffers Handle Sensitive Information Without Permanent Security Clearance
Kelly issued a five-page memo a week after the Porter scandal erupted announcing an overhaul to how security-clearance investigations were managed, The Washington Post first reported.
"The events of the last ten days have focused immense attention on a clearance process that has been in place for multiple administrations," Kelly wrote. "The American people deserve a White House staff that meets the highest standards and that has been carefully vetted—especially those who work closely with the president or handle sensitive national security information.
"We should—and in the future must—do better."
The clearance downgrades are the first amendment to modification to the clearance process installed since Porter resigned, according to Politico.
In a rare statement last week, Kelly publicly defended Kushner and his ability to perform his job.
"As I told Jared days ago, I have full confidence in his ability to continue performing his duties in his foreign policy portfolio including overseeing our Israeli-Palestinian peace effort and serving as an integral part of our relationship with Mexico," Kelly said.
Kushner's attorney Abbe Lowell said "Kushner has done more than what is expected of him in this process," in a statement issued to Newsweek and other outlets. "As General Kelly himself said, the new clearance policy will not affect Mr. Kushner's ability to continue to do the very important work he has been assigned by the President."
The White House did not immediately respond to Newsweek's requests for comment.