Jared Kushner-Affiliated Company Sees Famous New York City Jehovah's Witness Sign Come Down, Changing Brooklyn Skyline Forever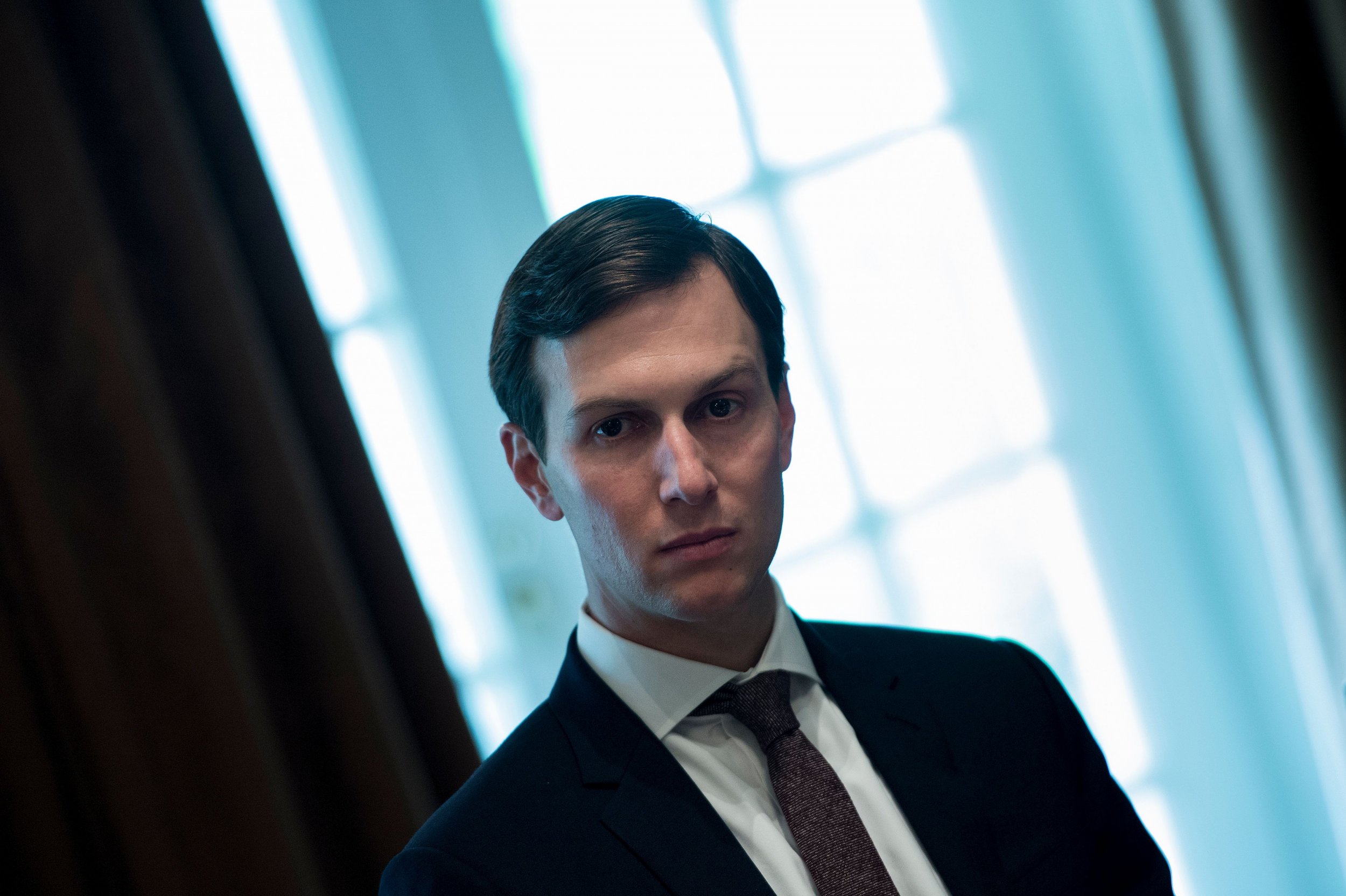 Updated | Jared Kushner is slated to make millions of dollars from a New York City redevelopment project that residents fear will change the city's skyline for the worst.
Although President Donald Trump's son-in-law stepped down from his role as head of his family's real estate firm, Kushner Companies, to join the Trump administration, Kushner still holds stake in a swanky office complex called Panorama in downtown Brooklyn. And last week, a sign that sat atop one of the campus' buildings for nearly 50 years was removed to reflect a change of ownership.
The massive placard spelled the word "Watchtower"—referencing the former owner of the building, the Watch Tower Bible and Tract Society, also known as the Jehovah's Witnesses—in 15-foot red letters. The building is now owned by Columbia Heights Associates, a partnership of CIM Group, Kushner Companies and LVWRK, a real estate company based in Brooklyn. A Jehovah's Witnesses official told Newsweek the former owner wanted to take the sign with them when they relocated.
New Yorkers said they knew the sign was coming down ever since the building was sold to the business group last year. "Of course, I'm sad, it's such an icon. It really was a local icon to admire. But it doesn't surprise me, it's really an evil sign of the times," said Judi Francis, 61, a parks advocate who has lived in Brooklyn for 40 years.
Another local who grew up with the sign towering next to the Brooklyn Bridge said its removal will leave a huge hole in the skyline. "I think I will probably miss it in terms of imagining it should be there," said Simeon Bankoff, executive director of Historic Districts Council, a historic building advocacy group. "Growing up in Brooklyn, the Watchtower sign was an indication you were leaving Manhattan and coming into Brooklyn."
Columbia Heights Associates bought five Jehovah's Witness properties in Brooklyn last year for $340 million and is planning to convert them into a high-end office and retail complex that will house roughly 5,000 workers throughout the interconnected buildings. The arrival of the glitzy office buildings will be a major contrast to the previous tenant, the Jehovah's Witnesses, which used the structures for its operations.
Kushner Companies has a portfolio of 20,000 residential units and 13 million square feet of office, retail and industrial space.
Columbia Heights Associates is planning on replacing the sign with new lettering. A new rendering on the Panorama website shows the name of the complex scrawled out in place of "Watchtower."
The head of the local civic group for the part of Brooklyn where Panorama is located said the sign will be difficult to replace. "It was a de facto landmark, and I think that the community would be very concerned that any sign that replaces it be tasteful," Peter Bray, the director of the Brooklyn Heights Association, told Newsweek.
Kushner, who is estimated to be worth $740 million with his wife, Ivanka, has been criticized for not fully divesting himself from his former real estate firm. He has yet to pass his White House security clearance, in part because he failed to disclose his foreign contacts. Many of them stem from Kushner Companies' ties to overseas investors.
In November, after Trump won the presidency, The New York Times reported that Kushner had wined and dined a Chinese investor in hopes of receiving funding for his real estate companies' New York skyscraper, fueling suspicions that his future role in Washington, D.C., would be leveraged to pool money for development. He has also reportedly become a target in special counsel Robert Mueller's probe into whether the Trump campaign colluded with Russia for the 2016 election.
This story has been updated to reflect the name of the real estate group developing the Brooklyn project and to clarify that the Jehovah's Witnesses wanted to take the sign when they moved.