Jared Kushner Tried to Hide Cancer Diagnosis From Father-in-Law Trump
Jared Kushner, the son-in-law of former President Donald Trump and one of his senior advisers during his administration, was diagnosed with thyroid cancer in 2019, according to an excerpt from his upcoming memoir published Tuesday in The New York Times.
Kushner also wrote that he attempted to keep the diagnosis from Trump but was unsuccessful.
Kushner said in Breaking History: A White House Memoir, which will be published on August 23, that he was traveling on Air Force One to the opening of a Louis Vuitton factory when the White House physician informed him of the test results, according to the Times excerpt. He wrote that he wished for the news to remain private and only told his wife, Ivanka Trump, then-White House Chief of Staff Mick Mulvaney and two aides.
One notable person Kushner did not tell about the diagnosis was then-President Trump. However, Trump managed to find out, which surprised Kushner.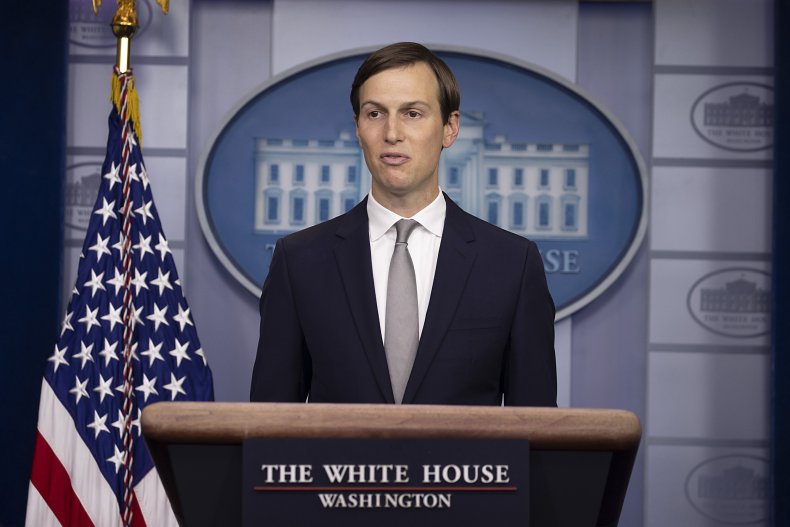 "The day before the surgery, Trump called me into the Oval Office and motioned for his team to close the door. 'Are you nervous about the surgery?' he asked," Kushner said in his book, according to the Times.
When Kushner asked his father-in-law how he knew about it, Trump reportedly said, "I'm the president. I know everything. I understand that you want to keep these things quiet. I like to keep things like this to myself as well. You'll be just fine. Don't worry about anything with work. We have everything covered here."
Though Kushner said the cancer was caught early, he wrote surgery was required to remove a "substantial part of my thyroid." He said that he scheduled the operation for the Friday before Thanksgiving so he "would miss the least amount of time in the office," per the Times.
In March, Kushner voluntarily appeared for a remote interview with the House committee investigating the January 6, 2021, attack on the U.S. Capitol. During a June rally, Trump defended his son-and-law and other members of his inner circle who testified in front of the panel, claiming their testimonies had been purposely edited to portray him unfavorably.
"The committee is taking the testimony of witnesses, who defended me for eight hours, chopping it up and truncating sound bites to make it sound like what they said was absolutely terrible," Trump told the crowd at the June 17 Faith & Freedom Coalition's Road to Majority Policy Conference in Nashville, Tennessee.
"The committee refuses to play any of the tape of people saying the good things....It's a one-way street."