On Saturday, The Wall Street Journal reported that Saudi Arabia's sovereign wealth fund has committed $2 billion to Jared Kushner's Affinity Partners investment fund. With that investment, Saudi Arabia has necessarily agreed to allow its capital to be invested in Israel for the first time.
As the Journal explains, Kushner's diplomatic achievement may be the precursor to so much more:
"The decision marks the first known instance that the Saudi Public Investment Fund's cash will be directed to Israel, a sign of the kingdom's increasing willingness to do business with the country, even though they have no diplomatic relations. This could help lay the groundwork for a breakthrough normalization pact between the two countries."
This isn't the first time Kushner has played a major role in historic diplomatic achievements in the Middle East. While serving as senior advisor to President Donald Trump, Kushner spearheaded the creation of the Abraham Accords—four landmark peace agreements between Israel, the United Arab Emirates (UAE), Bahrain, Sudan and Morocco. For his efforts, Kushner was twice nominated for the Nobel Peace Prize. In addition, as one element of the Accords, Saudi Arabia agreed to allow all future Israeli flights to the UAE and Bahrain to fly directly over Saudi airspace.
The Journal further reports that toward the end of the Trump administration, in November 2020, Saudi Crown Prince Mohammed bin Salman met "with then-Israeli Prime Minister Benjamin Netanyahu in a sign Saudi Arabia could join the Abraham Accords. But new administrations in the U.S. and Israel slowed momentum."
While it is unfortunate, but not surprising, that Biden and his team have been unable to advance the Accords to include Saudi Arabia, the fact that the kingdom is looking to invest in Israel through Kushner as an intermediary is a sign that progress can still be achieved.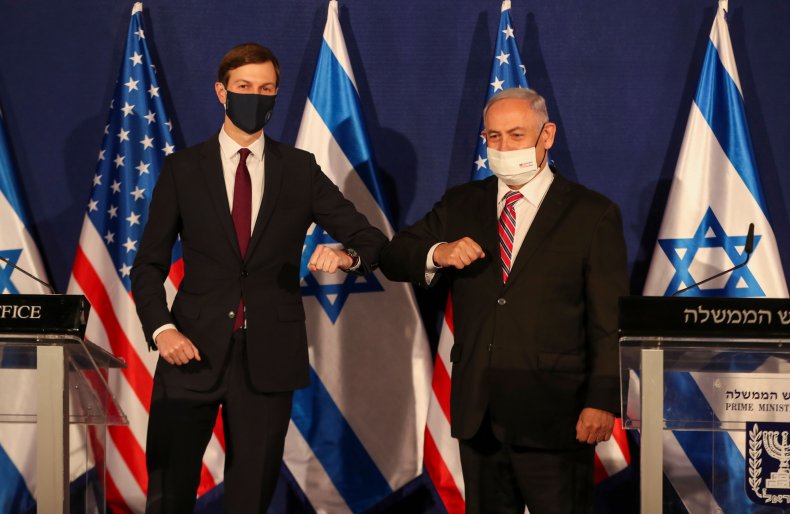 As Kushner explained to the Journal, "If we can get Israelis and Muslims in the region to do business together, it will focus people on shared interests and shared values." He added, "we kicked off historic regional change which needs to be reinforced and nurtured to achieve its potential."
Kushner's firm has previously been attacked by Democrats and the mainstream media, but with the Journal's additional context, it is hard to imagine a firm better suited to act as the conduit for Saudi investment in Israel. Thanks to his peacemaking efforts, Kushner and his team have managed to build trust throughout the Gulf, and have proven an ability to act as a bridge between Israel and its Arab neighbors. To take one concrete example, Israelis are not currently able to travel to Saudi Arabia or sell into its markets. But Kushner, due to his recent accomplishments, is uniquely well positioned to help Israelis navigate this market—and perhaps help effectuate "soft" diplomatic inroads from the outside.
Perhaps most important, the news of Saudi Arabia's desire to invest in Israel may be the final death blow to the antisemitic Boycott, Divestment and Sanction (BDS) movement. BDS singles out Israel for international sanctions and censure, and encourages the international community to boycott Israeli products. While the movement has had little actual success on the diplomatic stage, it has managed to rear its ugly head on college campuses. As recently as two weeks ago, The Harvard Crimson editorial board publicly advocated that Harvard University support the BDS movement.
While it is prudent to expect ignorance from woke Harvard students, it is important to understand that prior to the Abraham Accords, the BDS movement was on track for full adoption by most major Arab countries. However, after the Accords, trade between Israel and its Arab neighbors has grown exponentially. As Reuters reported last year, the UAE is seeking $1 trillion in economic activity with Israel by 2031. There are now direct flights between Israel and the UAE, Bahrain and Morocco. And once again, with Kushner's help, now even Saudi Arabia has agreed to invest billions of dollars in Israel. No longer is Saudi Arabia, a key leader of the Arab world, set on fully boycotting the Jewish state. That is nothing short of miraculous.
The antisemitic boycotts have failed. The relationship between the Jewish state and its neighbors is thriving thanks to the Abraham Accords. And Jared Kushner has now once again made an important mark on the international stage.
Boris Epshteyn is a Newsweek columnist and a former special assistant to President Donald Trump.
The views expressed in this article are the writer's own.