Jason Derulo's Surprise Super Bowl Dancers Leave Viewers 'Creeped Out'
Viewers were left "creeped out" by Jason Derulo's robotic backup dancers during a pre-Super Bowl performance.
Derulo performed at the NFL's TikTok Tailgate event to get fans excited for Super Bowl LVII, but one aspect of his performance didn't have the desired effect.
Derulo was joined on stage by a number of human backup dancers, who in turn, were also joined by a collection of choreographed robotic dogs. Social media users shared their concern at the technological advancement, as some likened it to an episode of Black Mirror.
"Okay I don't know if anyone else is watching the pre-show performance from Jason Derulo but these little dancing dog robot things are kind of creeping me out," wrote South Dakota-based TV anchor Lauren Soulek. Her sentiments were echoed far and wide across Twitter by other viewers who watched Derulo perform his song "Saturday/Sunday."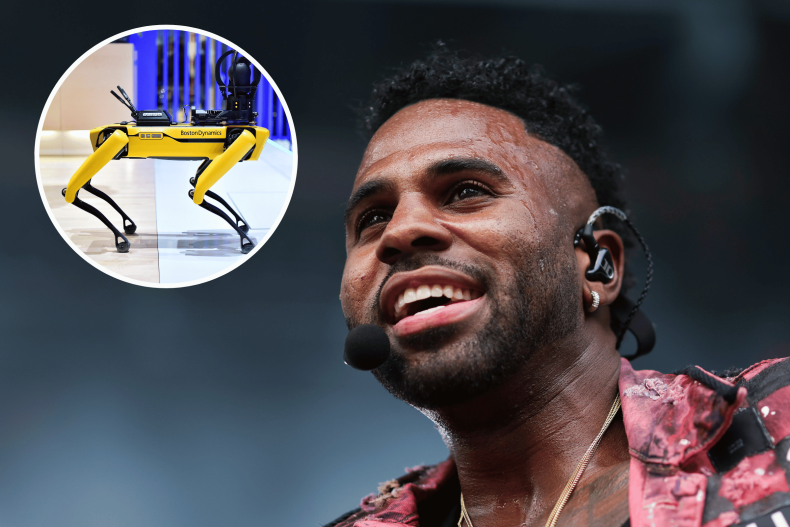 "I can't be only one little creeped out by the robot dogs in [Jason Derulo's] pregame performance," wrote user @kingmeup21. "Anyone else creeped out by the robots on the pregame stage?" asked @GinQueenRunner.
TV reporter Devo Brown was also unimpressed. "Umm Jason Derulo pre game performance...ya it was ok. However, I could do without the creepy robot dogs as backup dancers."
Some Twitter users like @JakeMGrumbach likened the animals to the "Black Mirror robot attack dogs." The Season 4 episode "Metalhead" featured faceless four-legged robots hunting down humans.
One user, however, replied that their 9-year-old loved the performance. "What [...] noo they're so cute lol," wrote @CosmicBunnyBabe responding to all of the hate aimed at the robots.
The specific designers of the robots are unconfirmed, but they look similar to the Boston Dynamics robotics that often go viral for their technological advancements. The four-legged designs were similar to their product Spot, though they normally come in yellow, and Derulo's backup dancers were sporting the color gray.
There is often a debate about these humanoid robotics. Recently, social media users debated whether a robot trained to open a door was "cool or creepy."
Briahna Joy Gray, national press secretary for Vermont Senator Bernie Sanders' 2020 presidential campaign, suggested the inclusion of the dogs were an effort to help bring the technology into the mainstream. "I see the deep state is using Jason Derulo's Super Bowl performance to normalize the Boston Dynamics dogs," she wrote with a crying laughing emoji. Not buying into the hype, Twitter user @hominigritz replied with a deadpan, "Robot assassin dogs will never feel normal to me."
Derulo refers to himself as the "King of TikTok" in a number of pre-performance videos, and while the inclusion of the robotic dogs may have "creeped out" some viewers, it ensured his performance trended and was discussed across social media.