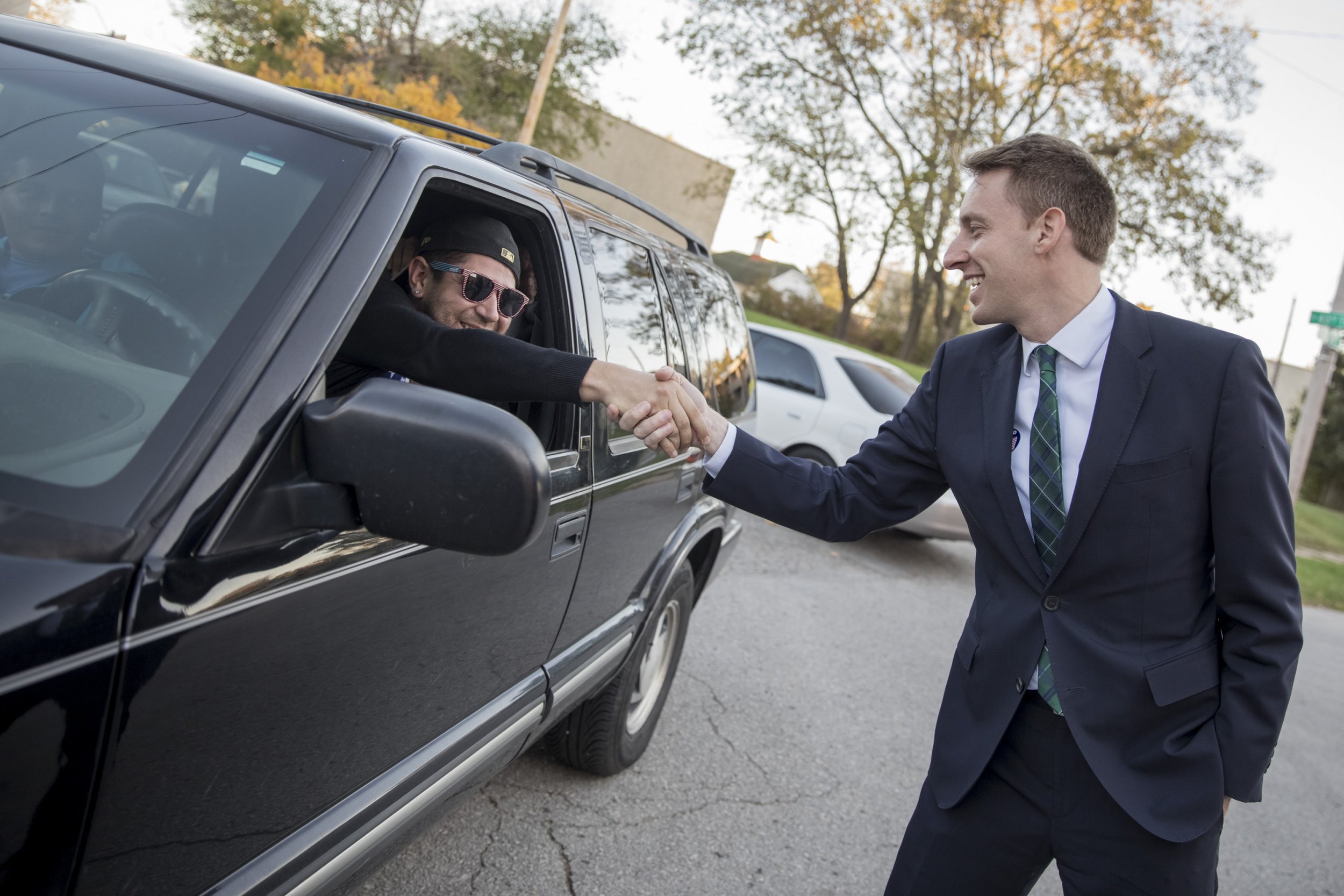 If the name Jason Kander doesn't ring a bell, he's got an easy way for you to put a face to it: "I'm that dude from the ad about background checks where I put a rifle together blindfolded."
That's how Kander, who appeared in that viral commercial when he tried to unseat incumbent Missouri Senator Roy Blunt in 2016, introduces himself in the teaser for Majority 54, a new podcast about the postelection national divide he's hosting for Crooked Media, the powerhouse firm of Trump-trolling former Obama staffers that brought the world Pod Save America.
Kander, an Army veteran and Democratic former Missouri secretary of state, is now traveling the country as a progressive voting rights activist—and as a constant subject of chatter about his political future. (Read: White House?) He chatted with Newsweek about interviewing (mostly) everyday Americans for Majority 54 just ahead of the first episode going live on Friday.
Here are some highlights, edited for brevity and clarity:
So what are you doing, and why are you doing it?
I've been all over the country this year…. One of the most common questions that I get is people asking me, "How do I talk to my Republican aunt, or my friend who I've had since high school who I love, but they voted for Trump?"... I'm going to travel around the country talking to the 54 percent of voters who chose somebody not named Donald Trump last year in the election. It's about talking to real folks, not policy experts, just to hear how they're impacted by the way Washington shapes policy. And the goal there is to get people talking to each other.
This is going to be about more than just getting people to talk to one another. You have a point of view—you haven't been shy about that.
I want the 54 percent of us who did not vote for Trump to be able to have these conversations and have a chance to persuade the people who did vote for Trump on the most divisive issues in the country…. Obviously, I want to make sure we do really well in the midterms, but this is just about the fact that as Americans we have a president who is working very hard to divide us every day.
OK, so people just agree to disagree and that's the end of it?
No, it's about—you've got to tell people your story. You've got to tell people how it is that you've come to believe what you do…. People will often bring up the background checks ad that I did during the campaign. What I always tell people [is] that ad was me saying, "I'm right about background checks, and the NRA is wrong, and I know what I'm talking about." But it was also me showing people the journey in my life that took me to [that belief].
It sounds like a "listening tour," a little bit…
I'm getting to meet great people. It's what I did during my campaign…. If you can get to know a person and you can really understand them, it can usually help you better understand yourself and why you believe what you believe. And so really, it's more of just me kind of making sure that people get to know the people that I'm getting to know anyway. It's a fascinating experience for me, and I want other people to have that opportunity.
Do you think the president's going to listen to the show?
I don't know. He seems to have a lot of extra time to watch a lot of television.
Do you have any special messages for him?
If I had the opportunity to give President Trump any advice and I had to boil it down to one thing, I suppose it would be that nobody ever got better at any job by blaming everybody else whenever anything goes wrong. You want to be the commander in chief [and] keep the greatest country on Earth safe, you'd better take a page out of military's playbook and after everything you do, ask yourself what you could have done better, instead of trying to figure out who you can blame for the things that went wrong. Nobody's ever gotten better at anything by doing it the way he's doing it.