'We Were Always The Bridesmaids:' Jason McAteer on Liverpool's Golden Generation and Beating Depression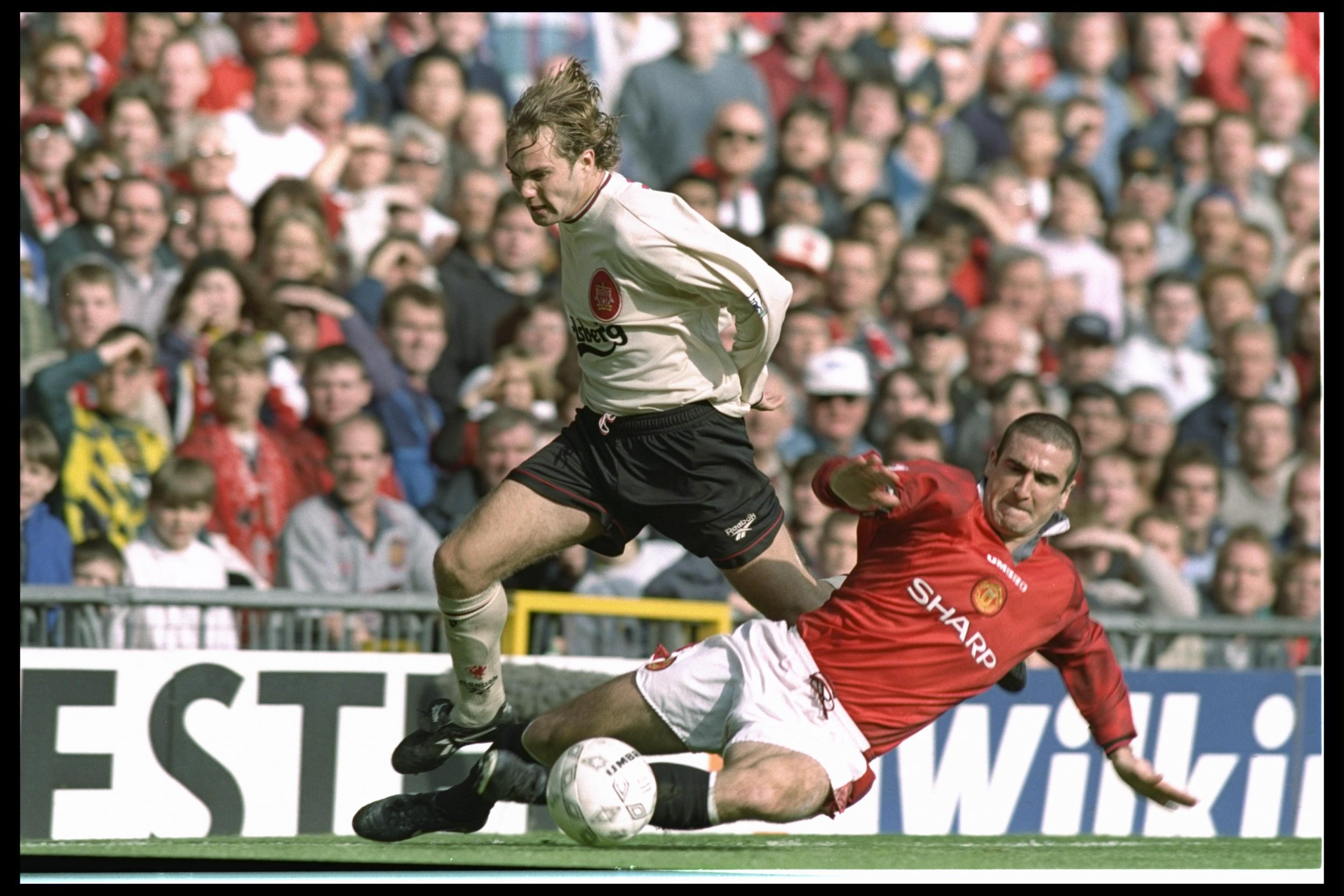 When Jason McAteer retired after a 15-year professional football career in 2007, he filled the void with baths.
Three or four times a day, one of Liverpool's most recognizable faces, winner of 52 caps for the Republic of Ireland, scorer of perhaps the most iconic goal in the country's history against the Netherlands in 2001, would climb into the tub and scrub himself cleaner than clean.
"You can analyze how it happens but you don't realize at the time, when you fall into it," McAteer tells Newsweek. "You think you're doing normal things but it's your friends and close family that see you acting out of character, doing strange stuff. I just thought getting in the bath three or four times a day was alright. I was the cleanest kid in town, and I went through some shampoo, I know that."
This exchange is typical McAteer. Laceratingly honest, but funny about it, a joke never far from the surface. He was like that in his career, his peers would say it. A hard worker, but someone who saw the fun in football, too. When he joined up with Ireland for the first time in 1994, he, Phil Babb and Gary Kelly quickly acquired the sobriquet, "Three Amigos."
This was serious, though. "When your mum sits you down and says, 'You shouldn't be having three or four baths a day, son, it's not right, you realize she might have a point. I think, at the time, I had a detachment from football.
"All of a sudden, you leave a football club at the end of your career and it's like a light switch. You don't go in the next day. You ring your mate up for a coffee and he's building kitchens; you go round to your mum's and she's out. You've got nothing to do, and all that spare time."
Things came to a head on a Friday afternoon in 2007. Driving through the Mersey Tunnel, McAteer, whose relationship at the time which was blessed with a young son had broken down, considered ending his life.
"I don't know what I was hoping for—maybe just to end all of the problems I had at the time," the 45-year-old says. "But then you've got a six-year-old… it's like a fight in your head, the impact it would have. You're fighting how you're going to leave things. So I came out of the Mersey Tunnel, picked Harry up from school—I can't remember a lot about it, it's strange. I remember going to my mum's that night and basically having a breakdown."
McAteer's mum worked for the drugs service and put him in touch with a therapist, a family friend. Slowly, the recovery began. "It's very harsh at the beginning, there's a lot of things put on the table," he says. "But it gets easier, and takes less and less time, until it's just a phone call six years later, a friendly, 'what are you up to.'" McAteer looks well, sounds well—the demons of those post-retirement days banished. Perhaps fighting a disease came naturally for a footballer who had to scrap for everything he earned.
The professional football world into which McAteer was pitched, in the early 1990s, was in some ways the polar opposite of the one he left. Agents were only just catching on, and, at least at Bolton Wanderers, where his professional career began in 1992, the manager held ultimate sway.
New ball game
There is a memorable passage in Blood, Sweat and McAteer, the autobiography he is currently promoting, in which McAteer, in possession of surplus cash for the first time in his career and in need of a ride to work, buys a green, second-hand Lotus Elan from a dealership.
Bruce Rioch, Bolton's manager at the time and the man who McAteer refers to more than once in the book as a "father figure," was unimpressed.
"The next day, Bruce came in the dressing room and asked, whose is the Lotus Elan," McAteer recalls. "Knowing it was mine. So I have had to hold my hand up in front of all the lads for the belittling that was about to happen. And he just said to me, after training you get that car back to the garage. He said I've rung the dealer. He's going to give you all your money back, go and buy a sensible car. So tail between my legs I drove the car back to the garage. Gave him the keys. And he gave me my money back."
One wonders if that kind of treatment—harsh but, on reflection, fair—would be accepted by a player in today's more cosseted environment. In the summer of 2016, Paul Pogba moved to Manchester United for a world-record fee, turning up at the club's Carrington training ground for signing formalities in a Chevrolet, the club's shirt sponsors. United has one of modern football's most domineering managers in Jose Mourinho, yet talk is, too, about Zlatan Ibrahimovic and Pogba as vast dressing-room influences. "The game has changed," my dad would say.
"They (modern footballers) would ring their agents straight away," McAteer says when Newsweek asked whether attitudes to managers have altered. "Team spirit, when I was playing, was created between the senior players."
These were still the days when pints after games, rather than electrolyte drinks and protein shakes, were tolerated and even the norm. "I have seen the whole idea of football change. We very much had a drinking culture, going out after the game for loads of pints, coming in Monday, training hard Tuesday, back out on the drink Tuesday night. To maybe Wenger arriving in 1996, the diet, the way we thought about football—the drink culture sort of went. Right through to 2006 where it had completely changed, the day of the agent, the super agent was in, the manager being scared of the footballer."
The disciplinarian manager
Many of the best anecdotes in Blood, Sweat… involve Rioch, a traditional disciplinarian from military Aldershot who went on to manage Arsenal. On another memorable occasion, he caught McAteer telling a Bolton fan, in fewer words, to go forth and multiply.
"He got me up by the throat one game for telling a fan to f*** off. I've walked in, there's fans giving me loads of grief, Bruce was behind me. As we got into the tunnel, where no one could see, he pinned me up against the wall by my throat and went, 'You ever, ever do that to a football fan again, I will kill you.' Imagine a manager doing that now? My god, he'd be sacked."
Rioch was not sacked—the opposite happened, as Bolton won promotion to the Premier League at the end of the 1994-95 season and Rioch, too, gained a move up the ladder to Arsenal. "You're breaking my heart," McAteer says to an imaginary Rioch in his book, though by the start of the 1996-97 season Rioch was gone from Highbury, and McAteer had the move he had always dreamed about, to Anfield.
Steve McManaman, Robbie Fowler, Jamie Redknapp, even Neil 'Razor' Ruddock—the Liverpool side of the mid-1990s had attitude, swagger, youth and good looks, plus a vulnerability that saw them perennially close to trophies.
"I think it came down to a mentality thing," McAteer says. "I don't think you could question the talent and the quality of football. I think if you asked anyone who watched every game in those seasons, they would say we were the most entertaining. But there was a frailness about us at the back." In 1995-96, McAteer's debut season at Anfield, Liverpool finished third, eleven points off the top; the next year the club was fourth, seven points away from the title. They were third again in 1998, seventh in 1999, and by the end of that season McAteer had departed to Blackburn Rovers.
Spice boys
Manchester United, champions in three of those four seasons, had a similar blend of youth and experience but, under the leadership of Sir Alex Ferguson, also possessed ruthlessness that Liverpool lacked. Roy Evans' team gained the moniker, 'Spice Boys,' not helped by the infamous pristine white suits they wore onto the Wembley pitch before the 1996 FA Cup Final. United won that, too, 1-0.
The nickname rankles with McAteer, but he understands how it became perpetuated. "We did spend a lot of time coming down to London and having nights out, but it was always done at the right time, whether that was a break or a free week.
"We'd bump into David Beckham, Ryan Giggs in the same nightclubs, and no one criticized them. But it's because they were winning. If you're winning things, it's acceptable.
"It was a detrimental term, it was frustrating. I can honestly say, of all the football clubs I have been at, I don't know anyone who worked harder than Robbie Fowler on the training ground. We loved playing football, loved messing about on the training ground. But we were always the bridesmaids, never the bride."
Many of United's golden boys have gone into coaching, including Giggs, who had a sustained spell as assistant to Louis Van Gaal at Old Trafford. Beckham built a brand and is now on the brink of opening a Major League Soccer franchise in Florida. McAteer's former teammates went into the media, controversial Stan Collymore as a forthright pundit, Steve McManaman and Michael Owen both work for BT Sport.
New life outside the pitch
McAteer, too, found his way into punditry—he now works for ESPN—but the plan, in the summer of 2006, had been to carry on at Tranmere Rovers, across the Mersey from Liverpool, as reserve-team coach. Ronnie Moore, the club's manager, did not have the money to keep him and let him go.
What does a footballer do when the lights on his career dim? More pertinently, perhaps, what can replace that surge of adrenaline that results from running out in front of adoring thousands, scoring in front of them, winning for them?
It took McAteer some dark years to find out, and a decade before he felt he could tell his story without bitterness.
"Back then (at the end of his career) I was a different person," he says. "There was a lot of rawness that comes as soon as you finish up, about certain individuals and certain situations."
But once the rancor had subsided, McAteer found he had stories—several hundred pages of them—to tell. The work that came out of them is raw and funny. For the author, it was a form of closure.
"I felt it was like going back into therapy again, getting everything out, explaining stuff. I wanted to get across that there is a human side to a footballer, he suffers the same problems as the man on the street. Whether it's a death in the family, or personal problems, whether your wife has problems. But the footballer then has to go out and perform in front of 50,000 people, and his job is scrutinized for the next three days, by everyone.
"If you're going to write a book, you have got to be honest. You don't have to sensationalize things, tell someone how much you hate them or put a gloss on an argument or a deal. Just tell it as it is, through your eyes."
Jason McAteer, up, down, fighting on, and pulling no punches.
Blood, Sweat and Jason McAteer: A Footballer's Story is out now, published by Hodder