Jason Momoa 'Takes the Stand' in Viral Depp vs. Heard Spoof
A spoofed viral video has imagined what would happen if Jason Momoa was the latest celebrity to take the stand in the Johnny Depp and Amber Heard defamation trial.
Momoa, who worked with Heard in the 2018 movie Aquaman and is set to share the screen again with her in the 2023 sequel, Aquaman and the Lost Kingdom, has not been called as a witness in the trial, but one social media user shared their interpretation of what it would look like if he did.
Newsweek spoke to the creator of the lip-synced clip, YouTuber GeoMFilms, to find out what made him decide to combine Momoa, dubbed audio and the current trial. The clip has since crossed social media platforms, gaining millions of views in the process.
Depp is suing his ex-wife Heard for $50 million in loss of career earnings after she wrote a 2018 op-ed stating she was a survivor of domestic violence. The current trial has become a viral sensation with terms related to the case trending daily while clips, testimony and memes are seemingly unavoidable online.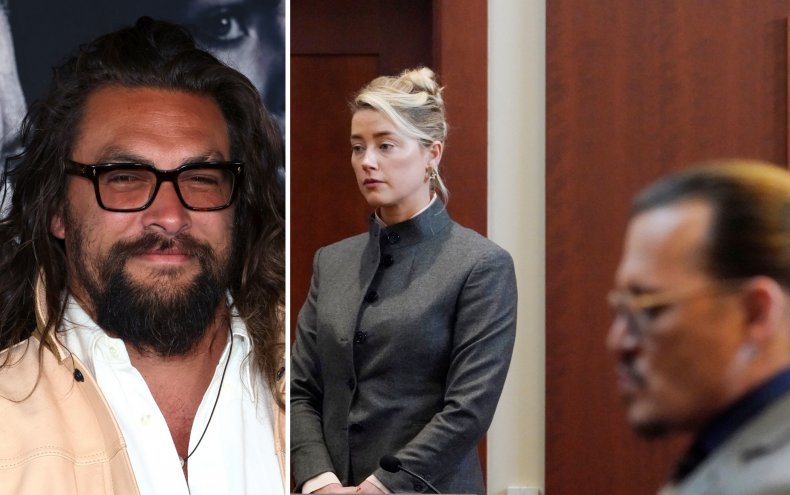 The video shows Momoa appearing via a video link in footage that is taken from a previous Zoom interview of his. The rest of the sounds in the video are dubbed over including Momoa's "testimony," Heard's lawyer's questions, and stifled laughs from Depp.
The original two-minute video has received almost 450,000 views on YouTube, but after being shared on TikTok, it's garnered another 5.2 million views on top of that.
George M, from Michigan, has been creating dubbed video for 16 years on YouTube but his channel has really taken off in the past few years. After getting millions of views for a dubbed Mark Hamill reaction video, YouTube monetized his channel.
"The reason why I made these videos of the Depp/Heard trial is because it was in my ball field. I found an opportunity to to use my style of dubbing and showing these funny 'What if' scenarios. Like...what if Jason Momoa reacted to the trial?" George, who did not wish to give his last name, told Newsweek.
"People would love to see the real actors' reaction, but...since the real reaction isn't there I figured wouldn't it be funny to see a silly version of what that could be like? So it's not to be taken serious. I make these first of all for myself, something I'd like to see and hopefully they would also put a smile on other people's faces. Give them a good laugh," George, 38, said.
The video, titled "Jason Momoa takes the stand in Johnny Depp Amber Heard trial DUB," jokingly imagines a scenario on the set of Aquaman where Momoa claims Heard defecated in the pool during one of the scenes. The joke is a reference to the claim that Heard left "fecal matter" in Depp's bed, which she has denied.
While the video is clearly mocked up and intended as a joke, the comment sections on both YouTube and TikTok are filled with people admitting they thought it was real.
On YouTube the current top comment reads, "The fact that I genuinely thought this was real because this trial has been crazy as hell" while other commenters wrote, "So. Freaking. Legit!!!" and "This deserves an OSCAR!"
TikTok users were fooled too as some of the highest-rated comments included, "Why did I think this was real lmao," "Not me thinking this was real" and "for a minute I thought this was real."
Celebrities have testified in court during the case. Depp and Heard have both taken the stand and actress Ellen Barkin has testified via a video deposition, as well. Elon Musk and James Franco were listed as witnesses by Heard's team but they have not taken part in the trial.
"GeoMFilms is a one man crew, just me," George M told Newsweek, "I have fun doing it and I just hope others enjoy the humor as well."
Update 05/23/2022 05:50 a.m. EDT: This article was updated with quotes from the creator of the video.