Jason Rezaian Says He's 'Feeling Good' After Release From Iranian Prison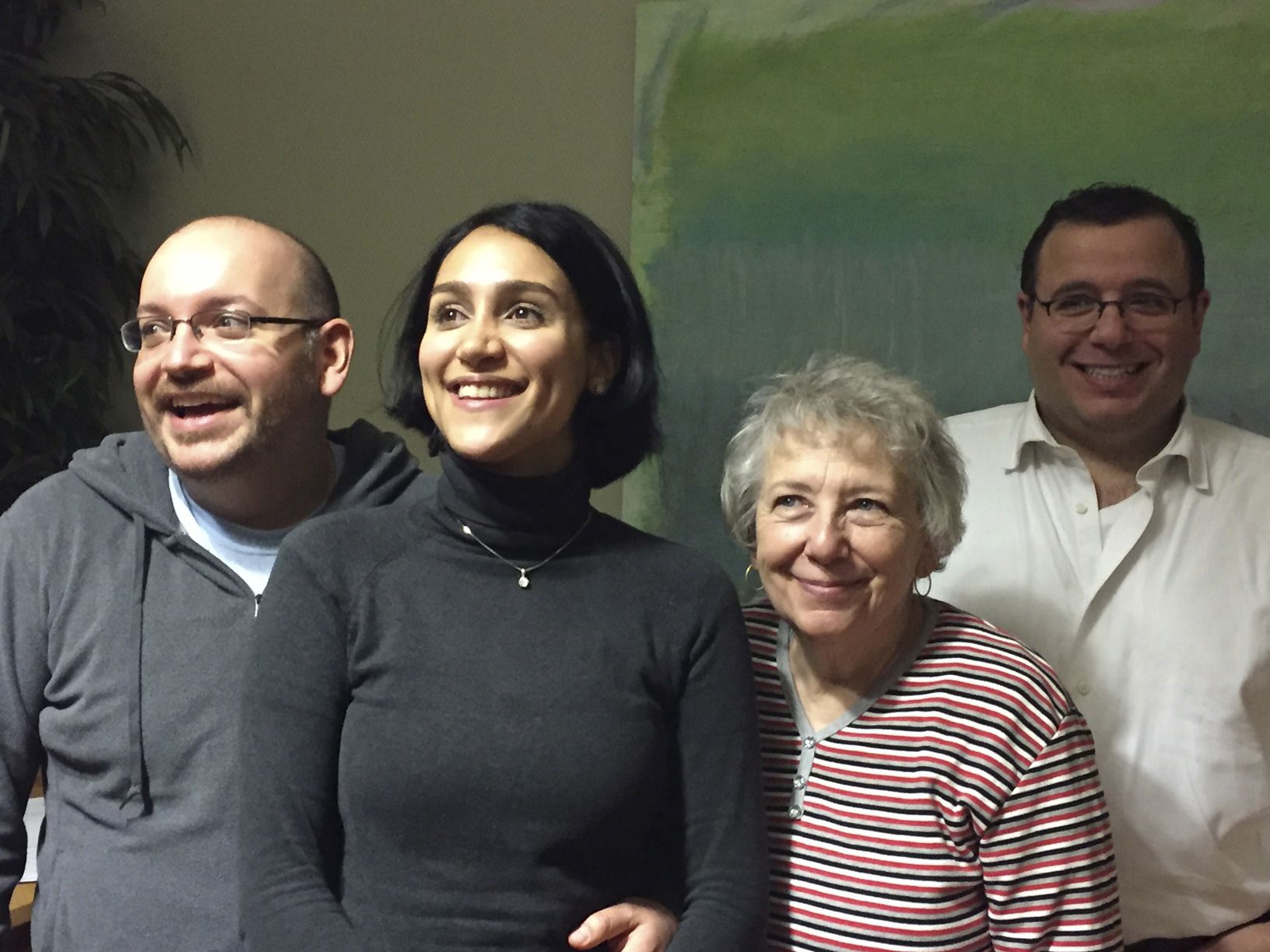 Jason Rezaian, the Washington Post reporter who was released this weekend after being held in an Iranian prison for more than 500 days, said that he is "feeling good" as he met with the newspaper's editors on Monday as he recovers in a U.S. military hospital in Germany.
Rezaian was one of five Americans who was released from prison in Iran on Saturday as part of a prisoner swap. The exchange came on the same day the U.S. and the European Union agreed to lift economic sanctions on Iran, as they were satisfied the country had put sufficient measures in place to reduce its nuclear capabilities. President Barack Obama pardoned three Iranian-Americans on charges of sanctions violations, and the U.S. government said four additional people would be released.
"I want people to know that physically I'm feeling good," Rezaian said during a meeting with Washington Post Executive Editor Martin Baron and Foreign Editor Douglas Jehl on Monday. "I know people are eager to hear from me, but I want to process this for some time.''
On Saturday, the hashtag #FreeJason, previously used to highlight the reporter's plight, was overtaken by #JasonIsFree, used by journalists and social media users to celebrate his release.
Rezaian, 39, is recovering in the Landstuhl Regional Medical Center near the U.S. Ramstein Air Base, located around 80 miles southwest of Frankfurt in western Germany. In photos taken on Monday, Rezaian has visibly lost weight. He was accompanied by his wife, Yeganeh Salehi, and his mother, Mary Rezaian, on the flight from Iran to Germany.
Rezaian said he had limited human interaction and spent 49 days in solitary confinement during his imprisonment, The Washington Post reports.
"I want to thank my family, especially the efforts of my brother Ali, and my wife in Iran and my mother everywhere she was," Rezaian said. "They have been incredible. I also want to thank everybody at The Post and my colleagues in other media as well, as well as everybody in the U.S. government who played an important role in my release.''
Ali Rezaian has campaigned tirelessly for his brother's release, including attending a readathon of his work as a journalist at the National Press Club in December. The event marked Rezaian's 500th day in prison and saw journalists and press freedom advocates read his journalism for 24 consecutive hours.
On Monday Ali said that the Iranians manipulated his brother until the moment he was released.
"The Iranians, as they have done all along, continued to manipulate them, continued to try and mess with them and prevented Yeggie [ Salehi] for leaving for some period of time," Ali Rezaian told CNN. "The U.S. stuck to its guns, they had said Yeggie had to come along with Jason and they got her out," he added.
U.S. Secretary of State John Kerry on Sunday cited a "temporary misunderstanding" over the family's presence on the plane in the delay of its departure.
Amir Hekmati, 32, a former Marine, Saeed Abedini, 35, a Christian pastor, and Nosratollah Khosravi-Roodsari and Matthew Trevithick, 30, were the other Americans released by Iran on Saturday.
"We welcome news of the release of Jason Rezaian, who should never have been imprisoned in the first place," said Sherif Mansour, Middle East and North Africa program coordinator for the Committee to Protect Journalists, on Saturday. "The farce of a judicial process that kept him in custody for 544 days has earned Tehran nothing but scorn from the international community. The Iranian government should begin taking steps immediately to improve its press freedom record by releasing all journalists imprisoned in relation to their work."