Jason Whitlock Says NFL Players Are Protesting to 'Build Their Social Media Brands'
FOX Sports anchor Jason Whitlock has claimed NFL players are protesting purely to build their social media brands.
Speaking on the Tucker Carlson show on Wednesday night, Whitlock said the ever-growing presence of social media was detrimental to professional sports.
"I think it's killing sports because all the athletes are 1000% addicted to social media," he said.
"The entire national anthem controversy is being driven by social media. These guys are addicted to retweets, likes, and mentions and followers, and so again, so there's no real substance to what they are doing other than trying to build their social media brand.
"It sounds great when they get 'Oh, we're trying to raise awareness about police brutality'—they're trying to raise awareness about they're social media brand and that is what they are really doing."
Since Colin Kaepernick opted to kneel rather than stand during the national anthem as an act of silent protest against social and racial injustice in 2016, a number of his colleagues have followed his example.
Earlier this month, Green Bay quarterback Aaron Rodgers became the latest player to wade into the political debate as he urged the NFL to ignore the attacks coming from President Donald Trump.
Trump has repeatedly lambasted NFL players for protesting, accusing them of disrespecting the flag and the country. Outside of the NFL sphere, Stephen Curry and LeBron James have also been outspoken critics of President Trump's policies, while throwing their weight behind the protests.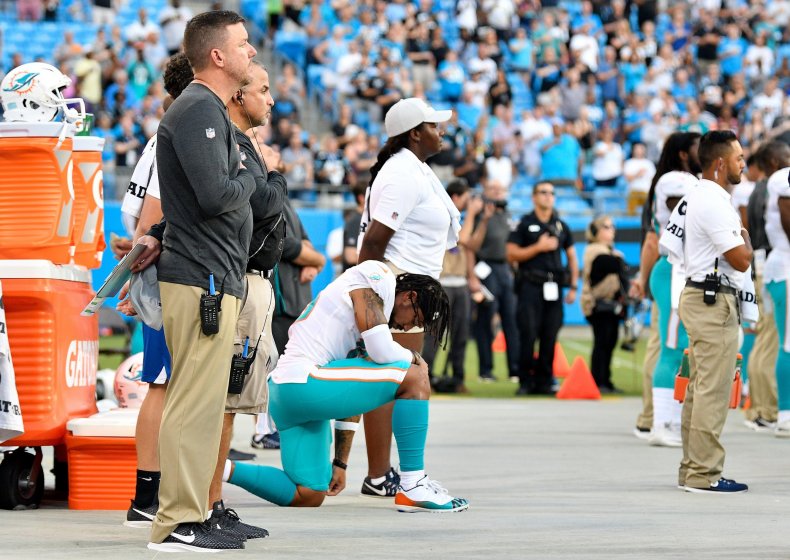 When asked by Carlson whether rich and famous athletes would be better off taking a step away from social media, Whitlock insisted they couldn't bring themselves to do so because their brains had been "hacked".
Remarkably, he added the issue was particularly serious for black people and black athletes.
"They are so addicted to this thing that we metaphorically and theoretically call, 'Black Twitter,' and being approved over 'Black Twitter' and whether or not there is some Twitter lynch mob agreeing or disagreeing with what you say," he said.
"Take a LeBron James, he's got 40 million Twitter followers, he's worth more than half a billion dollars, but he's addicted to social media. This, is you know, all of these young people—and look a lot of us in the media that aren't even that young are completely addicted to social media approval—out brains have been hacked."
Whitlock's comments came just a few hours after LeBron revealed he had decided to start speaking out on social issues after becoming frustrated with some of his peers' reluctance to do so.
The new Los Angeles Lakers star is well aware being so outspoken has tarnished his image in the eyes of many but insisted he was undeterred by criticism.
"I want the satisfaction," he explained in the debut episode of HBO's new show "The Shop" .
"Not for myself, but for everybody else. I was raised off of [rappers] Snoop [Dogg] and [Tupac] and [Jay-Z] and Biggie [Smalls], and now I get an opportunity to be the inspiration around what all of these kids are looking up to?
"And for me to just sit back and not say s**t when a lot of my peers didn't say s**t? It didn't feel right."