LeBron Reveals Why He Spoke Out on Social Issues: 'A Lot of My Peers Didn't Say S**t'
LeBron James said he was moved to speak out on social issues after a lot of his peers opted to remain silent instead.
In the debut episode of "The Shop", an HBO show featuring discussions between him and other athletes and entertainers, the three-time NBA champion said he wanted to be an inspiration for younger generations.
"I want the satisfaction," he explained.
"Not for myself, but for everybody else. I was raised off of [rappers] Snoop [Dogg] and [Tupac] and [Jay-Z] and Biggie [Smalls], and now I get an opportunity to be the inspiration around what all of these kids are looking up to?"
"And for me to just sit back and not say s**t when a lot of my peers didn't say s**t? It didn't feel right."
The four-time MVP has been an outspoken critic of President Donald Trump's policies.
Ahead of the NBA Finals last month, the 33-year-old claimed that regardless of who won the NBA title, neither the Cleveland Cavaliers nor the Golden State Warriors would've accepted an invitation to visit the White House.
A week earlier, Trump had rescinded the invitation for Super Bowl LII winners Philadelphia Eagles after learning many of the players did not plan to attend.
Last month, as he opened his I Promise School in his hometown of Akron, Ohio, LeBron accused the U.S. President of using sports to divide the country, in response to Trump's repeated criticism of NFL players who chose to protest during the national anthem.
The new Los Angeles Lakers star is well aware being so outspoken has tarnished his image in the eyes of many but insisted he was undeterred by criticism.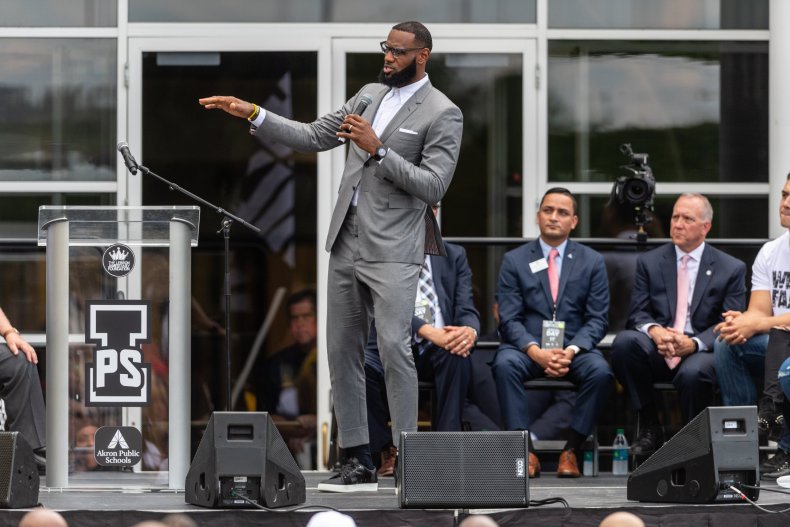 "At the end of the day, when I decided I was going to start speaking up and not giving a f**k about the backlash or if it affects me, my whole mindset was it's not about me," LeBron explained.
"My popularity went down. But at the end of the day, my truth to so many different kids and so many different people was broader than me personally."
Earlier in the show, the 33-year-old also suggested black athletes were held to different standards than their white counterparts, indicating the media reaction to the same gesture performed by a black and a white athlete would be completely different.
"I believe if the greatest quarterback in the world, he's a white quarterback, if it's [Tom] Brady, if it's [Aaron] Rodgers, if it's [Peyton] Manning," LeBron said.
"And we're doing the same s**t, the same exact s**t [refusing to take a picture with a fan]. I'm talking about the phone is on. We're like, 'Yo, get that f***ing phone out of my face. I'm with my family.'
"If we're out with our family and we say that s**t, and somebody posts it, and if Aaron Rodgers or one of those guys say that s**t, and they post it, somebody's going to be like, 'Hey, you guys should respect Aaron Rodgers.'"