LeBron James Blasts Donald Trump for 'Using Sport to Divide' the Country
LeBron James has never been shy from expressing his political opinion and did not mince his words when asked about President Donald Trump's involvement in sports.
On Monday, the three-time NBA champion opened his I Promise School in his hometown of Akron, Ohio, before then discussing sports and politics in a wide-ranging interview with CNN anchor Don Lemon.
"We are in a position right now in America […] where this race thing has taken over," James said.
"Because I believe our president is kind of trying to divide us. What I've noticed over the past few months [is] he's kinda used sports to kinda divide us, and that's something that I can't relate to."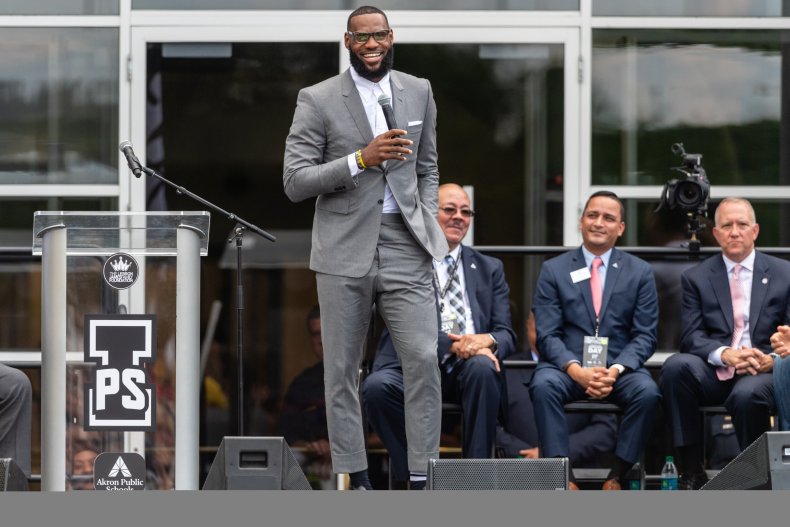 LeBron explained that being part of a sporting environment from his early years played a crucial role in shaping the way he interacts with people from different races and different backgrounds.
As many of his colleagues have done, the four-time MVP highlighted sports can be a potent unifying force when it's not hijacked to serve political agendas.
"I got an opportunity to see them and learn about them, and they got the opportunity to learn about me […] And I was like, 'Oh wow, this is all because of sports,'" he added.
The interview was not the first time LeBron has made his feelings known about President Trump.
Ahead of the NBA Finals last month, the 34-year-old claimed that regardless of who won the NBA title, neither the Cleveland Cavaliers nor the Golden State Warriors would've accepted an invitation to visit the White House.
A week earlier, Trump had rescinded the invitation for Super Bowl LII winners Philadelphia Eagles after learning many of the players did not plan to attend.
LeBron said the decision was "typical of [Trump]" and that the president stood for a lot things Americans do not believe in.
Last year the former Cleveland Cavaliers star described Trump as a "bum" after he cancelled the routine presidential visit after Golden State won a second NBA title in three years.
In his first 18 months at the White House, Trump has repeatedly blurred the lines between politics and sport, particularly with his stance over anthem protests in the NFL.
Earlier this month, Trump called for NFL Commissioner Roger Goodell to crack down on NFL players who take a knee during the national anthem.
In a tweet, the president noted that the executive makes $40 million a year and demanded that he "make a stand" and kick out players who continue to kneel in protest.
A few days later, Dallas Cowboys owner Jerry Jones admitted Trump brought up the issue far too often for the sake of everyone in the NFL.
"His interest in what we're doing is problematic, from my chair, and I would say in general the owners' chair," Jones said.
"It's unprecedented, if you really think about it. But like the very game itself, that's the way it is and we'll deal with it. We feel strongly about how we deal with it and we'll do so accordingly, but, yes, I, like everybody, would like for it to go away."
Jones also added Cowboys players will not be allowed to stand in the locker room during the anthem, even though the stance clashes with the league's new anthem policy, which states players would have to either stand on the sideline during the national anthem or wait in the locker room .
Trump seemingly ignored the comments aimed at him, praising Jones' position instead.
The NFL has been embroiled in political controversy since 2016, when then San Francisco 49ers quarterback Colin Kaepernick opted to kneel rather than stand during the national anthem as an act of silent protest against social and racial injustice.
Trump has previously urged franchise owners to fire athletes who chose not to stand for the national anthem.