Jay Bhattacharya, Stanford Doctor, Says Reversing COVID Lockdown Damage Will 'Take a Generation'
Dr. Jay Bhattacharya, a professor at Stanford University Medical School, said it will take a long time to get back what was lost during the coronavirus lockdowns. In some cases, he warned, the damage will be permanent.
"It's going to take a generation," Bhattacharya told Newsweek. "First we have to recognize the damage exists and then think about creating ways to address it."
Bhattacharya has been one of the leading advocates calling for a new strategy to minimize the pandemic, previously describing lockdowns as "the biggest public health mistake we've ever made."
The Stanford doctor, along with two scientists from Oxford and Harvard universities, co-authored last October a petition titled the Great Barrington Declaration—a call to end lockdowns because of their impacts on physical and mental health.
"It's absolutely devastating the amount of damage that it's done worldwide, especially to the poor," Bhattacharya said of the pandemic-related lockdowns, arguing that they protected the well-off but not the disadvantaged.
The concerns cited by the Stanford doctor and the declaration include an increase in hunger and food insecurity "not seen in decades," a rise in child poverty to 140 million people and other economic impacts due to unemployment. Physical health woes include lower childhood vaccination rates, fewer cancer screenings and deteriorating mental health.
As an alternative to lockdowns, the trio of scientists proposed a "Focused Protection" plan aimed to protect older populations who are the most vulnerable to the virus. Those who are not vulnerable, they argued, should be allowed to resume life as normal and build up immunity to the virus through natural infection.
As of Thursday, the Great Barrington Declaration had amassed signatures from 13,705 medical and public health scientists, 41,455 medical practitioners and 754,399 "concerned citizens."
But several public health experts, including Dr. Anthony Fauci, have pushed back on their proposal, especially the components of herd immunity. The Infectious Diseases Society of America, an association of more than 12,000 disease scientists and doctors across the U.S., said the declaration was "inappropriate, irresponsible and ill-informed."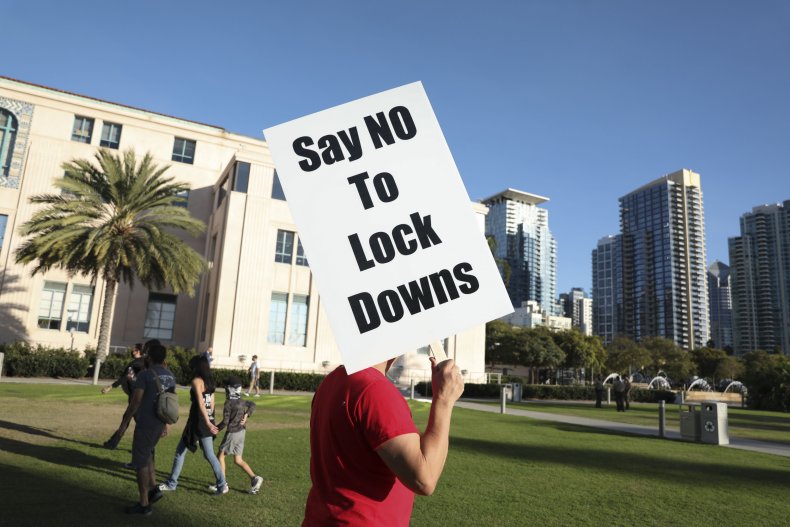 Several U.S. states have started to ease their coronavirus restrictions over the past few weeks as vaccine distribution has increased—a move Bhattacharya praised.
"It's far past time to get rid of them, the unfocused lockdowns, and think hard about how we can continue to improve on focused protection," he said. "The vaccine gives us an enormously helpful tool. I think most states nationwide have done a pretty good job at it prioritizing the vulnerable."
Asked whether states should require social distancing and mask wearing when easing lockdown restrictions—some states such as Texas have revoked orders requiring residents to don face coverings—Bhattacharya said "yes and no." The doctor said he didn't like the "sense of judgment and guilt" that mask mandates and other policies have created.
"I would advise people who are at high risk of carrying COVID to not mingle with older, high-risk people who haven't been vaccinated," he replied. "That may involve recommendations for social distancing in some places and mask wearing in other places. Those kinds of policies are fine when they make sense."