Jay-Z Calls For Kanye West to Stop Supporting Trump on 'Donda': 'Stop All of That Red Cap'
Kanye West's support of former President Donald Trump has come back to haunt him, as his friend, Jay-Z, takes aim at his stance on West's new album, "Donda."
West drew headlines for his vocal support of Trump throughout his presidency—before running against him in a failed campaign during the 2020 elections.
And Jay-Z, whose friendship with frequent collaborator West had cooled in recent years, roasted the star while making a surprise appearance in the album's closing verses.
"Stop all of that red cap, we going home," Jay-Z, real name Shawn Carter raps, according to the Los Angeles Times.
As a supporter of Trump, West was often seen donning one of the real estate mogul's distinctive red "Make America Great Again" caps.
However, it appears that there are no hard feelings between the musical pair, as West raps early on in the album that he and Jay-Z are "still brothers."
Reiterating their closeness, Jay-Z raps that "Hova and Yeezus like Moses and Jesus" in the closing track of the album, named for West's late mother, Donda West.
After a listening party in Las Vegas earlier this week, "Donda" had its grand unveiling at Mercedes-Benz Stadium in Atlanta on Thursday, with the event livestreamed on Apple Music.
According to E! News, West's estranged wife, Kim Kardashian, arrived at the event with the couple's four children in tow. The Keeping Up With the Kardashians star shared an Instagram Story of West inside the stadium.
West's ongoing divorce from Kardashian has also been addressed on the album, with the musician singing "I'm losing my family" on one track, per the Los Angeles Times.
"Donda" features guest appearances from a host of musicians, including Lil Baby, Pusha T, Playboi Carti, Roddy Ricch and Travis Scott.
Before announcing his intention to run for president, West said in an April 2020 interview with GQ that he'd planned to vote for Trump in that year's election.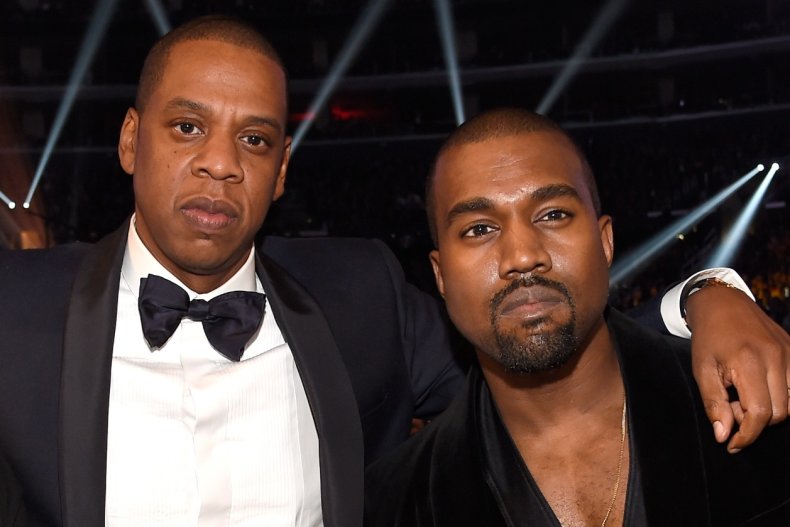 When reporter Will Welch asked West about his support for Trump, specifically in the context of his "Make America Great Again" slogan, West said that the country had improved since President Barack Obama left office.
"It's better now than when Obama was in office. They don't teach you in school about buying property. They teach you how to become somebody's property," West said.
In May 2018—months after Jay-Z told The New York Times' T Magazine that his relationship with West was "complicated"—West said that he was upset that the rapper and his wife, Beyoncé, did not attend his 2014 wedding to Kardashian.
"I was hurt about them not coming to the wedding," he told Charlamagne Tha God on iHeartRadio's The Breakfast Club, per Cosmopolitan. "I understand they were going through some things, but if it's family, you're not going to miss a wedding.
"I'm not using this interview to put out any negative things, but I gotta state my truth. You just start coming up with all type of crazy things in your head, like 'Why?'"