Did Jayland Walker Have a Criminal Record? History of Akron, Ohio Man
A 25-year-old Black man who was unarmed when police officers in Akron, Ohio, killed him in a hail of gunfire did not have a criminal record, according to an attorney for his family.
Protests took place in Akron on Sunday after authorities released video of the shooting of Jayland Walker, who was fatally shot by officers in the early hours of June 27 following a pursuit that began after an attempted traffic stop.
An autopsy found Walker sustained more than 60 wounds, but Akron Police Chief Steve Mylett said an investigation would determine how many shots were fired by the eight officers involved and how many struck Walker.
Walker did not have a criminal record, Bobby DiCello, the Walker family lawyer, told Newsweek. He had one traffic ticket, according to The New York Times.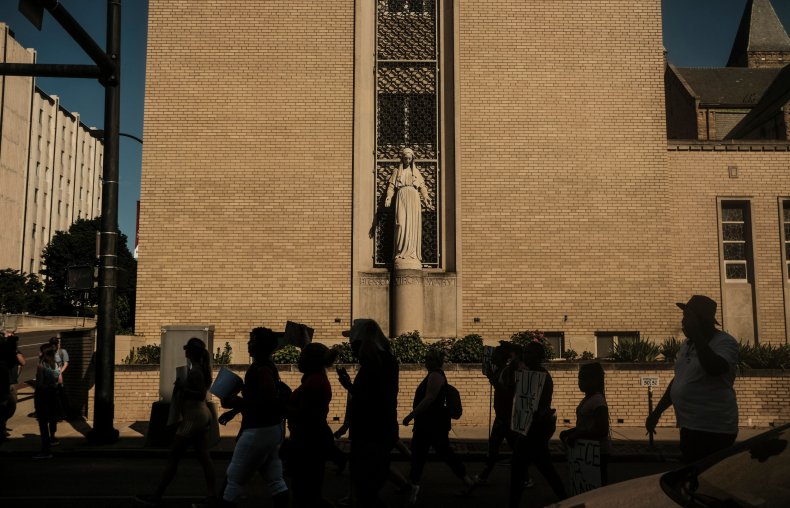 DiCello said the Walker family do not know why he fled police, but said he had been acting "out of character" after the recent death of his fiancée.
"I think a fair inference can be drawn that my client was running away from the police because he was afraid," DiCello added.
He noted that a white man suspected of killing officers in Kentucky was taken into custody on Thursday.
"While my client is in a morgue today, he's in jail," DiCello said. "I think at the end of the day, there's a conversation to be had in America, about how young African American men are treated."
DiCello also criticized how police had portrayed Walker at Sunday's news conference.
"To start the dialogue with the public with a view of the masked Black kid, masked Black men—that really said a lot to me about how the department wants to frame this conversation. It's an effort to demonize him," he said.
Police said officers had initially attempted to stop Walker's car around 12:30 a.m. for unspecified traffic and equipment violations, and initiated a pursuit when he failed to pull over.
During the news conference, Mylett said the sound of a gunshot was heard from the vehicle about 40 seconds into the pursuit, and a transportation department camera captured what appeared to be a muzzle flash coming from the vehicle.
That changed the nature of the stop from "a routine traffic stop to now a public safety issue," Mylett said.
The police body camera footage shows a number of officers approach a slowing car on foot. Walker, wearing a ski mask, gets out of the vehicle and runs toward a parking lot.
Police chased him for a few seconds before officers fire a burst of shots from several directions, according to the video.
Walker's actions "caused the officers to perceive he posed a deadly threat to them," police said in a statement. "In response to this threat, officers discharged their firearms, striking the suspect."
Mylett said Walker's actions are difficult to see on video, but a still photo appears to show him "going down to his waist area." Another appears to show him turning towards an officer and another "captures a forward motion of his arm," he said.
DiCello told Newsweek that in an earlier meeting with Mylett, the police chief said the officers involved had said Walker had "assumed a shooting position."
"And he said, I haven't seen that yet," DiCello said. "He's in front of the cameras yesterday, and is saying Jayland reach down to his waistline and they still haven't taken the statement of the officers.
"So was his hand up or was his hand going down? What is the story? We are very concerned about the organized effort to mischaracterize these events in a way that blames Jayland for his own death."
Police said a handgun, a loaded magazine and a gold wedding ring were found on the seat of the car. A bullet casing consistent with the weapon was also found in the area where officers believed a shot had come from the vehicle.
Ohio Attorney General Dave Yost said a "complete, fair and expert investigation" would be conducted by the Ohio Bureau of Criminal Investigation. He cautioned that "body-worn camera footage is just one view of the whole picture—before drawing conclusions, the full review must take place."
Akron police are carrying out a separate internal investigation to determine whether the officers involved in the shooting violated any department rules or policies.
The eight officers concerned have been placed on paid administrative leave, as is standard practice.
They have not been identified but six are white men, one is a Black man and one is a white woman, according to the police department.
Their length of service with the Akron Police Department ranges from between 18 months to six years, and none has a record of discipline issues, substantiated complaints or fatal shootings.