Jean-Marie Le Pen's Grand-Daughter 'Cannot Believe' He Would Run Against Her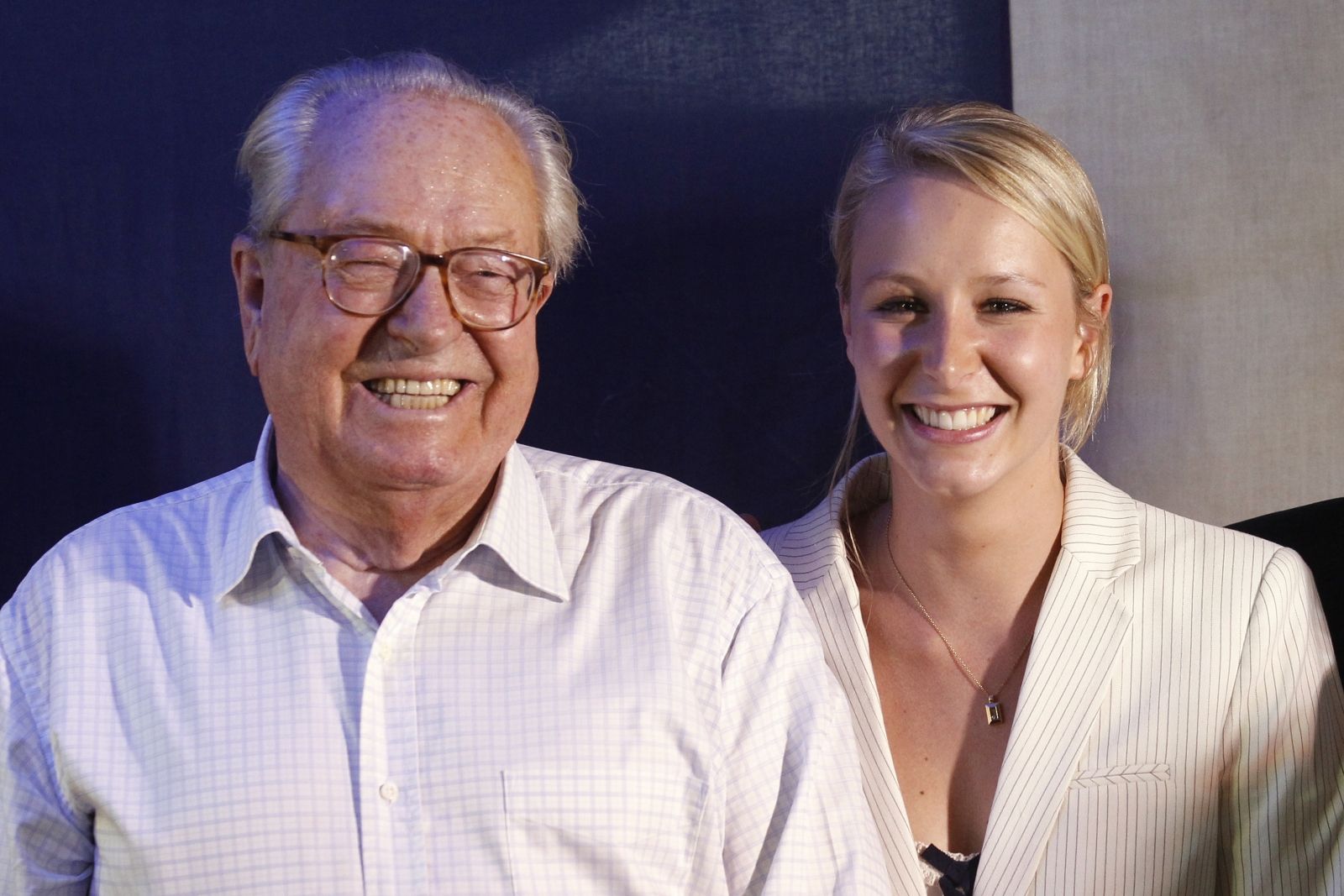 Marion Maréchal Le Pen, one of the most prominent members of France's nationalist Front National party, has said she "cannot believe" rumours that her grandfather is about to campaign against her in an upcoming regional election.
Marion Le Pen is France's youngest member of parliament at 25 years old and has been at the centre of Front National's activity from her childhood when she featured in party campaign posters, embracing her grandfather, then-leader Jean-Marie Le Pen. Her grandfather is currently in a bitter dispute with Marion's aunt, party leader Marine Le Pen, after she suspended his membership to the party in May over his comments referring to the Holocaust as "a detail" of history. Jean-Marie Le Pen is pursuing a legal case against his dismissal.
The national daily Le Parisien reported Saturday that Jean-Marie Le Pen is considering mounting a bid for the Provence-Alpes-Côte d'Azur (PACA) election in December, as an independent candidate against his granddaughter, who is Front National's frontrunner in the upcoming election. The paper cited sources close to the former party leader.
On Monday, Jean-Marie Le Pen told daily Le Monde that he was in at the "information and exploration stage" and had not yet decided if he would run.
Marion Maréchal Le Pen told France Info radio Monday that she has not spoken to Jean-Marie Le Pen about his potential rival campaign and had only found out from press reports.
"I heard that, I have no formal proof, but I dare not believe that Jean-Marie Le Pen would treat me as collateral damage in the battle he is having with the party," she said. "This may be a way of raising the stakes, I do not know, but I cannot believe that this is what he is doing."
Marion Maréchal Le Pen also reminded listeners that before her grandfather's rift with Marine Le Pen hit fever pitch and he was expelled, he had backed Marion Maréchal Le Pen's candidateship in the PACA regionals three months ago.
"I believe Jean-Marie Le Pen is a man of his word and he will not go back on his words," France's youngest MP said.
"From the moment he opted to endorse my candidature, he must, I believe, remain consistent. For our voters, among others, for the inhabitants of PACA who are waiting for change, for our elected officials and our activists who do not understand this kind of meaningless, fratricidal war."
Front National enjoyed a huge success during the 2014 European parliamentary elections when they attracted more votes than any other party in France. Leader Marine Le Pen has gained popularity as she attempts to rebrand the party as a traditionalist, eurosceptic one and distance it from Jean-Marie's controversial opinions in the Holocaust and his praise of French Nazi collaborator Marshal Pétain. This has earned her enough popularity to already propel her to the top of presidential polls. France will hold its next presidential elections in 2017.
She has also united with the likes of far-right Dutch politician Geert Wilders and Italy's anti-EU Northern League in European parliament.