Jeans That Save the Planet! The Best Sustainable Denim Brands—Ranked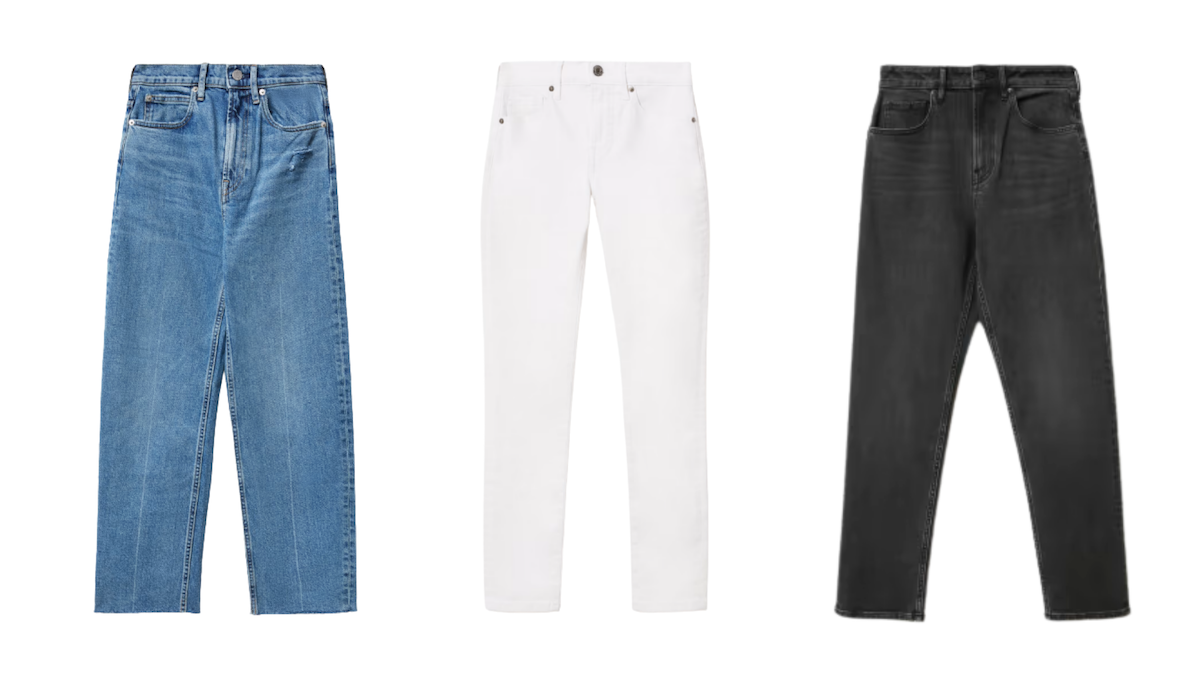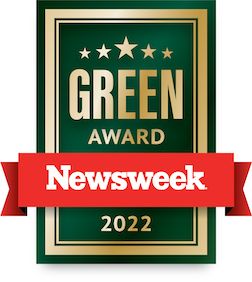 Denim is here to stay. No, literally—we're talking about the fact that textile waste takes up as much as 5 percent of all landfill space, according to the Council for Textile Recycling (CTR). With that much clothing stuck in landfills, our jeans aren't going anywhere for a long time—even after we've gotten rid of them. But there may just be something we can do about it. In an effort to reduce contributions to the current climate crisis and eliminate fast fashion, plenty of eco-conscious consumers are pivoting to the best sustainable denim brands.
From our secondhand picks to fan-favorite denim brands with an ethical, eco-friendly ethos, here are the best sustainable denim brands.
11+ Best Sustainable Denim Brands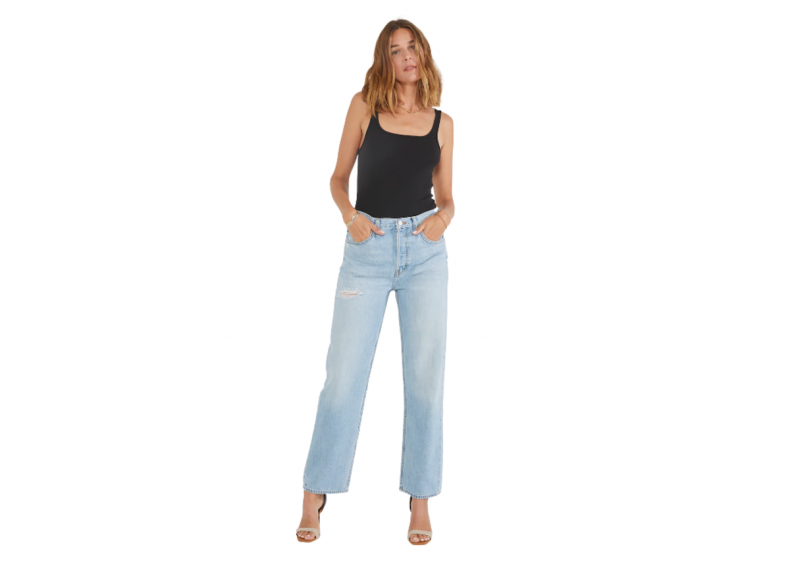 ÉTICA Denim is one of the best sustainable denim brands in that it's changing the future of textiles and shaking up the fashion industry with its cutting-edge technology. This premium U.S. luxury brand uses game-changing equipment and advancements in their wash techniques, which allows them to cut water usage by 90 percent, overall energy consumption by 63 percent and chemical usage by 70 percent (compared to industry standards).
But their unique and innovative production process isn't all you'll love about their denim. ÉTICA often uses deadstock—fabric from a discontinued line or vintage items no longer on the market but that went unsold—to make sure those materials don't go unused for naught. The brand offers sizes 24 to 32 in most of its options, so it could do a bit more work to be more size-inclusive.
However, ÉTICA's sourcing techniques are something to brag about as the brand is a member of the Better Cotton Initiative, works with mills with additional certifications from OEKO-TEX Standard 100, WRAP, Cradle to Cradle and GOTS.
And the fit? Truly a dream. Speaking from experience, ÉTICA Denim jeans fit like a glove and feel the way denim is supposed to feel.
Read more about their transparency and sourcing codes.
Buy Tyler High Rise Vintage Straight Mystic Canyon at ÉTICA Denim for $178.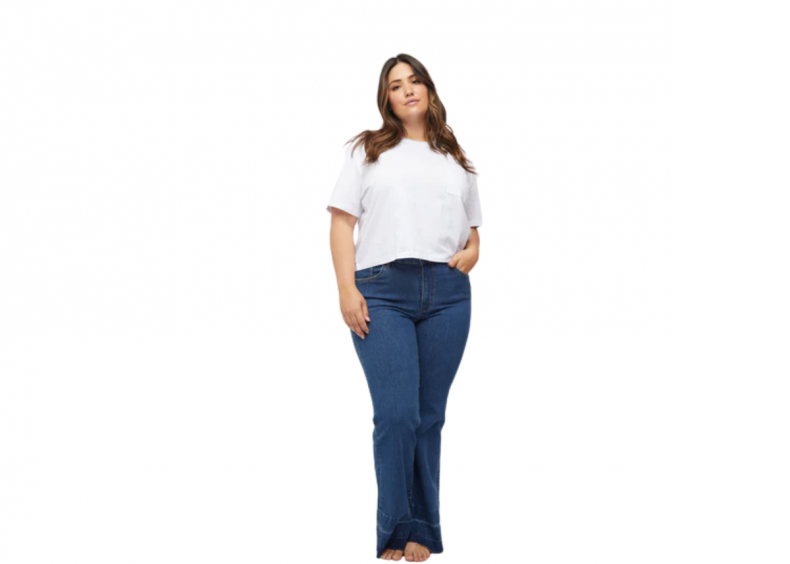 Oliver Logan's Jones High Tides are made with 66 percent cotton, 33 percent recycled cotton and 1 percent spandex—and that's true of all Oliver Logan denim. Each garment from this sustainable denim brand is made from recycled yarn and cotton.
Based out of Los Angeles, Oliver Logan strives to keep its supply chain as responsible and clean as possible. That means growing and harvesting organic cotton, partnering with like-minded suppliers—like Green Story, who independently found that just one of OL pair jeans conserves .52 CO2 emissions, about 1.2 miles worth of driving and offsets 414 hours of energy. Learn more about Oliver Logan's transparency efforts.
But here's our favorite part about the brand: Oliver Logan has found one of the coolest ways to reduce textile waste ever IMHO. In lieu of tossing rejected, returned or excess fabric, Oliver Logan upcycles those materials into denim dog toys. That's not all—10 percent of all proceeds go to the Labell Foundation, an animal rescue in LA.
Buy Jones High Tide at Oliver Logan for $92.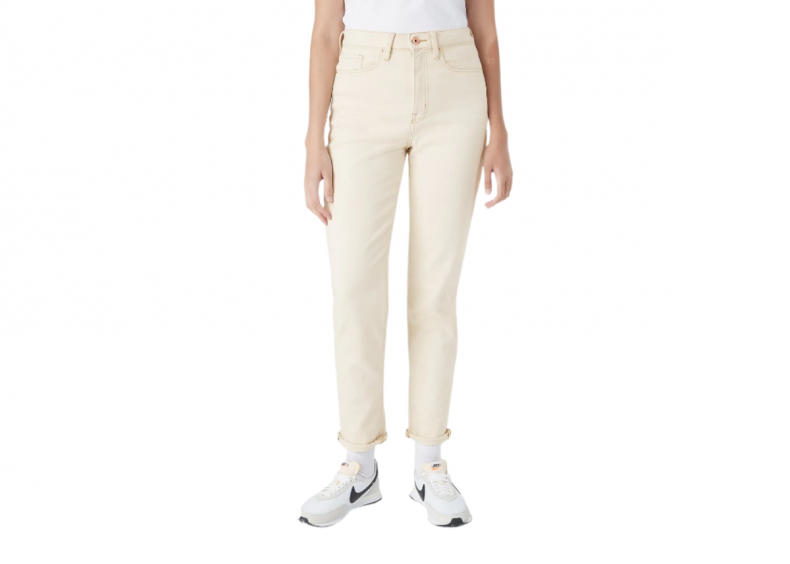 When it comes to Outland Denim, it's not just the good fits and trendy styles of their jeans—it's the company's ethics for me. Outland provides ethical employment to women rescued from human trafficking in Cambodia and only uses the cleanest raw materials sourced (sustainably and ethically) internationally.
Though independent parties have found Outland's The Amy to be one of the cleanest, most eco-friendly vintage-wash jeans available, it's the Lucy we love the most. Available in six different washes—including the above-pictured Ecru—she's made from 99 percent organic cotton and only 1 percent elastane. It's no wonder this relaxed jean is one of Outland Denim's bestsellers.
Outland Denim also offers free shipping, returns and exchanges on orders over $100 in Australia. Sizes range from 22 to 34 in US sizing. Learn more about their sustainability pledge.
Buy Lucy Ecru at Outland Denim for $210.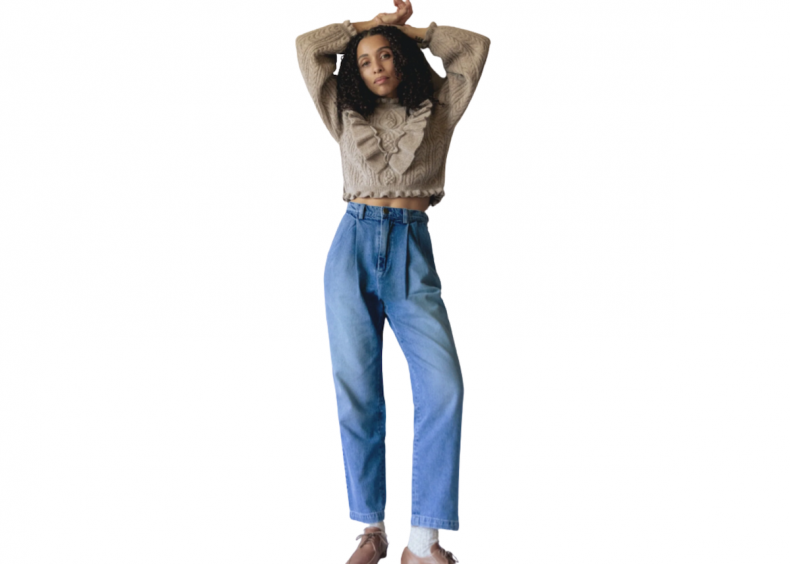 Christy Dawn may be known for its sustainable, farm-to-table prairie dresses, but fans of the brand will be ecstatic to learn that CD also dabbles in sustainable denim. The Lena Jean is a high-rise jean made from deadstock denim—a core tenet of Christy Dawn's entire brand since its inception.
As a brand as a whole, Christy Dawn partners with dressmakers in India and repurposes fabrics that would have otherwise ended up in the landfill. Learn more about Christy Dawn's Deadstock Collection. But Christy Dawn also works with organic cotton, sourced from regenerative cotton farmers and local craftsmen that use specific techniques to restore the earth's soil after harvesting. Learn more about Christy Dawn's sustainability policy.
The Lena Jean features pockets (#necessary), a high-style style, front pleats and a tapered leg. She's also available in sizes 24 to 32 and you can rest assured knowing it's high quality and not further contributing to the fashion industry's carbon footprint.
Buy The Lena Jean at Christy Dawn for $198.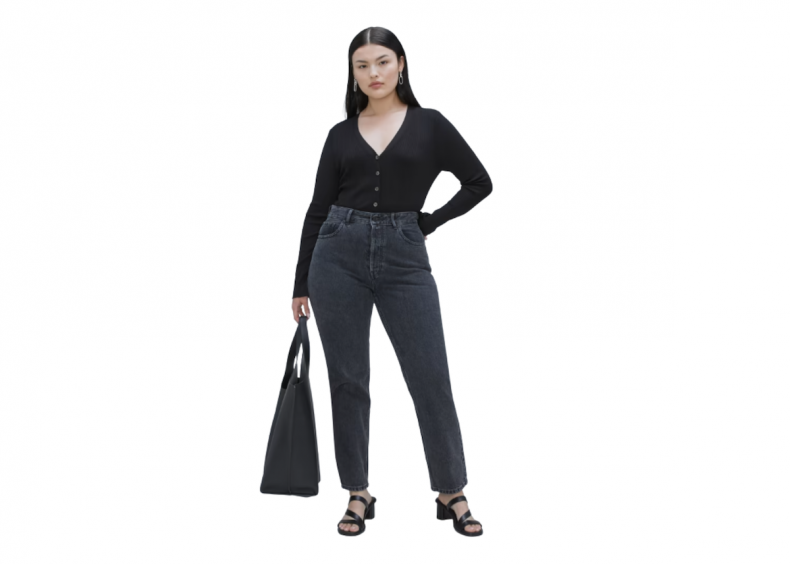 Everlane is all about transparency, which is a key part of all the best sustainable denim brands. While this company does not solely make denim, Everlane's sustainability specs for their denim are impressive. Their denim factory partner recycles 98 percent of water using reverse osmosis filtration; this process also helps keep byproducts out of the environment by instead mixing them with concrete that is then repurposed into making building materials.
But that's not all—Everlane's factory is also LEED-certified and uses renewable energy and air drying to reduce its CO2 emissions by 80 percent. Learn more about Everlane's sustainability practices and check out their denim factory.
Our favorite Everlane jeans are undoubtedly The Curvy '90s Cheeky Jeans. Made Biên Hòa, Vietnam, they're made of 100 percent organic, rigid cotton. With a straight leg, cropped ankle and a high waist, these jeans should be machine-washed cold, washed inside out. The Curvy '90s Cheeky Jeans are also available in sizes 22 to 33 but Everlane does stock some select styles in sizes 34 and 35 as well.
Buy The Curvy '90s Cheeky Jean at Everlane for $77.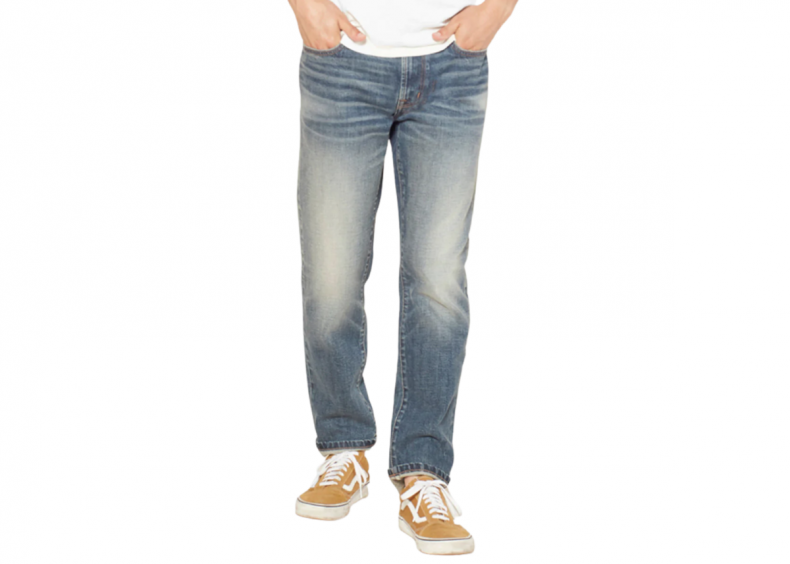 Outerknown makes both men's and women's S.E.A jeans, always crafted with the highest possible ethical and environmental standards. Sizes range from 28 to 38. Designed with organic cotton, each pair of Outerknown jeans is made in a Fair Trade Certified facility and guaranteed for life. Should your jeans suffer damage or wear-and-tear, Outerknown will take them back for either repair or replacement. Plus, at the end of their life, you can send them back to Outerknown and the company will upcycle them.
The Ambassador Slim Fit in Outerknown's men's collection features a modern, slim fit and is made of 98 percent organic cotton and 2 percent spandex. With denim from the Candiani mill in Milan, Italy, the jeans themselves were cut, sewn and washed in Saitex, Vietnam.
Because Outerknown works with a Fair Trade Certified facility, each maker is paid fair, premium wages. Read more about Outerknown's sustainability specs.
Buy Ambassador Slim Fit at Outerknown for $148.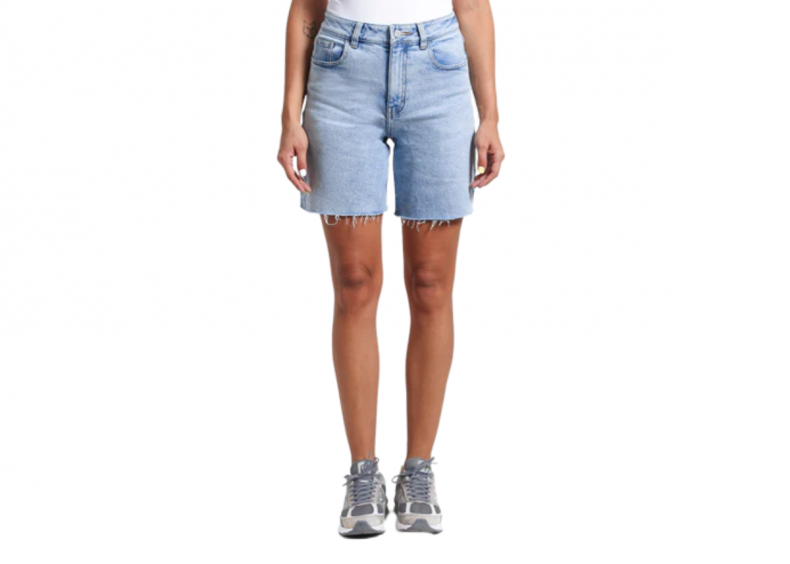 An American brand, unspun is a robotics and digital apparel company that builds custom jeans for each individual consumer. Yes, like, on demand! By designing jeans per order rather than per collection or season, unspun cuts saves a ton of time, energy and resources. Their unique process also reduces global carbon emissions by 1 percent thanks to automated, localized and intentional manufacturing. Read more about their sustainability efforts.
As if that weren't incredible enough, unspun also offers customizable sizing; plus, you can also customize your stitch color and the rise of the jean (low, medium or high). Remember—it's literally tailored to you!
Crafted in unspun's ethical workshop in China, the feminine unspun light easy shorts feature a raw edge hem, five pockets and no metal rivets. The fabric itself is made from 99 percent organic cotton and 1 percet lyrca—for a bit of stretch! The buttons—made from non-electroplated raw zinc alloy—are easily recycled and the zippers, too, are made from non-electroplated brass. These jean shorts also feature zip tape made from post-consumer recycled polyester, thread made from resortecs® smart stitch thread and pockets made from 100 percent organic cotton.
Buy feminine unpsun light easy shorts at unspun for $85.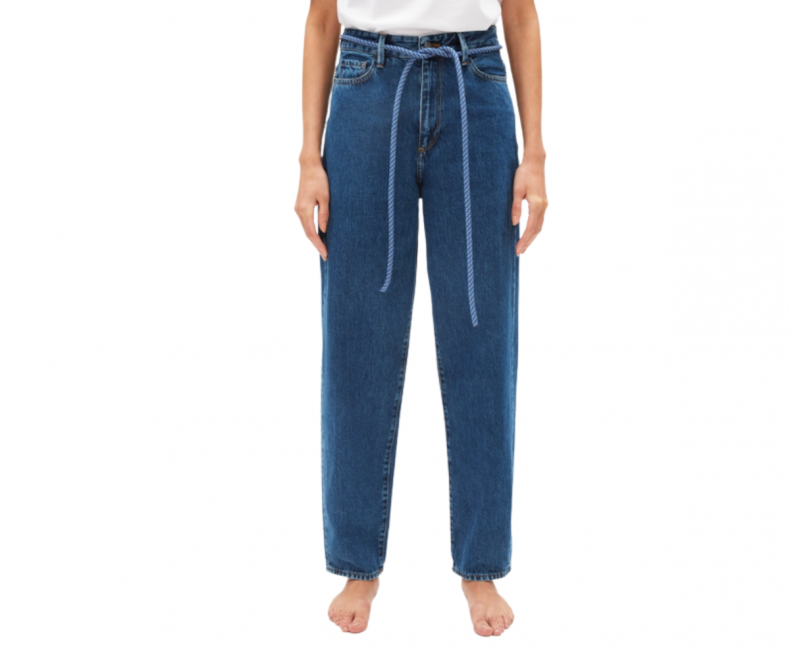 Any sustainability enthusiast will appreciate Armedangels' tagline—"We're not here to make fashion; we're here to make change." And according to their #DetoxDenim campaign, it's a promise Armedangel adheres to. All of their denim is made from 100 percent organic cotton and features dye with an artificial indigo that's devoid of any potentially toxic solvents. At Armedangels, they also use modern lasers and ozone-washing technology to protect their workers from being exposed to any volatile organic compounds.
A German company that uses factories in Ras Jebel, Tunesien, Armedangels is even PETA-approved vegan, which means it's certified vegan and contains absolutely no animal components. Sizing comes in XS through XL. As a general rule, Armedangels only uses the following materials in all of its garments: cotton from controlled organic cultivation, recycled and circular cotton, pure new wool from controlled organic animal husbandry, recycled and circular pure new wool, natural alpaca wool, regenerated fibers from Lenzing (LENZING ECOVERO™, TENCEL™ Lyocell, TENCEL™ Modal and recycled synthetic fibers.
The Andraa Retro is made up of 80 percent organic cotton and 20 percent recycled cotton and is available in either dark salty blue or light salty blue. Armedangels always promises to be 100 percent transparent and as such, guarantees each pair of jeans to be free of harmful chemicals, made in sustainable production facilities and 100 percent traceable.
Buy Andraa Retro at Armedangels for $102.33.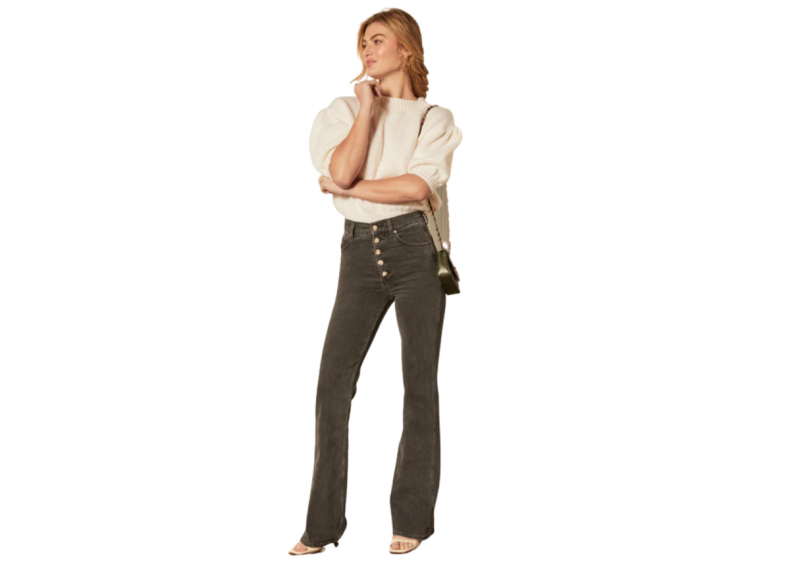 At Boyish, it's cool to care. Founded by a California native and designed in Los Angeles, Boyish uses sustainable fabrics to create denim in a way that's both environmentally-friendly and cruelty-free. Most of their items are available in sizes 22 to 32.
According to Boyish's about page, the LA-based company only works with ethical factories and is committed to using less harmful chemicals during the dyeing process (Boyish uses real indigo, so be wary as it may bleed in the wash). Boyish also uses one-third the amount of water usually necessary for producing a pair of jeans.
The Ricky Moonfleet from Boyish is a real stand-out pair. A high-waisted, comfort stretch flare jean, The Ricky Moonfleet is actually an upcycled pair of jeans made from 66 percent OSC-certified Organic Cotton and 33 percent Tencel™ Lyocell that's responsibly produced to reduce carbon footprint and water usage. The fabric makeup also includes 1 percent recycled elastane. It's also available in an ultra light eco wash that features a peace sign on the derrière.
Buy at The Ricky Moonfleet at Boyish for $178.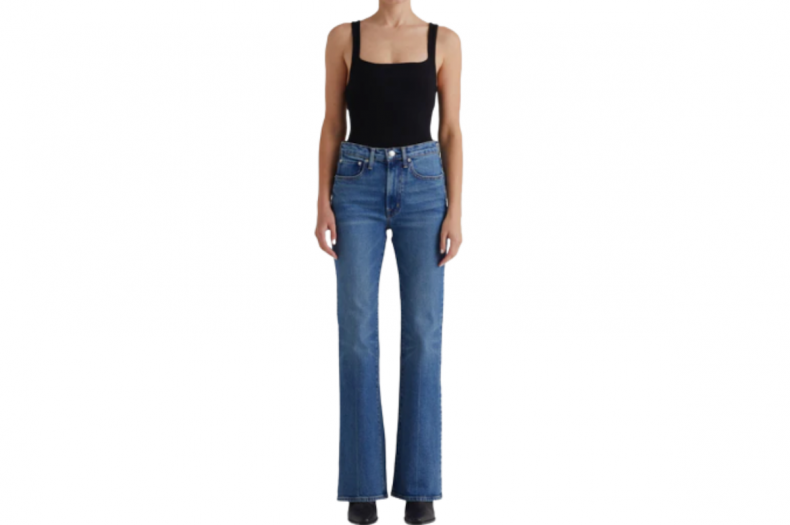 Edwin USA manufactures their jeans at Saitex USA, largely known as the cleanest denim manufacturer in the world. Their innovative production process not only uses less water—as much as 400 liters less than the industry standard in 2019—but also uses heat from biomass generators and 40 percent of its electricity from solar and hydropower. On average, each pair of Edwin USA jeans uses 60 percent less energy than the industry standard.
In partnership with STELAPOP—which stands for Save Trees, Eliminate Landfills and Protect Our Planet—Edwin USA also offers a home decor collection. Every item in the collection is made from upcycled denim scraps the company wouldn't otherwise use. And it's all so cute! Find out more about Edwin USA's sustainability and transparency.
Made from 98 percent cotton and 2 percent elastane, Ryder in Solstice is a must-have pair from one of the best sustainable denim brands. It features a high-rise bootcut with a subtle flare leg and comes in a medium vintage indigo wash.
Buy Ryder in Solstice at Edwin USA for $238.
Best Secondhand Denim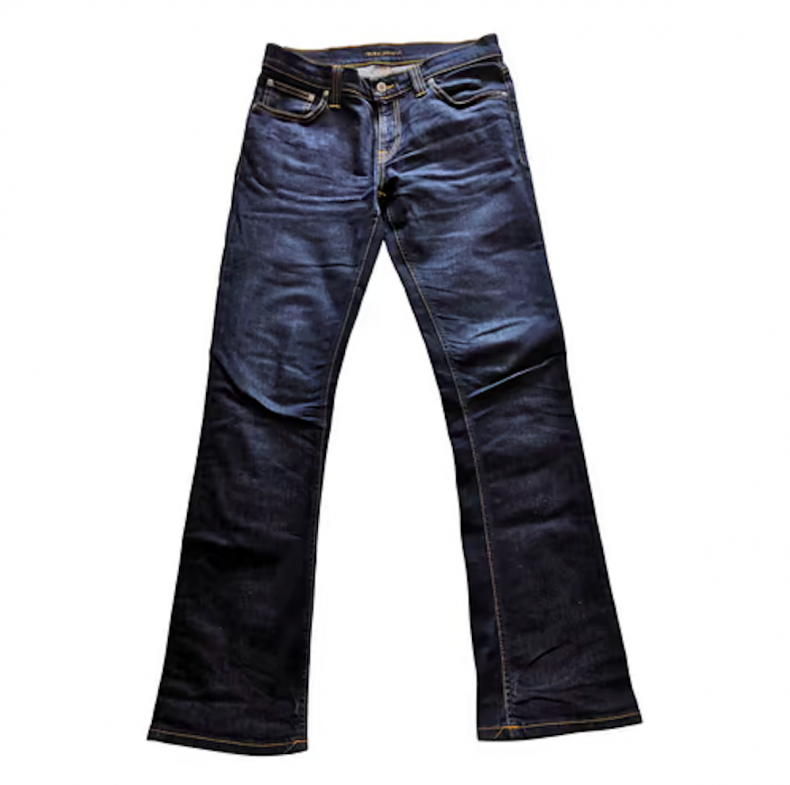 Nudie Jeans is a great, sustainable denim brand in its own rite but we also really love that Vestaire Collective sells pre-owned Nudies. As a brand, Nudie uses 100 percent organic and Fair Trade cotton, reused denim and recycled fibers like elastane, polyester Lyocell, wool, nylon, silk, alpaca and mohair (the latter three of which are not vegan—FYI). Note: Nudie does not state sources for its wool and leather. Nudie also offers free repairs forever! Learn more about their sustainability reports.
But if it's a secondhand pair you're looking for, finding Nudie Jeans over at Vestiaire Collective is just about the best you can do! A France-based platform for reselling luxury items, Vestiaire not only offers secondhand jeans so that denim can find new life before it's recycled, but it also works with sustainable brands like Nudie Jeans so you can rest assured that your denim was sustainable in the first place... even before it found its second home.
Where to Return Used Denim
There are several brands and recycling programs that accept used denim. For starters, Outerknown will take back denim from their own brand and upcycle it into new pieces once it's lived its life with you. Here are a few more places where you can return used denim:
Newsweek's Green Awards highlight companies and products that use sustainable and ethical business practices and deliver exceptional quality, service and value. The evaluation focuses on three key areas; measurable sustainability practices as certified by trusted organizations, product or service quality and overall value. Learn more.
Newsweek may earn a commission from links on this page, but we only recommend products we back. We participate in various affiliate marketing programs, which means we may get paid commissions on editorially chosen products purchased through our links to retailer sites.