Jeeps are known for being covered in mud, climbing rocks and fording water. Future Jeeps may be able to rinse off the dirt and dust of their escapades by taking a cool dip completely underwater without fear of power failure.
As part of a larger EV Day series of brand and product announcements surrounding the company's future use of electrification, Jeep released a video of future product innovations. Toward the end, the video showed a fictional Jeep Wrangler submerged in water moving through a waterway.
"There is a little wink we have at the end, which is probably post-2030, but I know a lot of enthusiasts and a lot of our communities are requesting it," Jeep CEO Christian Meunier told The Detroit News last week.
Jeep has made no secret of the fact that it sources some of its ideas for future product from its customers. The idea to add American flags to every U.S.-made Jeep was born from consistently seeing brand enthusiasts add flag emblems, badges and decals in addition to the flag itself to their models.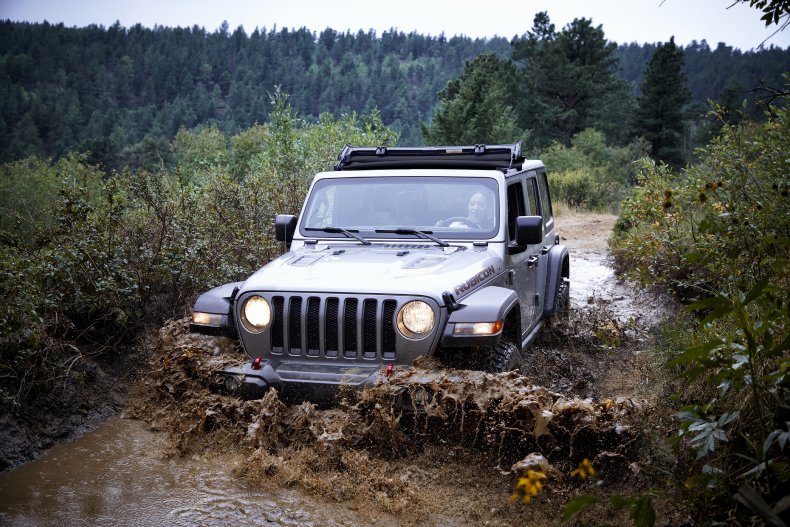 The current Jeep Wrangler is not capable of going underwater, instead boasting a maximum fording depth of 33.6 inches of water when equipped with the new Xtreme Recon package. The package is designed to take on the Ford Bronco Sasquatch Package by offering bigger tires and added capability to the already proficient Wrangler.
Swiss company Rinspeed made news in 2018 when it showed off the Rinspeed sQuba, the world's first car that is able to be driven on land and under water. It was inspired by the 1977 James Bond film "The Spy Who Loved Me".
The zero-emission sQuba is an all-electric, three-motor vehicle that utilizes two Seabob water jets for underwater travel. The vehicle's interior is water-resistant, something that the interior of a modern Wrangler also boasts.
Currently, Jeep does not sell an all-electric Wrangler. The 2021 Jeep Wrangler 4xe is a plug-in hybrid electric vehicle that offers 22 miles of electric range and can run as a hybrid when the battery has been depleted.
Jeep has promised to have a battery-electric vehicles by 2025 in each of the A through F vehicle segments. These new models would fit into the white space that current exists and address shifting customer attributes within those segments while rounding out the company's lineup.