Jeff Bezos Says Throwing Skittles Into Passenger's Mouth Was a Highlight of Space Flight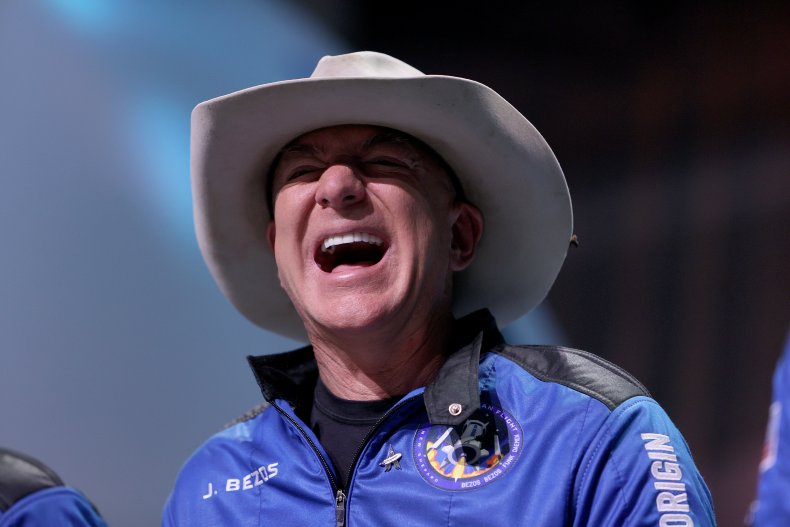 Amazon founder Jeff Bezos suggested that one of his favorite moments of flying into space on Tuesday was tossing Skittles into the mouth of a fellow passenger.
Bezos, who blasted off with three other passengers during the first human flight of his Blue Origin New Shepard spacecraft, made the remarks to CNN's Anderson Cooper shortly after completing the 11-minute flight.
The billionaire's brother, Mark Bezos, told Cooper that his favorite part of the flight was looking out the window onto Earth while upside down during the four-minute portion of the flight that was in space.
"The good news is that you can do both at the same time," Jeff Bezos added. "We also did, you know, toss some Skittles at each other and catch them in our mouths. And we did some of the traditional zero-g stuff"
Footage from the flight shows Bezos and Oliver Daemen, a recent high school graduate whose wealthy father paid for his seat on the flight, playing a zero-gravity game of catch with the brightly-colored candies.
"Who wants a Skittle?" Bezos says in the video before Daemen indicates his interest. "Alright, see if you can catch this in your mouth."
Bezos then tosses a single piece of the candy towards Daemen, who catches it in his mouth while upside down. Fellow passengers cheer in response, with Bezos exclaiming, "well done!"
"Here, toss me one," Bezos tells Daemen while handing him more candy.
Daemen throws a Skittle towards Bezos, who initially fails to catch the candy in his mouth. A second attempt is successful, prompting the billionaire to dub moment "awesome" and "so good."
Candy has a long history of accompanying astronauts into space, but chocolate has been a more popular choice than fruit-flavored Skittles. M&Ms became the first candy in space in 1981 following a request from the crew of the Space Shuttle Columbia.
Skittles promoted Tuesday's candy-tossing moment on its official Twitter account. The account tweeted that it was "honored to have heard SKITTLES were aboard" before asking Bezos if the candies "taste better in space."
The candy brand also replied to a tweet asking how much money it paid "for the product placement" by commenting "obviously more money than @mmschocolate did."
Although the New Shepard crew were far from the first to take candy into space, the flight did make history by carrying both the youngest and oldest-ever space flight participants. Daemen, at 18, was the youngest, while aviation pioneer Wally Funk was the oldest at 82.
Funk, one of NASA's first female astronaut candidates in the 1960s, broke the record previously held by astronaut and former U.S. Senator John Glenn (D-Ohio). Glenn was 77-years-old when he returned to space aboard the Space Shuttle Discovery in 1998.
Newsweek reached out to Blue Origin for comment.