Will Jeff Sessions Get Another Trump Shaming After Downplaying Clinton Probe, Discussing Campaign 'Chaos'?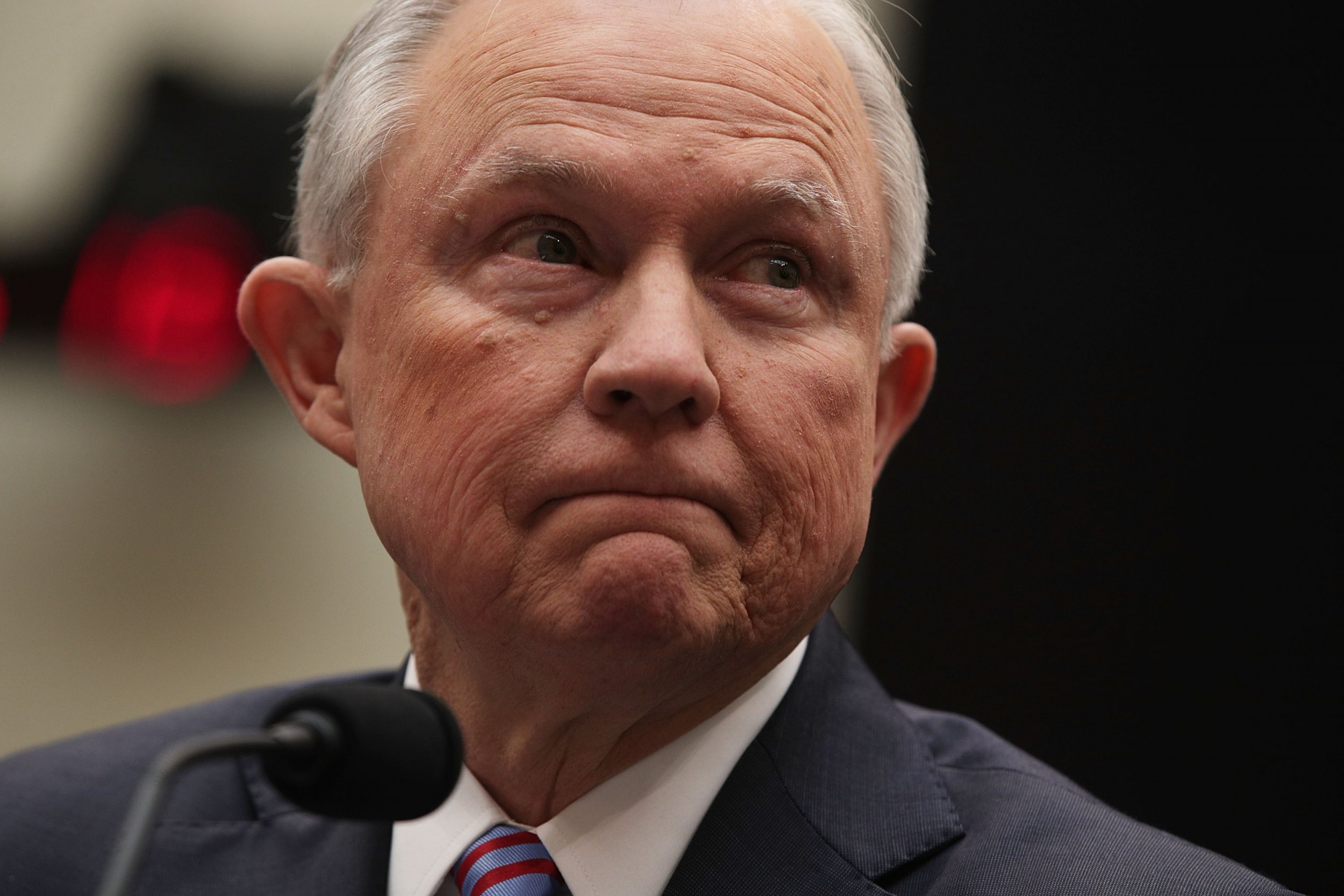 Potentially widening an ongoing rift with the White House, Attorney General Jeff Sessions on Tuesday described President Donald Trump's 2016 campaign as chaotic, cautioned the president against incendiary tweets and downplayed news that the Department of Justice was considering a special counsel to investigate Hillary Clinton.
The comments came during a hearing of the House Judiciary Committee, which was about general oversight of the Justice Department. Sessions has been in hot water with Trump since March, when he recused himself from matters involving the Trump campaign, and members of both parties pressed the attorney general on one of the president's controversial goals: a potential Clinton probe.
Republicans had high hopes. In a letter on Monday to Representative Bob Goodlatte, chairman of the House Judiciary Committee, Assistant Attorney General Stephen Boyd wrote that the Justice Department had asked prosecutors to follow up on Goodlatte's calls for a special counsel to investigate matters related to Clinton.
Related: House Russia investigator wants to interview Eric Trump
But during the Tuesday hearing, Sessions seemed to walk back the possibility of such a special counsel. Answering a question on the subject from Representative Jim Jordan, Sessions said, "Sometime we have to study what the facts are and to evaluate whether it meets the standard that requires a special counsel."
Jordan then pushed further, saying a host of issues related to Clinton "looks like" they need a special counsel to investigate. Sessions responded, "'Looks like' is not enough basis to appoint a special counsel."
Hours later, after a recess, Sessions added about the possibility of such a special counsel, "I did not mean to suggest I was taking a side one way or the other on that subject. I was simply responding we would have to have full and effective and detailed factual evaluation before we'd make a decision on whether or not a special counsel is required."
At another point during the hearing, Representative John Conyers, the ranking Democratic member, presented Trump's tweets calling for an investigation into Clinton. The congressman asked, "In a functioning democracy, is it common for the leader of a country to order the criminal justice system to retaliate against his political opponents?" After some hesitation, Sessions responded, "The Department of Justice can never be used to retaliate politically against opponents, and that would be wrong."
Conyers then asked if the president should make comments that could influence pending investigations. Sessions responded, "[The president] should take great care in those issues…. I would say it's improper to influence—a president cannot improperly influence an investigation. And I have not been improperly influenced and would not be improperly influenced. The president speaks his mind. He's bold and direct about what he says, the people elected him, but we do our duty every day based on the law and facts." (Justice Department lawyers have argued that Trump's tweets are "official statements.")
In another moment that could rankle Trump, who is known to keep close tabs on his Cabinet's public appearances, Sessions said his Russia-related interations during the 2016 campaign were clouded by the frenetic nature of the organization. The campaign "was a brilliant campaign in many ways," he said. "But it was a form of chaos every day from day one."
For months, Trump has seethed openly about the attorney general while calling for a Clinton investigation. In July, he told The New York Times he wouldn't have hired Sessions if he knew the attorney general would recuse himself from matters involving the campaign. Soon after, Trump referred to Sessions as "our beleaguered A.G." and tweeted that Sessions "has taken a VERY weak position on Hillary Clinton crimes." The president added during an unrelated press conference on July 25, "I am disappointed in the attorney general. He should not have recused himself.... I would have, quite simply, picked somebody else."
During a September rally in Arizona, when the crowd chanted "lock her up" about Clinton, Trump responded, "You've got to speak to Jeff Sessions about that."
A strong partisan divide was on view during the hearing, with the Democratic members questioning Sessions on contacts he and the Trump campaign had with Russians, and Republicans bringing up issues related to Clinton, former Attorney General Loretta Lynch and former FBI Director James Comey.
The House Judiciary Committee and the House Committee on Oversight and Government Reform announced in late October a joint investigation into decisions the Justice Department made in 2016, including the FBI's handling of its investigation into Clinton's use of a private email server.