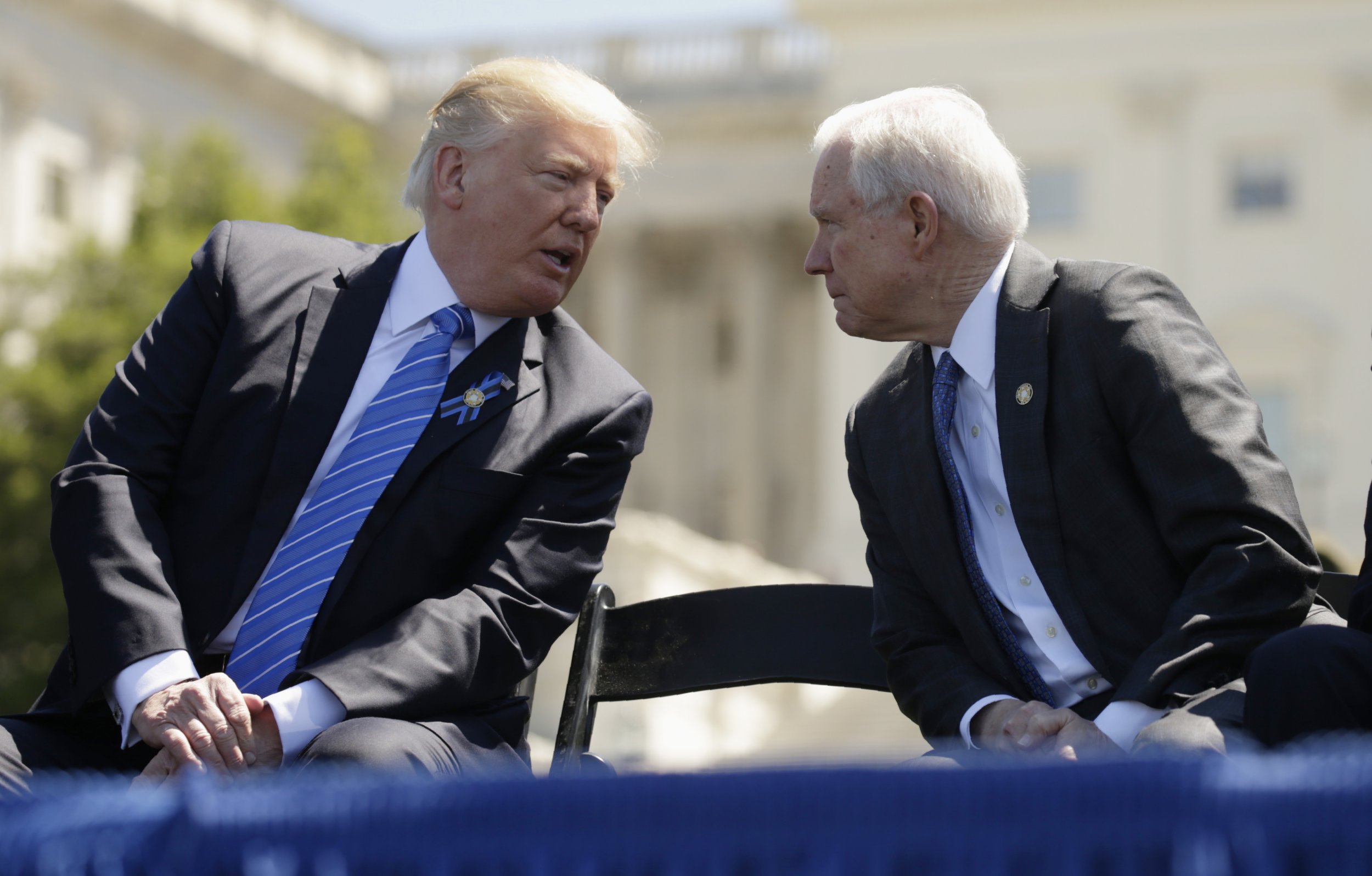 Add Attorney General Jeff Sessions to the list of Trump administration officials facing growing calls for investigations into their behavior vis-à-vis Russia.
Related: Can Trump stop Comey from testifying? President could invoke executive privilege
On Thursday, two Democratic senators released a series of letters they've sent to the FBI beginning in March asking for an investigation into Sessions's interactions with Russian Ambassador Sergey Kislyak in 2016. The disclosure by Senators Pat Leahy and Al Franken about their demands for an FBI investigation into Sessions come after CNN reported Wednesday night that both the FBI and congressional investigators are now examining details of an April 2016 reception at the Mayflower Hotel that both Sessions and Kislyak attended.
Separately, the liberal think tank Center for American Progress and two progressive watchdog groups, New York University's Brennan Center for Justice and American Oversight, sent a letter Wednesday to the Department of Justice Inspector General calling for an internal investigation into Sessions's role in the firing of FBI Director James Comey last month. Sessions earlier said he was recusing himself on any matters pertaining to the FBI's investigation into Russia's meddling in the 2016 election, a probe Comey was heading before he was let go.
The growing pressure on Sessions comes as other close Trump confidantes—including Jared Kushner, his son-in-law and senior adviser, Michael Flynn, the former national security adviser, and Michael Cohen, his personal lawyer—are all facing investigation for their own Russia-related contacts last year. The House Intelligence Committee issued subpoenas Wednesday for documents and testimony from Flynn and Cohen.
In their statement, Leahy and Franken, both members of the Senate Judiciary Committee, indicated the FBI was, in fact, looking into Sessions's interactions with Kislyak last year. Sessions initially testified at his January confirmation hearing that he had no contacts with Russian officials about the 2016 election during last year's campaign, before reports came out in March that he'd actually interacted with the ambassador on three separate occasions. Those disclosures ultimately led the attorney general to say he was recusing himself from any investigations into the Trump campaign. Sessions's role in advising Trump on Comey's firing, however, has raised additional questions about his conduct and whether he violated his recusal pledge. In what promises to be a blockbuster hearing, Comey is slated to testify on Capitol Hill next week about his dismissal and whether he felt pressured by the president to curb the bureau's investigation into the campaign's possible ties to Russia.
Since Comey was fired on May 9, Leahy and Franken said they "have been in communication with the FBI concerning a response to our letter, and we expect to be briefed on this matter in the near future." A spokesman for Leahy declined to clarify whether the two senators had received a reply, specifically, to their May 12 follow-up letter to acting FBI Director Andrew McCabe, requesting a briefing by May 19. Nor would he comment on when the expected briefing mentioned in their statement would take place. But the senators issued a warning in their statement: "If it is determined that the Attorney General still has not been truthful with Congress and the American people about his contacts with Russian officials during the campaign, he needs to resign."
Department of Justice spokeswoman Sarah Flores dismissed the latest scrutiny of Sessions's meetings with Kislyak last year, though she did not comment on the complaints about his role in Comey's firing and whether that violates his recusal agreement. "The Department of Justice appointed special counsel to assume responsibility for this matter. We will allow him to do his job," Flores said in an emailed statement. "The facts haven't changed; the then-Senator did not have any private or side conversations with any Russian officials at the Mayflower Hotel."