Jeff Sessions Says Migrant Caravan Is 'Not My Problem' as He Sends Dozens of Prosecutors, Judges, to Border
Attorney General Jeff Sessions has announced plans to send 35 United States attorneys and 18 immigration judges to work full-time at the border, in a move he hopes will prevent caravan migrants from "stampeding" it.
"We are not going to let this country be overwhelmed," Sessions told the press at a Wednesday news conference. "People are not going [to] caravan or otherwise stampede our border. We need legality and integrity in the system. People should wait their turn, ask to apply lawfully before they enter our country. So we're sending a message worldwide."
Sessions said the prosecutors and judges will work on processing the asylum requests of the roughly 150 Central American migrants who reached the southern border last week, after a weeks-long journey through Mexico via caravan. Sessions's Department of Justice has already filed criminal charges against 11 asylum seekers at the border, who are believed to have been members of the caravan. They were hit with charges of "illegal entry," according to a Tuesday statement.
"The United States will not stand by as our immigration laws are ignored and our nation's safety is jeopardized," Sessions said, to which U.S. Attorney Adam Braverman, whose team filed the charges, added: "Those seeking entry into the United States must pledge fidelity to the law, not break them, or else face criminal prosecution."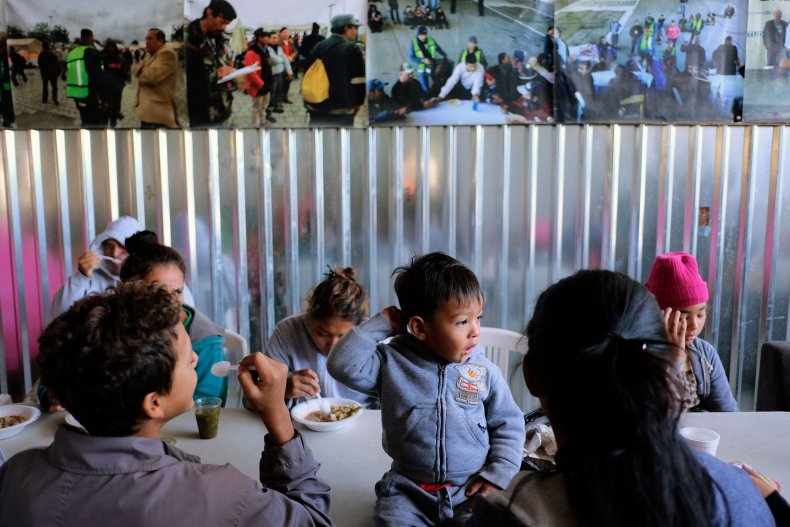 Immigration lawyers and immigrant rights advocates argue that the U.S. could be flouting domestic and international law if they turn away or prosecute asylum seekers, to whom they have a legal obligation.
"These people have been there for almost two full days now, and a total of 14 people have gotten in so far," Jennifer Quigley, an advocacy strategist at Human Rights First, told Newsweek on Tuesday of the caravan migrants. "We're really concerned that taking them in in such a small trickle is an effort to encourage people to give up and not try to enter the country at all...and trying to find a gray area in the law so they can get away with what would otherwise be an illegal act."
On Wednesday, Sessions argued that the migrants—many of whom say they're fleeing gang violence, volatile governments, poverty and more—have instead made a "deliberate attempt to undermine our laws and overwhelm the system."
Sessions has attempted to address what is indeed a large backlog of hundreds of thousands of asylum requests by rolling back a Board of Immigration Appeals policy that gave asylum seekers whose requests had been denied the right to a full hearing. The move could ultimately result in asylum requests being processed more quickly—but with a greater number of them receiving denials.
Sessions said Wednesday that he had no qualms about the way immigrants were being treated.
"The question is if you don't want to have to go through this problem, don't come unlawfully," Sessions said Wednesday. "It's not my problem, it's not the U.S. border control's problem when people try to force their way into the country unlawfully."