Jeff Sessions Tells Oakland Mayor 'How Dare You,' As He Claims She Helped '800 Criminals' Escape Arrest
Attorney General Jeff Sessions has a message for Oakland Mayor Libby Schaaf: "How dare you."
Sessions has claimed that the "radical" Schaaf let "800 wanted criminals" off the hook when she warned residents of an incoming immigration raid across the Bay Area on February 24 via her official Twitter account.
"Those are 800 wanted criminals that are now at large in that community...that ICE will now have to pursue with more difficulty in more dangerous situations, all because of one mayor's irresponsible action," Sessions said on Wednesday in Sacramento at a law enforcement symposium hosted by a correctional officers' union.
Sessions was quoting acting ICE director Tomas Homan, who told him that, because of Schaff's tweet, the agency "failed to make 800 arrests"—more than three times the number of immigrants that ICE says it detained during a four-day raid across Northern California that ended on Saturday.
ICE did not respond to Newsweek's repeated requests to substantiate claims that Schaaf's warning directly led to 800 immigrants with orders for apprehension go free. Instead, an agency press officer provided a copy of a previous press release in which Homan says he "believes" Schaaf is responsible for "many" of the failed arrests.
In a statement issued Wednesday afternoon, Schaaf responded to Sessions in kind, saying the Trump administration's agenda is based on "bigotry and petty vindictiveness."
Schaaf also pushed back against Sessions' characterization of immigrants as criminals. "How dare you vilify members of our community by trying to frighten the American public into thinking that all undocumented residents are dangerous criminals," she said.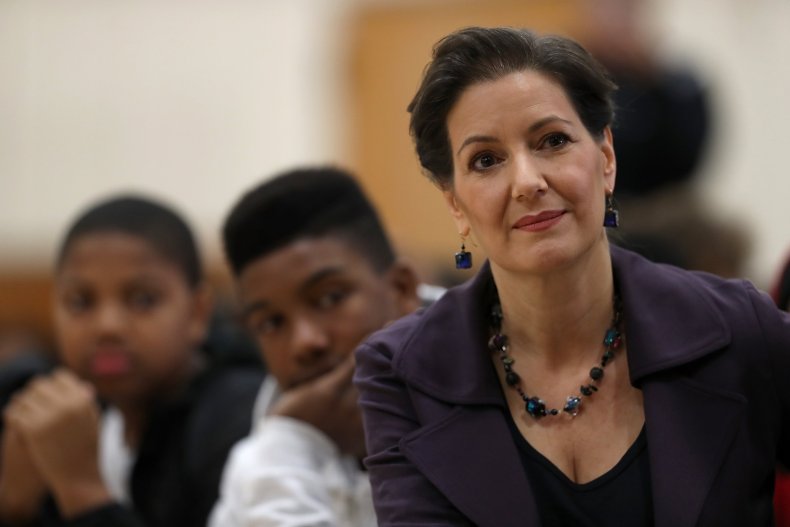 Last week, Homan said the Justice Department is "reviewing" Schaaf's warning tweets and public statements days prior to the raid for possible obstructions of justice; the Justice Department told Newsweek it does not confirm or deny the existence of investigations.
Schaaf has so far defended her actions.
"Everything that I've done has been legal," Schaaf said, as reported by KPIX 5.
Sessions made the accusations less than a day after the Department of Justice filed suit against California, its Governor Jerry Brown and Attorney General Xavier Becerra for interfering with federal immigration enforcement through legislation that blocks city officials and employers in the state from actively assisting in federal immigration enforcement when not forced to do so via a federal court order.
According to the federal government, so-called "sanctuary policies" break federal law and put immigration officers at risk as they are not able to arrest immigrants with the help of local police. California disagrees, arguing that state governments are not required under the Constitution to enforce federal immigration laws.
In January, the Oakland City Council strengthened the cities' sanctuary policies, voting unanimously to bar any branch of city government from cooperating with ICE in any capacity before, during, or after planned ICE raids within the city limits. The vote came a day after the San Francisco Chronicle reported that ICE planned to arrest upwards of 1,500 immigrants in the Bay Area within a matter of days.