Jeff Van Drew, Trump-backing Congressman Who Quit Democrats for GOP, Is Losing Election: Poll
Congressman Jeff Van Drew, a former Democrat who switched allegiance to the Republicans, is trailing the opponent representing his former party, according to one poll.
In 2018, Van Drew became the first Democrat to take New Jersey's 2nd district since 1995 but he defected to the Republicans after he opposed the impeachment of President Donald Trump.
He said in the Oval Office at the time that Trump had his "undying support," and said of his new party: "I believe that this is just a better fit for me. This is who I am."
In November's election, he faces Amy Kennedy, the wife of the former U.S. Rep. Patrick Kennedy, and a former South Jersey teacher who won the Democratic party's nomination on July 7, 2020.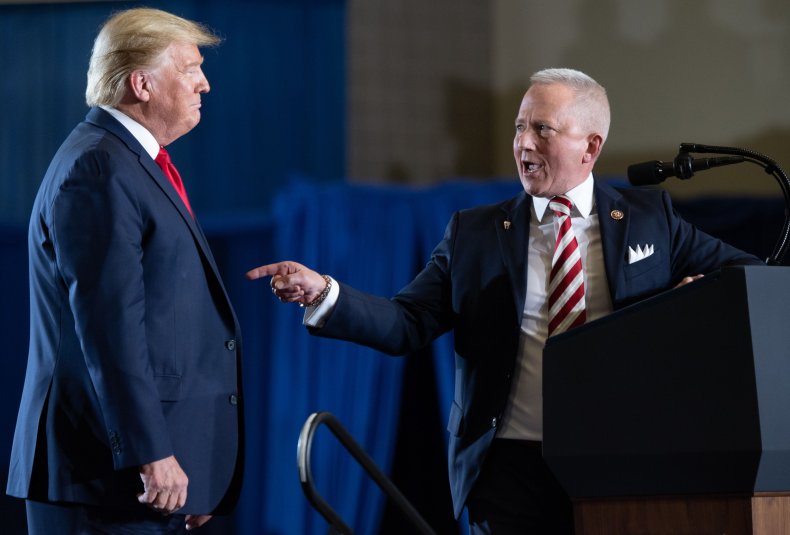 A phone poll conducted by Public Policy Polling on September 14 and 15 asked 500 voters in the Garden State's 2nd congressional district who they would vote for if the election were held today. Some 48 percent said they would back Kennedy, while 43 percent said they would vote for Van Drew.
Among respondents, 47 percent had backed Trump in 2016 compared with 44 percent who voted for the then Democratic presidential candidate, Hillary Clinton.
When asked who they would vote for president if the election for president were held today, 50 percent said they would back former Vice President Joe Biden while 46 percent said they would back Trump.
When asked "generally speaking, if the election for Congress were held today, would you vote for the Democratic or Republican candidate from your district?" some 49 percent said they would vote for a Democratic candidate and 44 percent a Republican candidate.
However, the GOP was trusted more than the Democrats to deal with the economic impact of coronavirus by 47 percent to 44 percent. No data for margin for error was available. Newsweek has contacted Public Policy Polling for comment.
In the South Jersey district that Trump won in 2016 by 50.6 percent to 46 percent in 2016, Kennedy is running on a platform of job creation, protecting the Jersey Shore's environment and combating the health and addiction crisis, according to her campaign website, which accused Van Drew of being a "shameless apologist" for Trump.
Last month, she told Newsweek: "There's been a lot of confusion about who he is and what he stands for. It will be interesting to see how far his allegiance toward the president goes."
The New Jersey Globe reported that the House Majority PAC is spending $800,000 on a TV ad campaign criticizing Van Drew. The congressman has become a high profile member in the GOP, especially after he addressed the Republican National Convention and has benefitted from GOP donors.
Last month, he said in a Fox News op-ed: "I have never been driven by partisan politics, only a desire to better the lives of my constituents."