Jeff Van Drew Staffers Who Quit After He Switched Party to be Offered Full Time Jobs by DCCC
The chairwoman of the Democratic Congressional Campaign Committee has offered jobs to Jefferson Van Drew's ex-staffers "until they land new jobs that align with their values" after five resigned over the representative's decision to join the Republican Party.
Illinois Rep. Cheri Bustos revealed in a tweet last night that the DCCC would bring the ex-staffers "and others who leave" into the organisation. She also noted that the aides would be left without jobs "right before the holidays" and had quit to "stand up for their Democratic principles."
A DCCC spokesperson confirmed that any of Rep. Van Drew's ex-staffers unable to immediately find new employment would be offered full-time paid employment while receiving assistance to find a new position.
Rep. Bustos' office was also contacted for further details on the offer to former Van Drew staffers.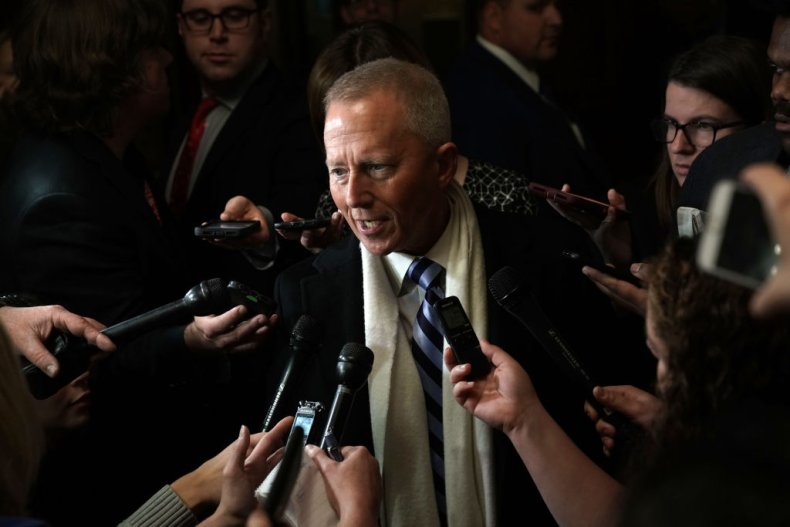 In a letter to Van Drew's chief of staff on Sunday, the five ex-staffers announced their resignations and pointed to the New Jersey representative's "decision to join the ranks of the Republican Party led by Donald Trump."
Signatories of the joint resignation letter were communications director Mackenzie Lucas, legislative staff assistant Caroline Wood, deputy chief of staff Edward Kaczmarski, legislative director Javier Gamboa and Justin O'Leary.
NBC News reported Sunday night that a sixth staffer confirmed they were also leaving Van Drew's office, after Politico first reported the departures.
"It's right before the holidays and these staffers just quit their jobs to stand up for their Democratic values," Bustos tweeted Sunday. "We'll bring them and others who leave on with the @dccc until they land new jobs that align with their values."
Newsweek attempted to contact Rep. Van Drew's office but was unable to reach a spokesperson or representative over the phone or submit an email via his website's form.
In their joint resignation letter, the five former Van Drew staffers said: "We greatly respect Congressman Van Drew and are deeply saddened and disappointed by his decision. As such, we can no longer in good conscience continue our service in the Congressman's employ."
Explaining their unwillingness to work with the Republican Party, the staffers said it backed "special interests over the needs of working people," and was abetting President Donald Trump.
Rep. Van Drew's decision to defect from the Democrats to the GOP came a little more than a year after he won the Democratic Primary in New Jersey's 2nd District in June last year, according to PBS and NPR's WHYY.
He was one of only two House Democrats to vote against the resolution outlining the framework of the impeachment inquiry.
The DCCC backed Van Drew ahead of the 2018 New Jersey primary, it was reported last year, despite having a 100 percent rating with the National Rifle Association and a 2012 vote against same-sex marriage while he was in the state senate.
Jeff Van Drew Staffers Who Quit After He Switched Party to be Offered Full Time Jobs by DCCC | U.S.