Jeff Wittek Denies Supplying Alcohol to Minors Amid Vlog Squad Sexual Assault Allegations
Another Vlog Squad member Jeff Wittek has been accused of sexual assault, days after David Dobrik issued an apology video.
Recent days also saw the YouTubers embroiled in further controversy when an allegation of rape was made against Dominykas Zeglaitis, another former member of the Vlog Squad who also goes by the name Duerte Dom. Dobrik was also forced to apologize to Seth Francois over a prank he and Jason Nash orchestrated in 2017, which Francois has claimed was sexual assault.
The details of the allegations were first reported in an Insider article in which Wittek was also named.
Wittek took part in the Frenemies podcast with Trisha Paytas and Ethan Klein and has also uploaded a video titled "My Truth" on his YouTube channel.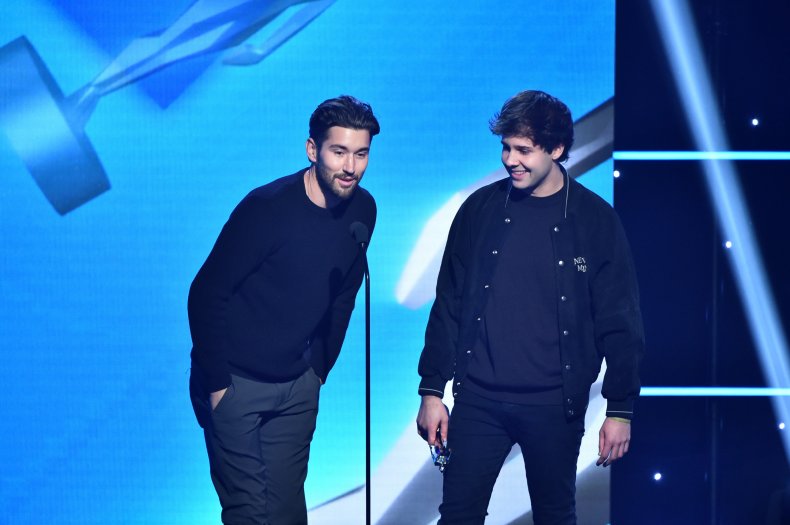 Paytas has been vocal about claims against the Vlog Squad before and the Frenemies podcast on Sunday saw them confront each other and suggested that Wittek provided alcohol for underage girls and has tweeted extensively about the situation in recent days.
Per Insider, Paytas told the publication that Wittek "went to go buy liquor for the party after she told Nash, her boyfriend at the time, not to."
Speaking on Frenemies, Paytas said she "feels guilty by association just being around David and like supporting him for so long."
She added: "I kind of went along with it because you just want to be cool in the group for a while. And I'm guilty to some degree, not in this case, but I feel like in a lot of situations, yeah I'm like guilty by association just being with David and hyping him up, and covering for him, really."
In his "My Truth" video, Wittek tried to clear his name and say he was not present on the night when Zeglaitis allegedly raped someone and he also claimed his name was mentioned by Paytas because of a personal argument they had.
"It just makes me angry because it is so not true," he said. "I willingly called Insider to clear my name and to say this is complete bulls***. Trisha and I haven't been so friendly with each other in the past because of the breakup with Jason [Nash]."
The allegations against Zeglaitis have been made by a woman who featured in a since-deleted 2018 Vlog Squad video about group sex.
The woman accused Zeglaitis of rape by engaging in sexual activity with her when she was too drunk to consent.
In his apology video, Dobrik said: "Consent is something that's super, super important to me."
He continued: "Whether I am shooting with a friend, or I am shooting with a stranger, I make sure whatever video I am putting out I have the approval from that person."
Another former member of the group, Seth Francois also accused Dobrik and member Jason Nash of sexual assault over a prank they pulled on him in 2017.
In the video, titled: "HE THOUGHT HE WAS KISSING HER!! (SUPER CRINGEY)," Francois, without his consent, is tricked into making out with Nash in a mask. Francois believed the person in the mask was fellow vlogger Corinna Kopf and that they were taking part in a pre-planned kissing scene.
Speaking on the H3 podcast last month, Francois said of the prank: "It was a video where David set up with Jason Nash and Corinna and said that I was supposed to do a make-out scene with Corinna and he was gonna have her in an old man mask and then switched her out with Jason Nash.
"After Jason pulled off his mask, I realized that I was just touched by someone I did not consent to."
Dobrik addressed Francois in his apology, saying: "With the Seth situation, I'm sorry to Seth."
He added: "I'm really sorry, I truly, truly am."