Jeffrey Epstein and Bill Clinton Were 'Like Brothers'—Documentary
Bill Clinton and Jeffrey Epstein were "like brothers" and respected Prince Andrew's links to Queen Elizabeth II, according to a new documentary.
British socialite Lady Victoria Hervey told the BBC how the U.S. president was "very close to Jeffrey" in Ghislaine, Prince Andrew and the Paedophile, broadcast in Britain on Tuesday, January 18.
Hervey was a friend of Epstein and Ghislaine Maxwell and said she believed she was used as bait to lure glamorous women to parties.
Clinton's spokesperson previously told Newsweek in 2020 that he had not seen Epstein since "well before his terrible crimes came to light."
Hervey told the documentary: "Clinton was definitely very close to Jeffrey. I don't know if you saw the paintings that were in Jeffrey Epstein's house?
"One of them being a portrait of Bill Clinton wearing the dress that Monica Lewinsky wore when they had the affair.
"So yeah, he was super close to Jeffrey Epstein. They were like brothers, you know, and he was close to Ghislaine as well."
She added: "Prince Andrew was the son of the queen of England. Americans love that. Jeffrey loved that. Bill Clinton loved that."
In December 2021 Maxwell was found guilty of grooming young girls for Epstein to abuse, although her lawyers have asked for a mistrial.
Hervey described going to Epstein's parties at his New York mansion.
She said: "Jeffrey was really the front man and Ghislaine was the accomplice. It was kind of like a Batman and Robin but they were a double act. I don't think Jeffrey could have done any of it without Ghislaine.
"I think he kind of sat back and waited for her to sort of go fishing and go find however many girls we needed to entertain his friends.
"I think I was pretty much used as bait looking back at it. I was really young and naive and she's entertaining the big businessmen."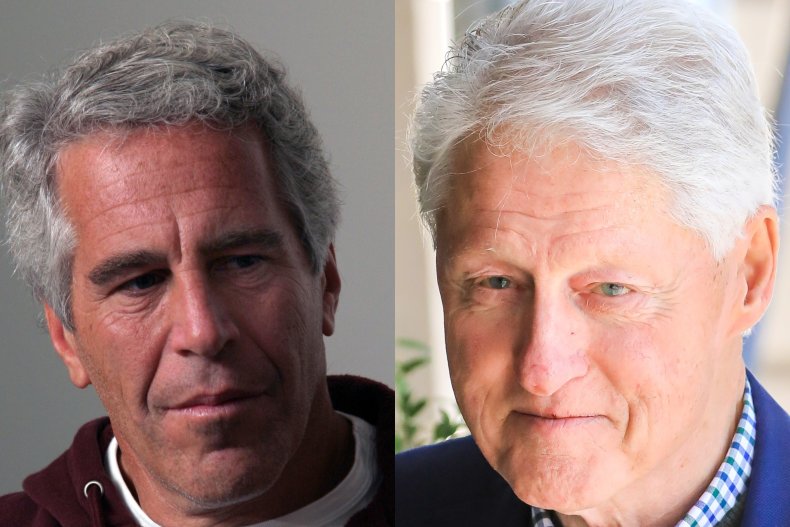 Euan Rellie, a New York investment banker and friend of Epstein and Maxwell, said: "Ghislaine invited me for dinner saying I'm throwing a dinner party at Jeffrey's house for my friend Prince Andrew.
"She described Andrew as being her friend, not Jeffrey's. I got the sense that Prince Andrew and Ghislaine had probably been boyfriend and girlfriend in the past. They had an easy warmth around each other."
Describing Epstein's New York parties, he said: "When you ring the doorbell and the door opens there are immaculately coiffed 20-year-old girls.
"There would be copious champagne and caviar and Ghislaine would be busily making sure everybody was comfortable, had drinks and entertaining. She was the mistress of the house."
Prince Andrew described going to a dinner at Epstein's house in 2010, after the financier had served his jail sentence for soliciting prostitution from a minor.
BBC journalist Emily Maitlis told the duke in a November 2019 interview: "He threw a party to celebrate his release and you were invited as the guest of honor."
Prince Andrew replied: "No, I didn't go. Oh, in 2010, there certainly wasn't a party to celebrate his release in December because it was a small dinner party, there were only eight or 10 of us I think at the dinner. If there was a party then I'd know nothing about that."
In a July 2020 statement, Clinton's spokesperson Angel Ureña told Newsweek: "He's not spoken to Epstein in well over a decade, and has never been to Little St. James Island, Epstein's ranch in New Mexico, or his residence in Florida."
UPDATE 01/19/22 9:38 a.m. ET: This article was updated to include an additional picture.