Jehovah's Witness Leader in Russia Faces Criminal Charges for 'Extremism'
Another Jehovah's Witness leader has been targeted by Russian authorities in a criminal probe into "extremism" charges, amid an ongoing crackdown on the religious group within the country.
On Tuesday, the country's Investigative Committee announced that an investigation into the man had been launched in the far eastern Kamchatka region, The Moscow Times reported. Jarrod Lopes, a communications representative for the World Headquarters of Jehovah's Witnesses, told Newsweek that the case had been initiated against 44-year-old Sergey Ledenyov.
"On December 2, 2018, two raids on Jehovah's Witnesses occurred," Lopes said. "One home was raided by special police forces.… Several of the officers were armed and wearing masks," he explained. "One of the operatives was carrying a chainsaw in order to breakdown the door. The operatives searched the home and took all 13 Jehovah's Witnesses present to the police station for questioning."
Although there are about 175,000 Jehovah's Witnesses in Russia, a Supreme Court ruling in 2017 banned the Christian denomination. Members and leaders of the religious group are now classified as "extremists" the same as those who join organizations such as ISIS.
Amnesty International has previously referred to the court's decision as "an assault on freedom of assembly and conscience," pointing out that Jehovah's Witness members can have their property seized and their assets liquidated by the state simply for practicing their religious beliefs. Earlier this year, Rachel Denber, deputy Europe and Central Asia director at Human Rights Watch, called on the Russian government to "stop this religious persecution," saying that the group's adherents are "simply peacefully exercising their right to freedom of religion."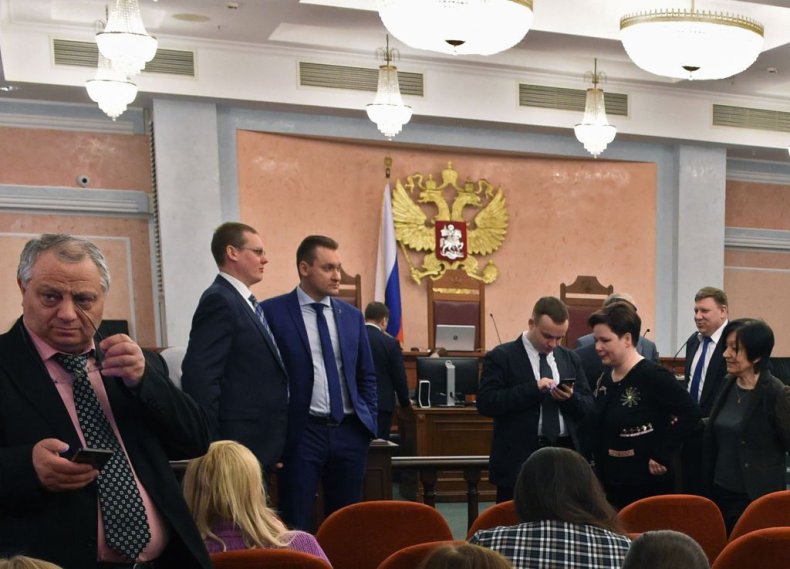 The Russian government has long viewed the Christian group with suspicion due to adherents' refusal to participate in the military, vote or submit fully to government authority, according to Radio Free Europe. Dozens of the group's members have been targeted with criminal charges in the ongoing crackdown. Some have been placed in detention centers while others remain under house arrest.
Advisers to President Vladimir Putin have questioned the government's position. The Russian Presidential Council for Civil Society and Human Rights, which advises the president, said in June that the detentions "cannot but be a cause for concern."
"The criminal prosecutions and detentions have taken on a systemic character," the council said in a statement. "The situation evokes associations with the Soviet period when Jehovah's Witnesses suffered groundless repression because of their faith."