Jen Shah Charges, Sentence Explained: RHOSLC Star Faces Years in Prison
Jen Shah, a star of Bravo's The Real Housewives of Salt Lake City, pleaded guilty to charges on Monday for her connection to an alleged telemarking scheme, and now faces several years in prison.
According to a press release from the U.S. Attorney's Office in the Southern District of New York, Shah "pled guilty today to one count of conspiracy to commit wire fraud in connection with telemarketing through which she victimized 10 or more persons over the age of 55, which carries a maximum sentence of 30 years in prison."
The reality star also "agreed to forfeit $6.5 million and to pay restitution up to $9.5 million" as part of her guilty plea, according to the press release.
Shah originally plead not guilty and was set for trial on July 18. She is scheduled to be sentenced by U.S. District Judge Sidney H. Stein on November 28.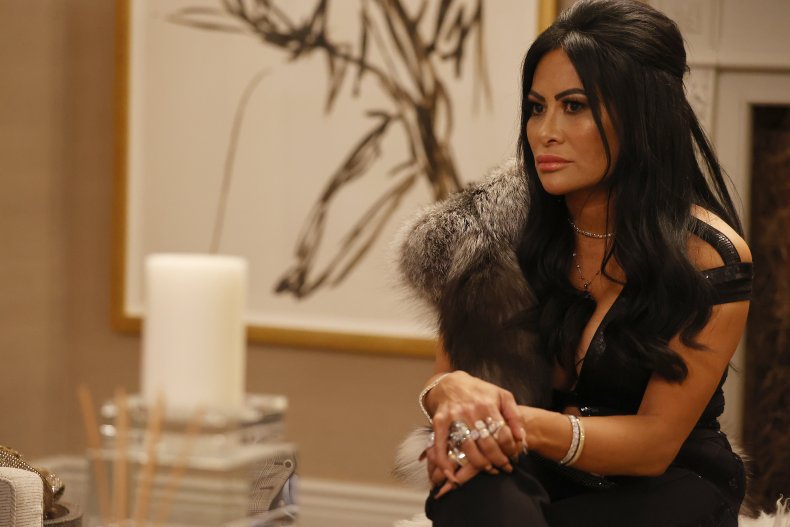 According to District Attorney Damian Williams' office, Shah and several others allegedly conducted a "wide-ranging telemarketing scheme," that scammed hundreds of victims from 2012 to March 2021. Shah allegedly would tell victims that she was selling them "business services."
"In order to perpetrate the Business Opportunity Scheme, Participants, including SHAH, engaged in a widespread, coordinated effort to traffic in lists of potential victims, or "leads," many of whom had previously made an initial investment to create an online business with other Participants in the Scheme," the press release said.
Prosecutors alleged, according to the press release, that Shah would inform victims that their own business would earn more money after investing with her. She would also allegedly tell victims about the success that others have had after purchasing her business services.
"In approximately 2017, SHAH began operating a Manhattan-based sales floor that sold downstream "business opportunity" products to victims on lead lists provided by the defendant as part of the Business Opportunity Scheme (the "Manhattan Sales Floor"). Between 2018 and 2020, SHAH controlled the day-to-day operations of the Manhattan Sales Floor," the press release said. "The salespeople at the Manhattan Sales Floor engaged in the same fraudulent sales practices as other telemarketing floors in the Business Opportunity Scheme: namely, lying to and misleading Victims into purchasing "business opportunity" products to ostensibly advance their non-existent online businesses."
Prosecutors also claimed that Shah made several attempts to hide her role in the scheme, such as using third party names and using encrypted messaging applications.
"Jennifer Shah was a key participant in a nationwide scheme that targeted elderly, vulnerable victims," Williams said in a statement Monday. "These victims were sold false promises of financial security but instead Shah and her co-conspirators defrauded them out of their savings and left them with nothing to show for it. This Office is committed to rooting out these schemes whatever form they take."
During her hearing on Monday, Shah said that "many people were harmed" and that she was "so sorry," NBC News reported.
In a statement sent to Newsweek, Shah's lawyer, Priya Chaudhry, said, "Ms. Shah is a good woman who crossed a line. She accepts full responsibility for her actions and deeply apologizes to all who have been harmed. Ms. Shah is also sorry for disappointing her husband, children, family, friends, and supporters. Jen pled guilty because she wants to pay her debt to society and put this ordeal behind her and her family."
Update 7/11/22, 4:12 p.m. ET: This story was updated to include a statement from Shah's lawyer.