'The Real Housewives Ultimate Girls Trip: Ex-Wives Club' Cast: Who's Returning?
The Real Housewives Ultimate Girls Trip Season 2 comes to Peacock this June, and sees some of the franchise's most famous (and infamous) stars coming together.
The Ex-Wives Club season sees a cast of eight new Housewives come together at Dorinda Medley's Blue Stone Manor. Joining Dorinda will be another RHONY cast member, as well as two Housewives apiece from Beverly Hills, Atlanta and Orange County.
Dorinda Medley and Vicki Gunvalson have already been teasing drama in the series. The latter has been very vocal in criticizing the interior design of Blue Stone, and Brandi Glanville has hinted that the Peacock show features a "queen bee-off" between them that affected the other cast members.
Here's who will be appearing in The Real Housewives Ultimate Girls Trip: Ex-Wives Club this season.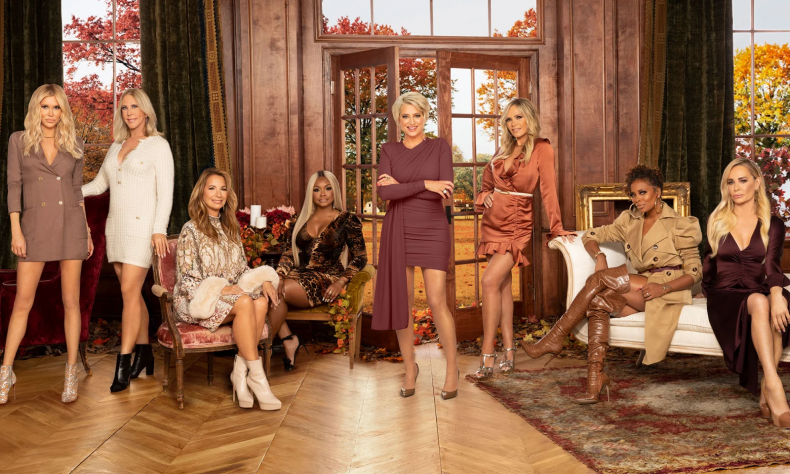 Taylor Armstrong
Original series: Real Housewives of Beverly Hills
Taylor Armstrong left RHOBH in Season 3 back in 2014, though she has made occasional guest appearances since. Her storyline was one of the show's saddest ever, with her ex-husband committing suicide just a month after she filed for divorce.
Taylor may have been off the show for nearly a decade, but previews of RHUGT show that she and Brandi may have unresolved tension still. Brandi told Us: "She had some issues that she had to get off her chest."
Brandi Glanville
Original series: Real Housewives of Beverly Hills
Brandi Glanville told Entertainment Tonight in 2021 that she thought her "Housewives days are done" after she was not asked back as a guest for Season 11 in 2021. She may have left the show in 2015, but even years later she was bringing drama to the series as a guest when she claimed that she had an affair with fellow cast member Denise Richards (Richards denied this).
Vicki Gunvalson
Original series: Real Housewives of Orange County
Vicki Gunvalson was much missed by RHOOC fans after she announced her exit in 2020. Two years later, however, she is back to cause some drama – drama, in fact, that was so major that it hit headlines months before Ultimate Girls Trip is set to air.
In September 2021, it was reported that she and Dorinda had fought over the COVID-vaccine (with Vicki against it). This feud was still going on six months later when Vicki called Dorinda "an absolute liar" on Twitter following claims Vicki had sent "hundreds of texts" to her co-star.
Tamra Judge
Original series: Real Housewives of Orange County
Tamra Judge left RHOOC at around the same time Vicki did, with Tamra claiming she had been given the boot because she asked Bravo for too much money.
She told Us Weekly that she and Vicki quickly forgot there were cameras filming them for the Peacock show: "Vicki and I would get up at 3 in the morning...we're half-drunk and we're eating cold pizza, and we're talking, not thinking and not knowing until I look up and I'm like, 'Oh, my God, Vicki there is a camera on the wall and it is following us.'"
Eva Marcille
Original series: Real Housewives of Atlanta
Eva Marcille spent three seasons as a Housewife before leaving RHOA in June 2020. Though they were not on Real Housewives together, she and Phaedra have been friends for decades, meaning Season 2 of RHUGT should reveal a new side to both cast members.
Eva, however, will not be building a friendship with Vicki anytime soon. In a promo for the new show, we see Eva tell Vicki, "the only conflict [in the house] is you."
Dorinda Medley
Original series: Real Housewives of New York City
Dorinda Medley also exited the Real Housewives franchise in 2020. In a recent Los Angeles magazine interview, she revealed that she had not realized how much work hosting Ultimate Girls Trip in her house would take.
"When you guys all see breakfast, I was up an hour and a half before arranging it," Dorinda said. "When the girls are all getting hair and makeup done and taking naps, I'm arranging the next thing because this is not a hotel, this is my home."
Phaedra Parks
Original series: Real Housewives of Atlanta
Phaedra Parks' exit from RHOA in 2017 was one of the show's most dramatic, with the cast member not returning after she was accused by multiple cast members of lying throughout the show (which Phaedra denied). "None of the other women wanted to have anything to do with her," Real Housewives franchise mogul Andy Cohen told E!.
In another E! interview, Phaedra teases some unexpected guest stars in the show. "I saw the ghosts at one of our outings. I saw four ghosts, I promise you," she revealed. "I work with the dead so I can recognize those."
Jill Zarin
Original series: Real Housewives of New York
An original RHONY cast member, Jill Zarin exited after Season 4 in 2011. In the decade that followed, she remarried after losing her husband Bobby Zarin in 2018.
In a Today interview, she revealed she has changed a lot since viewers last saw her. "I have definitely calmed down a lot. And I have less anxiety. ... In my life, I'm just in a much better place than I was, you know, 15 years ago, I have less noise in my head."
The Real Housewives Ultimate Girls Trip: Ex-Wives Club airs Thursdays on Peacock.